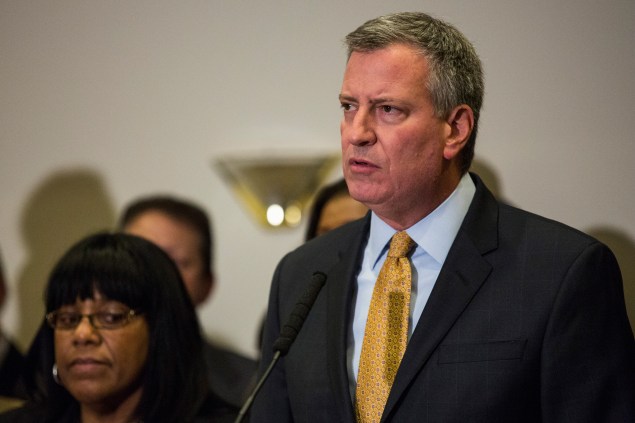 Mayor Bill de Blasio joined a host of city officials and religious leaders at Mount Sinai United Christian Church in Staten Island to both remember Eric Garner—the black man who died in an apparent police chokehold—and to stress a message of peace and reform as the one year anniversary of the killing approaches on Friday.
Mr. de Blasio used the lectern—which he shared with black Brooklyn pastor A.R. Bernard, Rev. Al Sharpton and Archdiocese of New York Cardinal Timothy Dolan, among others—as a soapbox for pushing a message of harmony as the city braces for protests on July 17. The Garner family, which agreed earlier this week to a $5.9 million settlement from the city for the homicide, sat in the front row ahead of several Staten Island police officers.
"People have felt family with you. We all mourn with you tonight, and we pray that you have found some peace amidst this trouble," he told the late man's relatives. "We are all feeling together. We are all feeling as brothers and sisters tonight, as we should, as we must."
The mayor alluded to the string of high-profile police killings of blacks across the country even as he emphasized that reforms—including his new cooperative "neighborhood policing" strategy—and reconciliation were underway.
"We have felt this tragedy at home most deeply. We're all affected by the times we're living in. It's been a long, cold season of sorrow. But we remember that seasons change," he said. "Now, in every sense, summer has come. We feel its warmth, we feel its warmth in the air outside this sanctuary tonight, but we feel it in here because we are together, and are healing together."
Garner's last moments, spent shouting "I can't breathe" with Officer Daniel Pantaleo on top of him with an arm around his neck, were caught on video and seen around the globe. Mr. Pantaleo and several of his colleagues were attempting to apprehend him on the suspicion that he was again selling tax-free cigarettes on a Staten Island street corner.
Mr. de Blasio said the incident helped shape the new strategies that his administration has laid out for the NYPD, which encourages more interaction between communities and police.
"Eric Garner did not die in vain. His life mattered. It mattered to these good people of his family, it mattered to his community and it came to matter deeply to his city and his nation," said Mr. de Blasio.
The mayor then deployed a series of slogans that have been used in social media and street protests by opposing sides on the police reform debate.
"I want to use a phrase that we did not hear as much in all the discourse, but we should say it because it's evident tonight: all lives matter. All lives matter," he said as the mostly black congregation repeated it with him and broke into applause. "And because we are grappling with the challenging past, it's also important to say again a phrase that should be self-evident, it should not need to be said. But until we make more progress, we will say it again: black lives matter."
"Also, we should say, 'blue lives matter,'" he continued, referring to the NYPD.
The anti-police brutality "Black Lives Matter" movement usually rejects the phrases "all lives matter" and "blue lives matter," as its members often view them as attempts to minimize the particular difficulties they say African-Americans face in America.
The tenor of the speech contrasted enormously with Mr. de Blasio's previous appearance at the church last December, hours after a Staten Island grand jury declined to indict Mr. Pantaleo in the death of Garner. Mr. de Blasio at the time described telling his biracial son Dante about the "dangers" of interacting with cops.
Police unions and other law enforcement advocates seized on the comments, worsening their already strained relationship with the mayor. The tensions boiled over after a black, mentally ill man assassinated Officers Rafael Ramos and Wenjian Liu in their squad car in Brooklyn in late December, after posting on social media about his desire to "put wings on pigs" in revenge for the death of Garner and Ferguson teen Michael Brown.
The mayor did not mention his son at any point in his speech last night, and even Mr. Sharpton emphasized the spirit of racial and religious communion.
"I wish the families of those two police that were brutally and despicably killed was also here. Because we all need to be in one room praying together," he said. "We may not need agree. But we can show the world that we are not disagreeable."
The event ended with Garner's mother, Gwen Carr, lighting a candle with NYPD Staten Island Borough Commander Edward Delatorre. Mr. Bernard praised the gesture, noting that both individuals could face criticism for it in their respective circles, and described it as a hopeful harbinger for the various protests planned for Friday.
"We're modeling. We're setting the tone for this week, the celebrations and rallies, etcetera," he said. "We're dismantling the divides."