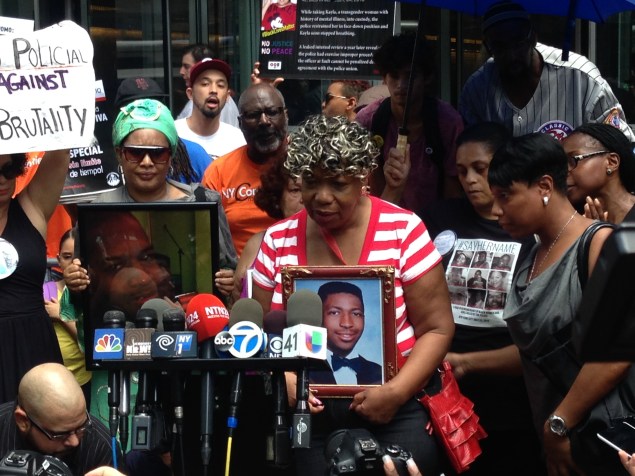 The mother of Eric Garner—the Staten Islander who died in an apparent NYPD chokehold—demonstrated today with the relatives of other people killed by police officers asking Gov. Andrew Cuomo to grant Attorney General Eric Schneiderman broader powers to investigate and prosecute police implicated in deaths.
With the one-year anniversary of Garner's death approaching later this month, Gwen Carr and the other families had a meeting scheduled with Mr. Cuomo at his Manhattan office, where they intended to lobby him to expand his planned executive order appointing Mr. Schneiderman special prosecutor so that it would enable Mr. Schneiderman to intervene in any case of a civilian death in police custody, not just cases when the civilian is unarmed.
Graphic video footage showed the unarmed Garner, who was black, screaming "I can't breathe" with Officer Daniel Pantaleo, who is white, on top of him and holding him around the neck, but a Staten Island grand jury impaneled by then-District Attorney Daniel Donovan found no reason to indict the policeman. The death renewed tensions between police and communities of color and the grand jury's decision spurred protests.
Ms. Carr said that a federal investigation into her son's death was ongoing, and that she and the other mothers and aunts present were hoping to prevent future police killings.
"It's not for our families. It's for future families. We don't ever want to see this happen, what happened to my son, what happened to her son," she said, clutching a framed photo of her son and gesturing toward the mother of Ramarley Graham, whom police shot in his Bronx bathroom. "We don't want another killing at the hands of police. Especially unnecessary killings. Unarmed killings. Weapons planted on people. That type of thing. That is so, that's so inhumane."
She argued that Mr. Schneiderman must have the power to investigate the killings of both armed and unarmed civilians because police sometimes falsify reports of weapons. As proof, she alluded to the death of South Carolinian Walter Scott, who an officer shot repeatedly in the back as he fled.
The officer claimed in a police report that Scott had taken his taser and attacked him with it, but civilian video footage of the shooting appears to show the officer planting the taser on the unarmed Scott's body.
"They'll say the person was armed when the person was not armed. We've seen South Carolina," she said.
Ms. Carr did not voice much of the increasing criticism of Mr. Cuomo that has become prevalent in the police reform movement, where the governor is viewed as overly cautious with his executive powers, and overly reliant on legislative fixes that have little chance of passing the Republican-run State Senate.
"At least he's standing here with the families," Ms. Carr said, adding that she was pleased with a previous meeting with the governor in April. "He let all of us voice our concerns. I think it had a great impact."
Mr. Cuomo proposed in his State of the State address a law allowing a governor-appointed monitor to review sealed grand jury records in cases where a police officer is not indicted after having killed a civilian. The monitor would then recommend to the governor if it is appropriate to appoint a special prosecutor.
The measure failed to pass the legislature, and Mr. Cuomo said last month he would honor a promise to issue an executive order naming Mr. Schneiderman special prosecutor for cases where police kill weaponless citizens for one year. The governor said he would sign the order today, after conversations with the families and the legislature.
"We are crafting the best executive order we can," Mr. Cuomo told reporters earlier today, noting New York would be the first state to institute a special prosecutor for such cases. "I think this will be a major step forward."
The governor pointed out that the state constitution only allows him to appoint Mr. Schneiderman for a term of a year, but the families said he had indicated he would potentially renew it should legislation fail to pass again next year.