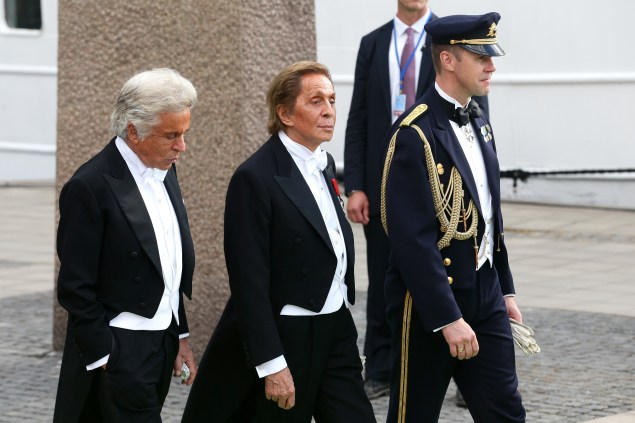 Monaco, Sweden, Greece and the Netherlands all have their own royal families. But when members of those families get married, the splendid nuptials tend to have one thing in common: Valentino is summoned to design the wedding gown.
Perhaps it is their penchant for crafting sprawling gowns worthy of a fairytale, or that the fashion house's retired founder, Valentino Garavani, is practically royalty, himself—in the fashion world, at least. But arguably more so than any other fashion house, Valentino has become known for outfitting queens, princesses and other tiara-toting folks on their wedding days.
Beatrice Borromeo, who last weekend wed Monaco's Pierre Casiraghi, wore a Valentino Haute couture dress designed by creative directors Maria Grazia Chiuri and Pierpaolo Picciolo for her July 25th civil ceremony. The summery, floral-inspired gown combined pale pink and gold lace silk chiffon.
It was not the first time Monaco had summoned Valentino's talents for a royal wedding. In February, 2014, Tatiana Santo Domingo wore Valentino Haute Couture for the religious portion of her wedding to Andrea Casiraghi, Pierre's brother.
Ms. Chiuri and Mr. Picciolo were also responsible for deisgning Ms. Santo Domingo's gown, which featured a lace macramé bodice and ruffled tulle skirt, according to the Telegraph. And because the ceremony took place during an Alpine winter, the look was reportedly completed with a "luxurious" cape.
Before Monaco's royal weddings, Valentino designed a gorgeous gown of organza and Chantilly lace for Princess Madeleine of Sweden, who wed Christopher O'Neill in June of 2013.
"Working with Princess Madeleine has just been so easy," Mr. Garavani is quoted as saying. "She is very lovely girl. She is modern, fun, full of energy and enthusiasm, and she is so beautiful! It has been a pleasure and an honour."
The Netherlands' royal family clamored after Valentino, too. For her 2002 wedding to King Willem-Alexander (then Crown Prince), Queen Máxima sported a silk Mikado gown with a cowl neck and touches of lace.
Seven years earlier, Valentino designed the wedding gown for Greece's Crown Princess Marie-Chantal Miller, who wed Crown Prince Pavlos in 1995. It took more than 25 seamstresses to create the ivory silk gown, according to Vogue.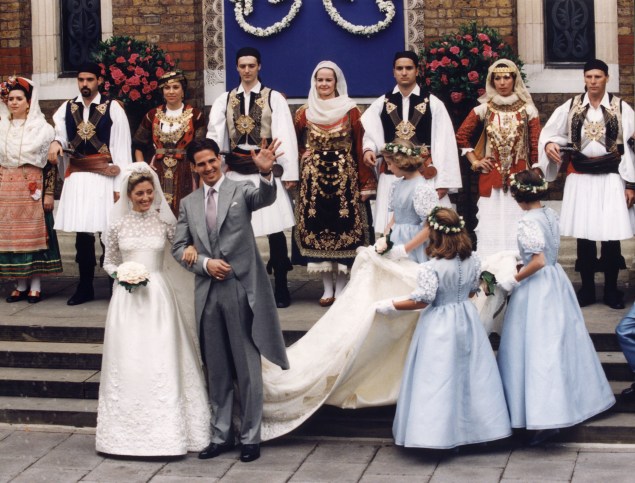 Even Nicky Hilton—now Nicky Rothschild—looked to Valentino to create the sweeping lace ball gown she wore to her recent wedding to James Rothschild. Ms. Hilton might not be a Princess—at least in the literal sense—but the wedding did take place at London's Kensington Palace, which makes the wedding slightly more royal than the average bride's.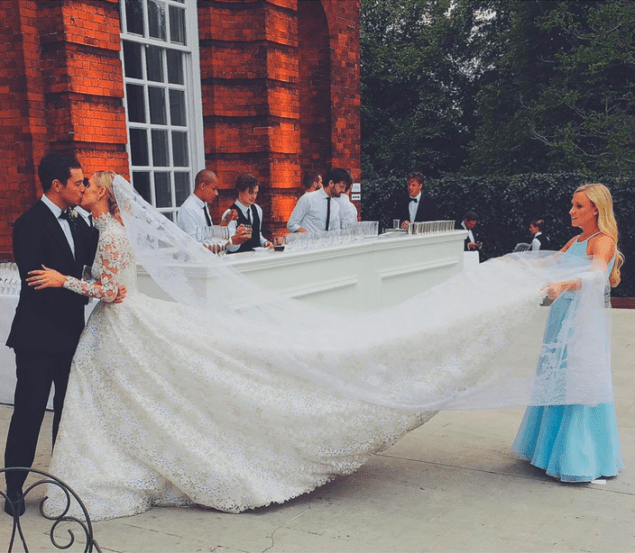 "Thank you Valentino Haute Couture," Ms. Rothschild wrote on Instagram, under a sketch of the dress, "for designing me my dream wedding dress!"