MIDDLETOWN – The local demi-gods of politics frolicked on Monmouth County's version of Mount Olympus tonight with tremulous tread in support of 2016 Republican presidential contender Jeb Bush, their jittery looks on the way in to the fundraiser indicative of their knowledge of the presence of someone else not on tonight's invite list: Gov. Chris Christie.
Christie's also running for president, of course, his national-sized fundraising scope compromised by the presence in the race of Bush,
who arrived late but was in good spirits as he glided into the Navesink Country Club.
"It feels good," he beamed when PolitickerNJ asked him how it feels to be in the Garden State.
It probably felt even better when he got a bead on the haul raised in Christie's home state between this and another event: $500,000.
Christie's one-time old pal state Senator Joe Kyrillos (R-13) hosted the bash along with fundraising guru Larry Bathgate, and for an hour and a half before Bush arrived late (with apologies to the valets), a steady diet of Kyrillos diehards had their SUVs and convertibles parked high above the Navesink River sparking in the distance behind tree tops and Italianate cornices.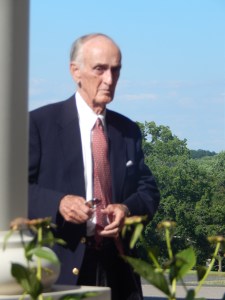 "I'm gonna be on the news," said one man as he creaked out of his SUV, spying NJTV's Michael Aron on the other side of the sloping driveway in front of the mansion-sized club.
"I'd rather be on a wanted poster," he added.
Monmouth County Republican Committee Chairman (and Monmouth County Sheriff) Shaun Golden graciously said hello before dashing into the event, along with former Paterson Mayor Pat Kramer, attorney Brian Nelson, and numerous local mayors and party personages. There was the sense that each of them knew that somewhere the combustible Christie, complete with Benjamin Franklin granny glasses, would be studying the list of attendees and checking it twice.
Others present: Freeholder Tom Arnone, County Clerk Christine Hanlon, Passaic County GOP Chairman John Traier, hedge fund bigwig David Tepper and Jets owner (and National Bush Finance Chair) Woody Johnson.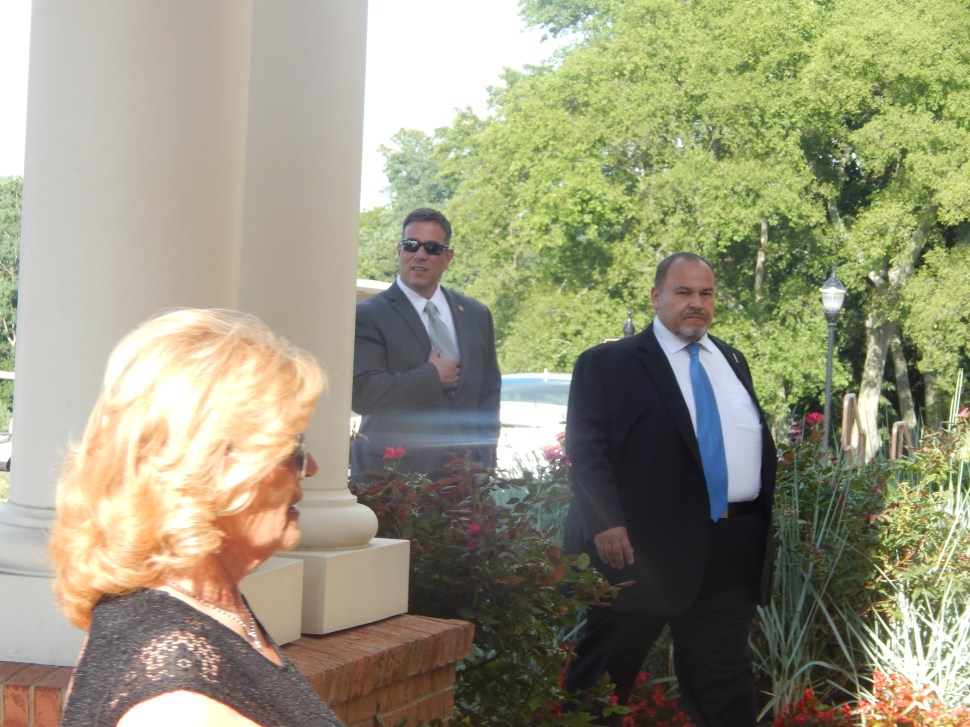 "Everyone's afraid of when he loses and comes back – he'll be in a punishing mood," a source told PolitickerNJ in reference to the governor's 2016 bid.
"I'm trying to be on my best behavior," the source added.
Salt and pepper-haired Kyrillos, who evidently was irritated with Christie for stepping over him to install Attorney General Jeff Chiesa in a vacant senate seat in 2013, arrived about 45 minutes before Bush and was friendly but had no comment on the shag carpet as he entered amid the moon buggy scampering of golf carts just outside the front door.
"I like Christie," insisted another guest, in explanation for her presence, "but he's not going to win."
Also spotted at the fundraiser: Gail Gordon, the Republican wife of state Senator Bob Gordon (D-38).
Click here to subscribe to the Politicker NJ Wake Up Call
Some of those in attendance here in Monmouth planned to head to a second Bush party scheduled for 7:30 p.m. at a private home in Short Hills. Bush's tardiness seemed to push back the schedule of events. At 4:30 p.m., an hour before the start of the show in Navesink, one caddy pulled up to another outside the club and said, "I hear Bush is still in New Hampshire."
As part of a backroom bragging rights war to stem the perception that Bush could enter his home state with impunity, Christie dropped his fundraising team list yesterday and demonstrated Ocean County power with GOP pooh-bahs at his own soiree last night. In the face of strong Bush fundraising (according to Politico, the former Florida governor's super PAC, "Right to Rise," raised $103 million in the first half of the year), a Christie source earlier today attempted to make the case that Christie's powers as a retail politician will help him in New Hampshire, where he needs a strong finish next year.