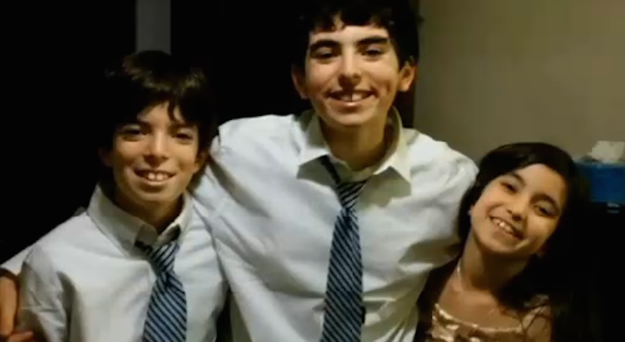 The Internet is going crazy today over a tale dripping with outrage. Buzzfeed's headline sums up the hysteria: "A Judge Sent 3 Kids To Juvenile Detention For Reportedly Skipping Lunch With Their Dad." The dad in the story is Omer Tsimhoni, whose long, acrimonious custody battle with ex-wife Maya Tsimhoni has indeed landed their three beautiful children—Liam, Roee, and Natalie, 14, 10 and 9—in two different juvenile facilities after Judge Lisa Gorcyca concluded that their mother had once again failed to live up to the terms of the couple's shared custody arrangement.
After the ruling, the media lambasted the judge's decision, uniformly painting Ms. Tsimhoni as the victim and accepting the narrative that the kids were institutionalized for missing lunch. Adding to that impression was Ms. Tsimhoni herself. After the kids were taken from her, Ms. Tsimhoni launched a media blitz, for example telling Detroit's Fox affiliate that she "felt like I was watching them be executed."
As with all divorces, however, there are at least two sides to this story. And Mr. Tsimhoni, who has yet to be heard from, has now broken his silence, sharing with the Observer a painful tale of a marital split, a tale that will be familiar to many parents who have felt that their children have been "turned against them" by a spouse following a split.
Reached by telephone for an interview arranged by 5WPR, the firm Mr. Tsimhoni hired to help him navigate the crisis, Mr. Tsimhoni spoke to the Observer at length. "I'm in shock by what's happening. My ex-wife lost in court after many times she was warned and as a result she just went out to the media to put pressure on the judge or overrule the judge. I understand everybody's pain—the children's pain, my pain, that the children are where they are. But she saw it coming and never tried to prevent it."
What happened is that Mr. Tsimhoni took a job with GM in 2008. He moved to take a position in Israel and initially, Ms. Tsimhoni, who like Mr. Tsimhoni is originally from Israel, did not want to move back with him, even though both sets of grandparents lived in Israel.
"She decided not to come. Then she filed for divorce and stopped letting me see the kids or speak to the kids. After some months there was a reconciliation. She moved to Israel, we moved all of our belongings here and then one day she suddenly disappeared and took the kids. Next I heard from her she was in Michigan – not where we had lived, in Ann Arbor, but in Oakland County. That's when the divorce proceedings began."
Since then, the divorce was finalized and Mr. Tsimhoni has remarried and moved back to Michigan "in order to be next to the kids and mend the relationship with the kids." Ms. Tsimhoni has not remarried.
The parents had joint legal custody and their mother has physical custody. "Since then, I've been seeing them regularly but always in supervised visits, sometimes with a professional and sometimes with my ex-wife present. She is poisoning them and the judge realized that."
So now, tomorrow will mark two weeks that the kids have been in the facility. And the children are resisting all contact with Mr. Tsimhoni.
Asked what the children thought Mr. Tsimhoni might have done to earn the silent treatment, he searched his memory bank. All he could come up with was the following anecdote, uneventful even by the standards of a Judy Blume book:
"The one incident that happened was five years ago I had a five-hour unsupervised visit. We were in a park and Maya was circling around the park the whole time, trying to sabotage the visit. Two hours into the visit, the children ended up in her car and she was trying to leave. I tried to prevent her from leaving because it was my time with the children. I was very careful not to do anything but she claimed that I pushed her. She screamed at the children, 'Call 911! Call 911!' The police showed up and Maya was screaming and the police confirmed that nothing happened. But in the children's mind, that's what happened."
From that moment on, the children, led by the oldest sibling, have resisted all contact with Mr. Tsimhoni.
The judge reached a similar conclusion, telling the oldest boy forcefully, "You're very defiant, you have no manners. … There is no reason why you do not have a relationship with your father. Your father has never been charged with anything. Your father's never been convicted of anything. Your father doesn't have a personal protection order against him. Your father is well-liked and loved by the community, his co-workers, his family (and) his colleagues. You, young man, have got it wrong. I think your father is a great man who has gone through hoops for you to have a relationship with you."
Nevertheless, the bad feelings have persisted all these years, even costing Liam a bar mitzvah, since Ms. Tsimhoni doesn't want to take him to Israel, claiming that she fears arrest for having taken the children out of the country in the first place. They've also lost the opportunity to get to know their new half brother, Mr. Tsimhoni's 2-year-old son by his new wife.
Meanwhile, Mr. Tsimhoni says, "I would do anything for these kids to have a good relationship with their father and with their mother." He insists, "I have paid all child support since day one, even before there was a court order to do so."
Mr. Tsimhoni describes an early part of their marriage with tenderness. "I was a PhD student and my ex-wife was doing her residency. I know more about changing diapers and feeding babies than most fathers. I was the primary caregiver of Liam. All of that was ripped away. And I don't blame him at all."
Those early memories grow dim now. The judge warned Ms. Tsimhoni many times about the consequences of not getting the children to visitations. "It was almost like she wanted this to happen so she could try to get rid of the judge. There are now people who were misled to believe she was a great mother and somebody took her kids away from her just like that because they didn't want to have lunch with me. In fact, it was years of her playing games – saying she'd come at one time and then not coming. She was reprimanded a month or two before this happened for contempt of court."
There's a Yiddish proverb, "Little children, little problems; big children, big problems." Sadly, the Tsimhoni kids are only getting bigger, and so are their problems.