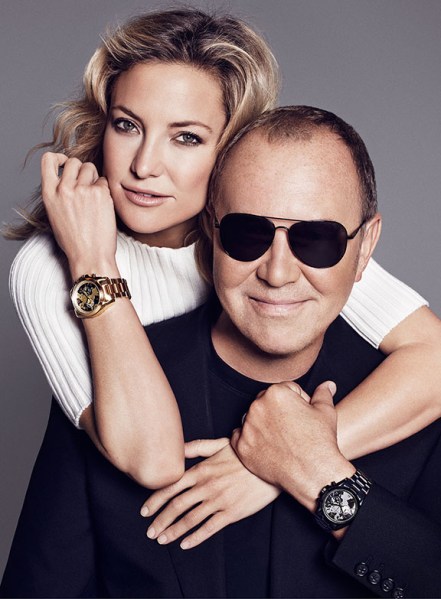 Michael Kors, as a brand, is representative of upscale retail. Michael Kors as a man, however, gets a different rep all together.
Having been recognized for his outstanding partnership with the American Foundation for AIDS research, acknowledged widely for his 20 years of devotion to the hunger fighting organization God's Love We Deliver, and praised for his active yearly fundraising during Breast Cancer Awareness Month, Mr. Kors now has a new title to add to the list: he has officially been named a United Nations World Food Programme Global Ambassador Against Hunger.
And what's more, Mr. Kors has just announced a brand new partnership with Golden Globe winner Kate Hudson in the fight to end hunger alongside the World Food Programme (WFP), following the news that his brand has now officially delivered over 10 million meals in total to hungry children. WFP is the largest global humanitarian agency dedicated to the fight against hunger; each year they assist approximately 80 million people in over 75 countries, delivering meals, providing food assistance and improving community nutrition. Mr. Kors has been an active contributor to the cause since 2013.
The first project Ms. Hudson and Mr. Kors are taking on together is a new installment in the Michael Kors backed project Watch Hunger Stop. Through the 2013 philanthropic campaign, Mr. Kors donated 100 nutritious meals to children in need, for each MK 100 Series Watch sale. The most recent addition to the campaign, which goes on sale this October, will feature two limited edition styles of the Bradshaw 100 watch along with the same 100 meal delivery pledge. Additionally, for the entirety of the watch's release month, customers can make donations to WFP at MK retail store registers.
"As a mother, I can't think of anything more important than raising a healthy and educated generation of children, and WFP's School Meals Program is committed to exactly that," Ms. Hudson commented on the recent collaboration. "This is a cause that I'm eager to be a part of because I believe we can all make a real and significant difference."
Ms. Hudson, with an equally impressive array of credentials when it comes to philanthropic work (namely The Hawn Foundation),will certainly pair well with Mr. Kors when it comes to using luxury as a way to address fundamental public issues. "She has a unique star quality," Mr. Kors announced, in reference to the cooperative campaign. "I'm so excited to have [her] join me in the fight to ensure that no child anywhere in the world goes to bed hungry."