The 4th of July is quickly approaching, and with it the stress of curating the perfect grill menu and selection of booze.
This year, accompany those classic American beers with something off the Observer's menu of signature Independence Day cocktails. The following list of drinks has everything one could want for the big July 4th, from sparkling drinks reminiscent of fireworks to others featuring American ingredients. Of course, many sport the famous red, white and blue as well.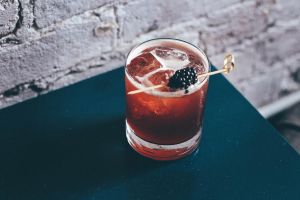 The Scout
1.5 oz. Bourbon
.75 oz. Muroise
.75 oz. lemon juice
.5 oz. Cynar
.25 oz. Madagascar vanilla
Garnish with two blackberries
Rose Gelée infusion
1 bottle SIMI Sonoma Country Dry Rosé
1 tablespoon + ¾ teaspoon unflavored gelatin (two packets)
1 cup water, divided
1 cup sugar
Blueberries and whipped cream for garnish
Sprinkle gelatin over ¼ cup of the water in a small bowl then combine remaining water and sugar over medium heat, stirring until dissolved. Add gelatin to the sugar syrup and stir to dissolve. Combine with the wine in a bowl or pan and refrigerate for 3 hours, until set. Spoon into glasses and garnish to serve.
Grey Goose Cherry Noir and Soda
1.5 oz. Grey Goose Cherry Noir vodka
3 oz. club soda
Garnish with two lemon wedges and oregano branch
Lush Life
2 oz Smirnoff Ruby Red Grapefruit Vodka
.75 oz Grand Marnier Raspberry Peach
.5 oz lime cordial
.25 oz fresh lime juice
.75 oz fresh grapefruit juice
Garnish with fresh raspberries
Ambrose Beer and Lobster's Red, White and Blue
1 oz. vodka
Splash of lemonade
Splash of club soda
For red, add grenadine
For blue, add curaçao
Clos du Bois Watermelon Wine Spritz
Clos du Bois Chardonnay (chilled)
2 cups sweet and seedless watermelon (chilled)
1 tablespoon simple syrup
Club soda
Garnish with mint
Combine watermelon chunks and simple syrup in a blender, and fill a double rocks tumbler or wine glass a quarter of the way. Add ice cubes and fill the rest of the glass with Clos du Bois Chardonnay. Top off with a splash of club soda and garnish with mint.

Courvoisier Sparkler
1 oz. Courvoisier VSOP cognac
2 dashes of Angostura bitters
1 sugar cube
Top up with champagne
Soak a sugar cube in bitters and drop into a Champagne flute. Cover with Courvoisier® VSOP Cognac and slowly top with Champagne.
Stag's Leap 
1.5 oz Jägermeister
1.5 sweet vermouth
3 dashes of Devils Larder root beer bitters
Seltzer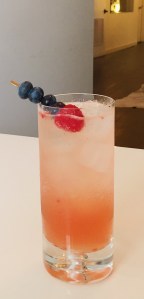 Berry United
1.5 oz Grand Marnier Raspberry Peach
Soda water  
Garnish with fresh raspberries
Dobel Patriotic Margarita
2 oz. DOBEL tequila
0.5 oz. Agave nectar
0.5 oz. Fresh lime juice
Combe these ingredients in a blender with ice for each layer (three times total). For blue, also add 0.75 oz. blue curaco, and for red, add 0.75 oz. of grenadine. Use a spoon to carefully at each new layer, one at a time.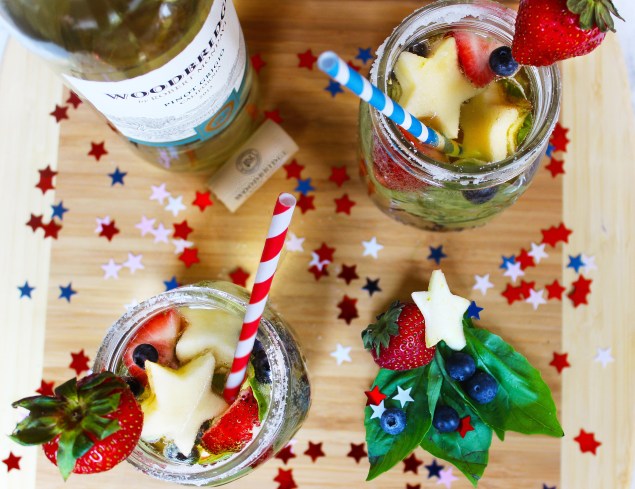 Star Spangled Sangria (serves 8)
½ cup sugar
½ cup lemon juice
1 (10 ounce) bottle club soda
1 (750 milliliter) bottle of Woodbridge by Robert Mondavi Pinot Grigio
1 lemon, sliced
Ice
Star fruit, strawberries, blueberries and mint leaves for garnish
Dissolve sugar in the lemon juice in a large pitcher. Add club soda, Pinot Grigio, lemon slices and mix well. Add garnish and then ice just before serving.