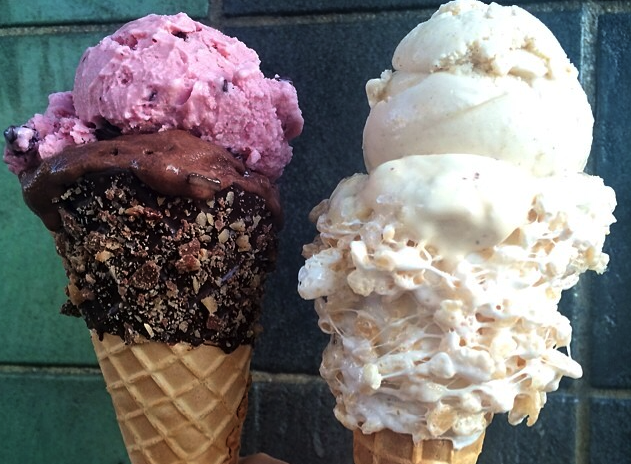 WNYC is continuing to experiment with simple but interesting ways to help you enjoy New York City using technology.  First it was emoji indication of how the subway is running. Now it's ice cream.
This morning, WNYC announced its Ice Cream Radar, a web app that will sense your location and tell you where the nearest ice cream shop is. An SMS version is also available—in theory.
Visit the page on your computer or mobile device and give it permission to see your location. It will quickly show you locations on a map where you can get some fresh ice cream nearby. You can opt to exclude chains and fro-yo if you want.
Pretty sweet.
It also has an SMS version, for those in the pre-smartphone era, which is laudable.
To use the SMS version, text your current address to 9292-COOL-ME (929.226.6563). Let us know if this version works for you. It didn't for us.
Though our test of the web version here at the Observer office showed us three locations on the same block, when we tried the same address via text we received this message, "Sorry, we were unable to find any ice cream locations for you." Worried I had failed to include "Manhattan, NY" on the address, I added that. Still nothing.
I also tried the address of my old place in Crown Heights, which is close to several spots on Nostrand, Fulton and Franklin Avenues that I would have thought would count. Same message.
So then I tried texting the address of The Soda Bar, on Vanderbilt Avenue, in Brooklyn, which is less than a block away from an Ample Hills Creamery location, the first local chain specifically mentioned in the WNYC blog post about the new servce. Still, the SMS system sent me the same message.
So good job looking out for the digital divide, WNYC, but it only really counts if the service works. Still, text-based applications are worth trying and working out the kinks. Even for smartphone users, they are simple, fast and, when used well, give a great user experience.
A couple other interesting services that allow you to get text answers to your questions include Bike SMS (find available Citibikes nearby) and MTA Bus Time (it tells you when a bus is coming, based on actual location data). Poncho will text you weather forecasts twice a day, though it's not yet available in every city.
Carla, Jarvis and Cloe are all SMS-based assistants. I tried Carla a little, but I didn't find learning the ropes of it functional enough to make me a regular user.
Since most people reading this probably made the smartphone switch long ago, though, just bookmark the Ice Cream Radar on your mobile browser, and we'll see you at Shake Shack.