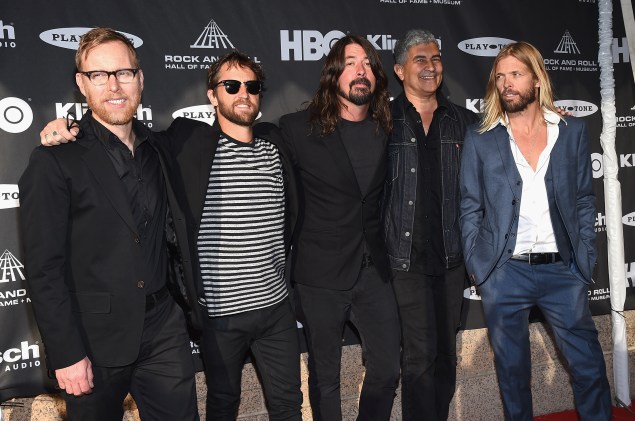 The Foo Fighters might be able to sell out a stadium, but it turns out they can't control the news.
The alternative rock band played a highly publicized 20th anniversary gig this weekend at RFK Stadium in Washington, D.C., but you'll find little evidence of that on the website of the Washington City Paper. That's because the Foo Fighters asked the weekly to sign a prohibitive contract that would have given it virtually no rights over photos of the band, which is fronted by former Nirvana drummer Dave Grohl.
"If we signed it, we would have agreed to: the band approving the photos which run in the City Paper; only running the photos once and with only one article; and all copyrights would transfer to the band," Steve Cavendish, the paper's new editor, wrote in a miffed post on Thursday. He called the contract "exploitation of photographers, pure and simple," and then asked audience members to send in their own photos for publication.
"We got a lot and we're sorting through them this morning," Mr. Cavendish told the Observer in an email today. "We'll likely pick one for print and pay the winner for it."
Curiously, The Washington Post and Rolling Stone published their own photos of the Foo Fighters' RFK performance. Mr. Cavendish speculated that the band's management had waived the contract for Rolling Stone and the Post. "If that's the case, it's even worse: They're selectively using an onerous contract against smaller media outlets," he said. "Screw that."
"That is patently absurd," said Steve Martin, of Nasty Little Man, which represents the Foo Fighters. "People who found a way somehow to shoot this include the Vinyl District, Consequence of Sound, Pop Matters." Mr. Martin wouldn't say whether those publications had signed the Foo Fighters' release—nor would he comment on the Post or Rolling Stone—but he explained that his publicity team works to "modify and negotiate these agreements all the time."
Mr. Martin said that the Washington City Paper has signed this exact release in the past, before Mr. Cavendish, who started at the paper last month, was editor. "It was in poor taste to air it publicly," Mr. Martin said of the contract.
If the Washington City Paper was indeed slighted by the Foo Fighters this weekend, though, it wasn't the only one. Last week, the band publicized a list of items it was prohibiting audience members from bringing to the RFK concert. They included innocuous items like lawn chairs and frisbees as well as more insidious things such as wallet chains, drones, spray paint and uncured meats "of any kind."
No word yet on whether anyone snuck in raw bacon.