Whilst the overhyped Shark Week rages on for Discovery Channel viewers, Elliot Sudal has his bare feet planted firmly in the ground-or rather, the sand-on Nantucket Island. Mr. Sudal is the man behind the rapidly growing Instagram account @AckSharks, which shows off the array of sharks he reels in from the shoreline.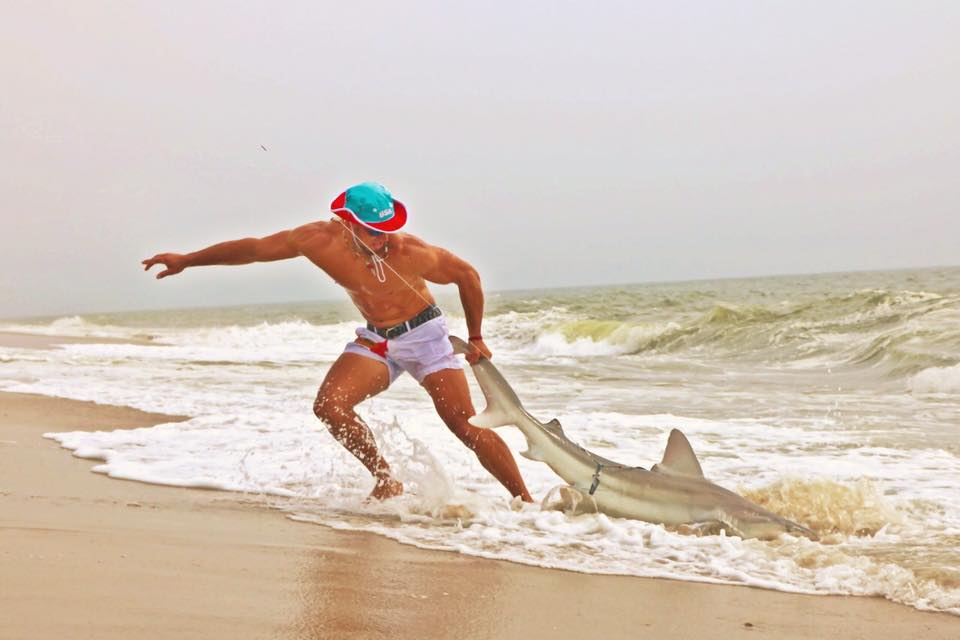 Once a toothy beast is apprehended from the waters, he mounts them to snap a photo, tags them, and releases them back into the wild. His bold moves have earned him a spot as the reluctant Instagram-famous icon of the summer for both thrill-seekers and tawny vacationers.
Mr. Sudal hails from the same neck of the woods in central Connecticut as I do; a boring section of the state just a bit too far from the neighboring Boston and Manhattan. Thus, as a teenager, he got creative. "Like every other rebellious teenager, I thought [Burlington, Connecticut] was a boring town with nothing to do, but looking back now I was incredibly fortunate to have been raised there. I had a big pond in my backyard, which I think of as my gateway drug to this wild fishing addiction I've developed," he said during our recent chat over the phone from Nantucket. "I went to Central Connecticut State University, and studied environmental science and biology. My first summer break a friend and I, on a whim, bought one-way tickets to Anchorage, Alaska. We had like five hundred bucks, and a huge tent, but it turned out to be the best decision of my life."
From there, he wove his way through Florida, Long Island Sound, and Alaska each summer, taking up separate sea-faring gigs ranging from private vessel contracts to The U.S. Fish & Wildlife Service. This included a stay at a run-down, '70s era trailer in Anchorage. He and his friend remodeled their mobile home to include a cheeky set of painted eyes, and renamed the shanty The Magic School Bus. "It just showed me how much more there was to life than living in central Connecticut, and that if you just balls up and take a chance, you can make it in a new place," he said with a laugh.
After one particularly hot and stagnant Florida summer, he looked to relocate in 2013 to Nantucket, eventually taking a job, "…driving a little boat guiding big boats to their rental moorings in the harbor," he explained in laymens terms for me. "I had that whole viral video shark wrestler thing happen the first summer I was on Nantucket, which led to a lot of things," he glossed over modestly. It may have been old hat for him, but said video depicts Mr. Sudal hauling in another catch-the first video of its kind to hit the Internet, garnering an estimated 2.5 million views. Attention from Good Morning America, CNN, Fox, and hundreds more ensued, making him the latest flash in the Internet stardom pan.
His new projects include a four month stint on the National Geographic sea survival series The Raft filmed in the Carribean, a book deal, and a "shark show" he has been filming this summer on Nantucket. Details have been kept under wraps. When he has not been filming, new friends representing brands enamored with his carefree, albeit salty approach to summer living visit him. Vineyard Vines, fraternity-appropriate Chubbies shorts, Tucker Blair needlepoint belts, and the fantastically overwrought prepman Kiel James Patrick have all given their stamp of approval. "It's weird. Obtaining those elusive likes becomes like a little game," he said of the Instagram scene. "It's so funny seeing what people are into. For example, the most likes I've ever gotten was [a picture of] this puffed-out, tennis ball size puffer fish. Really? I'm here posting 400-pound bull sharks!"
Luckily, he is not swept up in the world of pastels outfitting him in short-shorts and handmade belts. His average day consists of, "a lot of coffee and fishing." He captains a private fishing boat for a family, and stays fit by frequenting the only gym on the small island. "I love pounding like three cups of coffee, throwing on some Hawaiian music, and lifting stuff," he explained of his regimen. "I run occasionally, and live a pretty active lifestyle, but I enjoy ice cream and pizza too much. I go through like a pint of Ben & Jerry's every day. I actually think ice cream makes me happier than being slightly more defined would." Mr. Sudal has reeled in 88 sharks so far this year. His most epic catch came when he went on, what he refers to as, a "Nantucket Sleigh Ride" being pulled by a 7-foot brown shark weighing in at nearly 300 pounds.
Then there is the endlessly debated Shark Week-its validity, its repetitiveness, and its demonizing of a dying species. "You can only have so many guys cage diving with Great Whites," he said of the marathon week of summer TV programming. "They're always saying, 'Oh my gosh it bumped the cage! They are such man-eaters, everyone be afraid!' But, if a half-naked person ran into your home, you'd probably attack it too. Danger sells though, I get that." Luckily, he has his own show in the works.