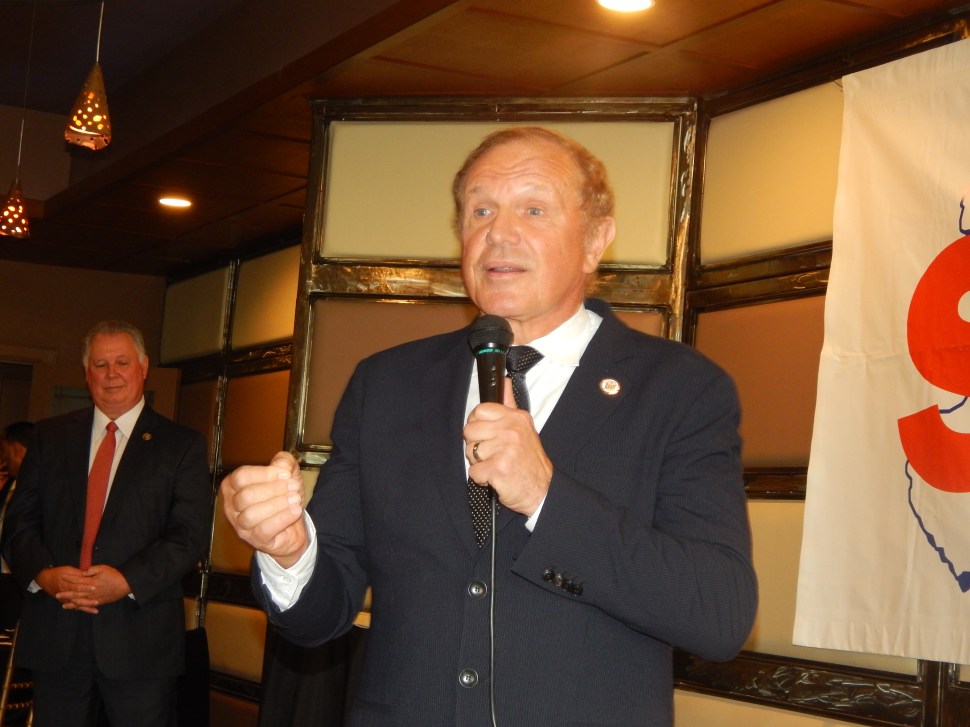 It's always perilous to write about the chairman of the Ocean County Democratic Party.
His name is Wyatt Earp, and so how does one invoke him without caving in to what the handlebar moustache-wearing, long toiling Democrat has heard his entire life, a life no doubt fraught with OK Corral punch lines, and stale illusions to My Darling Clementine (beware: obscure reference to a line in Tombstone coming up).
We'll refrain (or in any event, we tried).
What's actually germane about the picnic Earp threw earlier today is that not only Senate President Steve Sweeney (D-3) and Jersey City Mayor Steven Fulop showed up, but so did state Senator Ray Lesniak (D-20), all three men trying to get traction in front of the 2017 gubernatorial contest. While Lesniak's presence at the event is interesting, he didn't exactly fly from Paris to get there. Earp's a friend, for starters, and the senator's shore home stands in Mantoloking, so it wasn't as though he had to even make the trek down from Elizabeth.
We don't know this for sure, and the source may have heard incorrectly, but apparently when Earp asked Lesniak how he was doing the senator, channeling Powers Boothe, said. "I feel great. I feel… capital."
Following their stops in Ocean, Fulop and Sweeney made their way over to a Mercer County Democratic function, where former U.S. Ambassador to Germany Phil Murphy – another gubernatorial hopeful – was also in attendance.
PolitickerNJ asked if the contest is really so competitive that the Democratic candidates feel compelled to go to GOP-dominant Ocean, and one operative laughed off the question in return, noting that the presence of Earp – who looks the part – makes the trek hard to resist. The other piece to Ocean is how it fits into a larger alliance among party committees with Monmouth, Somerset, Mercer, Morris, Warren and Sussex, whose chairs have spoken of voting as a power bloc in 2017.