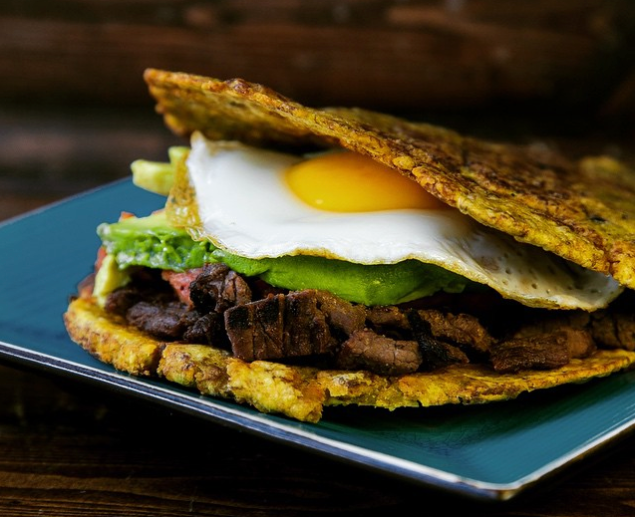 [Update, 11:47 a.m.: Seamless just provided the Observer with an updated list of the exact Smorgasburg items that will be available on Seamless this Saturday. There are sadly no Ramen Burgers up for grabs, but there will be Spaghetti Burgers. Here is the full list:
Williamsburg:
Goa Taco – Slow-roasted Pork Belly Paratha Tacos
Chickpea and Olive – Calexico Burger
Good Stock – Jambalaya
Imperial Egg – Scotch Egg
Antica Pesa – Spaghetti Burger 
Queens:
Kim Chi Smoke – Redneck Tacos
Patacon Pisao – Crispy Plantain Sandwich 
Arepa Lady – Arepas 
Celebes Bakar Grill – Beef Rib]
Not in the mood to wait two hours in line for a ramen burger? Please brace yourself thoroughly for the most important news you will read today, or possibly in your life: This Saturday, Smorgasburg will be available on Seamless.
No, this is not a joke. On July 18, from 11 a.m. to 6 p.m., delicacies from Smorgasburg's Williamsburg and Long Island City locations will be available on Seamless to customers in parts of Brooklyn and Queens (sorry, Manhattanites—looks like you'll still have to show up in person to get your paws on some mofongo).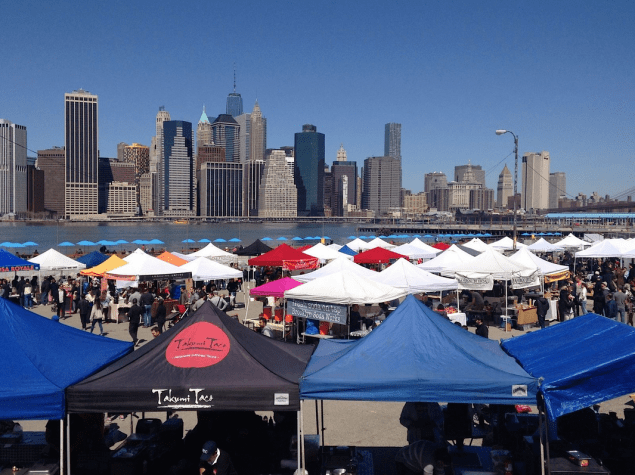 For those unfamiliar with the much-loved NYC eating experience, Smorgasburg, founded in 2011, is a food market showcasing the city's artisanal food offerings. With locations in Brooklyn, Manhattan, and—most recently—Queens, the delicious marketplace has acquired legions of fans who skip their local brunch spots in favor of Smorgasburg's high-end street eats.
Based on some basic information a Seamless spokesperson was able to share with the Observer, items from Smorgasburg's Williamsburg vendors—a legendary group that includes Ramen Burger and Dough—will be available to Seamless customers in "most of Williamsburg and Greenpoint." Food from Long Island City vendors—think Kim Chi Smoke's "Korean Redneck Tacos" and Sugar Freak Astoria's deep-fried pudding—will be available to customers in "most of Astoria and Long Island City and part of Sunnyside."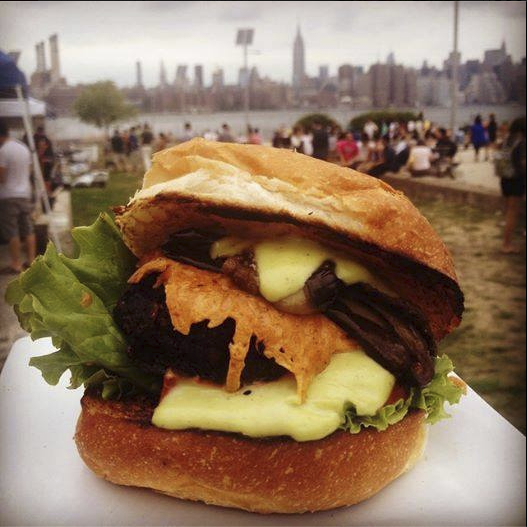 If those delivery zones limited, it's because this historic one-day affair is something of a test run for both Smorgasburg and Seamless. For Smorgasburg, this weekend marks its first attempt at deliveries. For Seamless, the Smorgasburg partnership will allow it to test multi-vendor ordering capabilities, the spokesperson explained—i.e., the possibility of letting diners mix and match items from different vendors, all in one order.
Could this mean, in the future, that Smorgasburg and Seamless will form a more permanent partnership, and we can all live out our days cramming our faces with Goa tacos from the comfort of our very own couches?
"For right now it is just one day only but we are always open to continuing offerings like this," the Seamless spokesperson said.