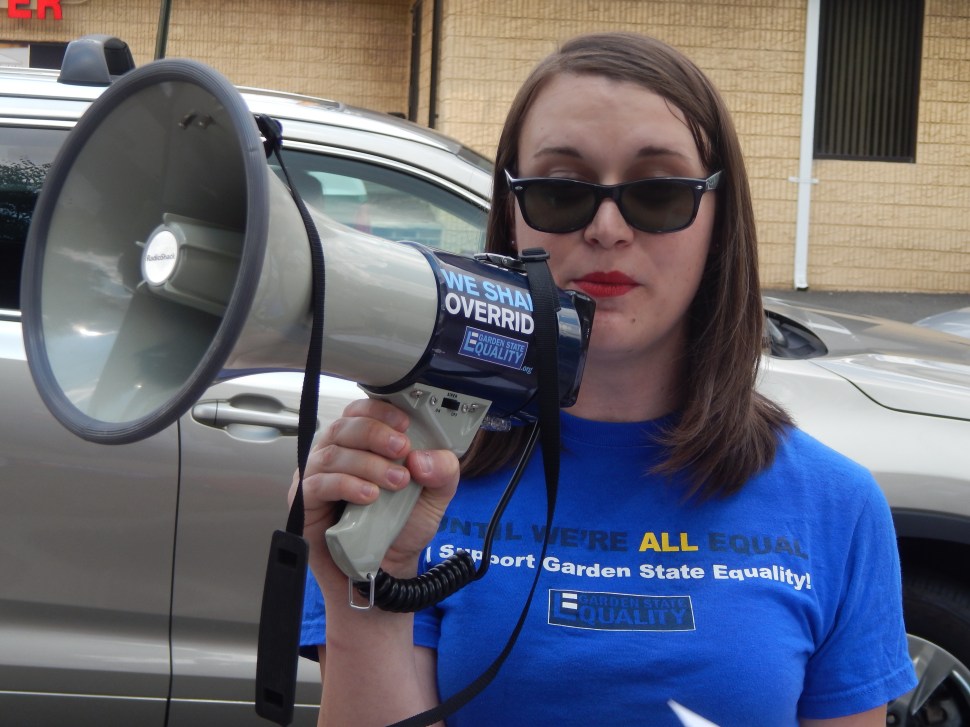 GLEN ROCK – Led by Executive Director Andrea Bowen, a cavalcade of Garden State Equality allies this afternoon raised their voices in opposition to U.S. Rep. Scott Garrett (R-5) outside his district office, chanting "Hey hey, ho ho, Scotty G has got to go!"
"The dude just cannot be stopped when it comes to hating gay people," Bowen said into a hand-held megaphone at the head of a crowd of about 50 LGBT activists, Democratic operatives Dave Parano and Chris Hillman among them.
The rally occurred as a protest to Garrett following a published report in POLITICO about his statements to fellow Republicans that he didn't want to give money to the National Republican Congressional Committee (NRCC) because the organization supports gay candidates.
A subsequent barrage of outrage accumulated around the ever-elusive Garrett, a Sussex-based congressman whose district incorporates sections of Bergen County. Those present today repeatedly made the case that Garrett doesn't represent Bergen – or New Jersey.
"Two, four, six, eight, we're the state that doesn't hate," yelled Bowen.
Joining Garden State Equality were representatives of other allied organizations, including Jessica O'Hanlon of Planned Parenthood.
"Let's be Scott free! Let's be Scott free!" the chants continued.
PolitickerNJ went to Garrett's darkened office and rapped on the door. A representative appeared, turned on the lights, opened the door and said the press office was handling the matter and noted that the congressman would likely be available to sit with one or two Garden state Equality representatives regarding the matter.