Timeless music alone does not cement a musician's legacy. We celebrate Paul Gaugin even though he was a syphilitic pedophile, and orchestras perform the works of Richard Wagner despite his Nazi leanings; but our culture doesn't ever seem to separate a popular musician's transgressions from their work. Maybe it's indicative of a trend, music journalism devolving into lifestyle reporting, or maybe it's myth. We write about Led Zeppelin's mud shark escapade or Neil Young blowing lines of coke off a giant mirror backstage at The Last Waltz because such stories cement their storied personas, and the personas, in turn, define their music. Never mind if such myths give the musicians a fair shake.
'It's not just one or two songs—there's a whole history of music that they're trying to hide under the rug.'
George Clinton, 73, speaks to this phenomenon better than anyone. Mr. Clinton founded the funk band Parliament as an evolution of doo-wop, then later took funk to space and back again with Funkadelic. He's one of the most sampled artists of all time, with the likes of Nas, 2 Pac, Wu Tang, Madlib, and Rakim all bringing his funk to a new generation of hip-hop fans. Most famously, in 1993, Snoop Dogg's sample of "Atomic Dog" in "Who am I (What's My Name?)" introduced the young West Coast rapper to the world. And if all the samples aren't enough of a legacy, let the fact that his giant Funkadelic Mothership has found a home at The Smithsonian or the fact that he's in The Rock and Roll Hall of Fame, along with 15 other members of P-Funk, sparkle brightly on this star child's CV.
But is that enough? Though years of drug abuse may seem to have dogged the legacy of Mr. Clinton, he's been sober for a couple of years and is working his ass off, touring nonstop to promote his new Funkadelic album, First Ya Gotta Shake the Gate. He's promoting a memoir too, Brothers Be, 'Yo, Like George, Ain't That Funkin' Kinda Hard On You?, which is also the name of the album's single.
Yet Mr. Clinton is working even harder to win back the rights to his masters. Shortly after the Snoop-sampled "Atomic Dog" was released in 1982, Mr. Clinton allegedly filed for bankruptcy. Allegedly because, in Mr. Clinton's words, the bankruptcy was fictitious—part of a "systematic fraud" to deprive Mr. Clinton millions of dollars owed to him from the highest selling single of his career.
The Observer spoke to Mr. Clinton about his memoir, his new album, finding the funk and cleaning up his legacy. If such claims sound like absurd, paranoid conspiracy on the surface, our doubts are complicated by Mr. Clinton's eloquence and attention to detail in describing what he believes is being done to him. Later on in Queensbridge Park, Mr. Clinton performed with P-Funk, his granddaughters providing backing vocals. Mr. Clinton's short hair, dapper burgundy suit and blistering performance that night further told the story of a man who walked a funky road before launching out into space.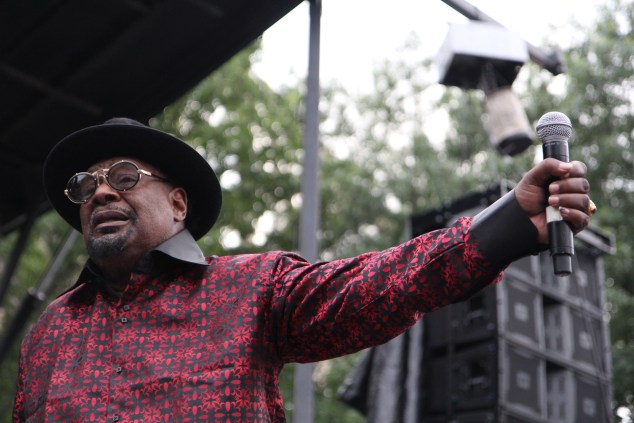 You're on tour all summer?
Yeah, this tour this summer is [in support of] First Ya Gotta Shake the Gate, and the single is "Aint That Funkin' Kinda Hard On You?" That's what I was talking to Ice Cube about [on the phone] just now, to do the video. Kendrick Lamar just did verses on that.
So you traded collaborations with him?
Yeah, that's it, and Cube was glad that Kendrick did it so he's gonna do the video for it.
Out of all the living legends, you're the one all these young dudes hit up.
'Everything was funky around New York in the '60s, shit!'
[laughs] And on the same record we got Louie Vega. He did the remix of the record, and we got Kendrick on there, and now Ice Cube is doin' the video. So it's still goin', you know.
You're still at the P-Funk party?
It ain't gonna stop no time soon.
Well, seeing as you're spending all this time in New York, what's your headiest New York funk story? I know if a memory's too funky it's hard to remember.
Everything was funky around New York in the '60s, shit! You had the Cheetah, which was wild and crazy. You had Ungano's, which everybody was trippin' out at before there was Studio 54 or any of that shit. You had the East Village Electric Circus, the Fillmore East. You'd go to Brooklyn Paramount in the '50s for the doo-wop stuff, I mean, depending on what era you're talking about. I came through all of 'em.
Well yeah, I wanted to talk about doo-wop too, because you found the funk at some point, right? Where did you find it?
Well you know, even when we was doing doo-wop, I had a loving relationship with stuff like The Coasters… that stuff is basically funk for doo-wop. The Coasters stuff was really always on that funky edge of town, and then New Orleans music was also really funky. I didn't really pay attention to nothin'—I went through Motown. That was the pop music; that was the slickest. But I think in my bones I was feelin' the funk all the time. We would always be gettin' funky no matter how cool we came out on stage. Even before we went off we was tearin' shit up.
Well who's getting it now? I know you've got this mutual love for Kendrick, you were sort of the high priest on that record. You said in the Miami New Times piece that we have to dig these new genres, dig these new sounds and the new breed to see what it adds to the conversation. Who else gets it?
Well Pharrell has been around for a while and he still is very much the one, I feel, as far as making commercial hit records and staying able to do funk or anything else. I mean he [produced] Mystikal—that is like the funkiest shit you can do. Then he turns around to do "Happy." There's a wide range he can play that nobody else around can do. He's that commercial type person with all kinds of music in his head, been that way for a long time. He's in a place by himself.
I guess it doesn't matter if music's commercial so long as it brings people together.
Yeah, if you're dancin' and you're havin' a good time! But I'm sure he could go the other route and be political if he wanted to.
Speaking of Pharrell, I'm sure you're pretty happy to be out of that whole "Blurred Lines" trial mess. What's the deal with your [recording] masters, and how are you fighting that battle to get some of your [publishing] rights back?
I'm still fighting, all of 'em are still scared to say the one thing that scares The New York Times, ABC, even my book people, is that these people filed a fictitious bankruptcy on me and none of them are willin' to say it. I said it! I went to the FBI with it! They said wait till we get in touch with you, then they told me to get someone to advocate or get it in the news. So that's why I wrote the book, to put it in the news. And I'm tellin' everybody. They avoid my bankruptcy. That's the main thing that nobody wants to talk about.
Well, you're talking about it, so it's obviously not—
Well I'm talkin' about it, but most of 'em are afraid to repeat it. That part wasn't even in the book, and for no reason because I gave [my publishers] the paperwork. That's not my social security number, not my info at all. The bankruptcy is the thing that everybody's been avoiding.
We'll be sure to mention it. I also have to ask you about terrestrial radio royalties for performers, because you call Aretha Franklin "the first lady" of funk on "Chocolate City." Did you know she makes nothing when "Respect" comes on the radio? It seems like the performers of so many famous songs make nothing. Is this part of the royalties battle for you?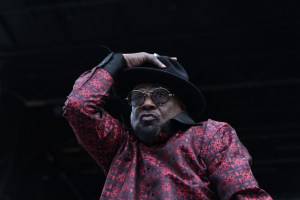 That was one of the things that [U.S. Representative] John Conyers tried to bring up a couple of years ago, and it got voted down. Except for China, the United States and North Korea, every other country pays their performers a royalty. Digital music has a little royalty, but not the regular radio, BMI and ASCAP.
Does radio have the same push that it used to, back before Clear Channel when there were still mom-and-pop stations?
It has the power to tell what's No. 1 and 2 and 3, you know, up to the 20 that they play. Pretty much the same people who own the radio stations own the record companies. It's good that YouTube and these other outlets are coming along, I mean—you can say they give away a lot of free music but you have to weigh that against the fact that you have the entire planet. The Internet is the bigger picture. It's much better than trying to get paid that 20 percent from the record company, which they still never pay. You're better off doin' the iTunes thing yourself.
One nation under a groove?
That's it!
What's the deal with the P-Funk Mothership going on display at the Smithsonian [National Museum of African American History and Culture] next year? Is having a piece of your history in a museum about looking to the future or looking back for you?
'The bankruptcy is the thing that everybody's been avoiding.'
I made sure that it was there and I'm trying to make sure that everything associated with it is cleaned up by then. That's why I'm fighting so hard for the copyrights. All that music that made that spaceship what it is, the samples that music gave to other songs. It's not just the albums that we did but everything that was made with it. So for it to be there, I wanna live up to its qualifications to be there by fighting for the rights.
Makes sense. What's in the Mothership though? Anything good?
[laughs] Oh man, I'm tryin' a go tomorrow morning.
Can you explain the work you're doing with Flashlight?
Well Flashlight 2013 is the place with all the court cases in chronological order. So I don't have to be out here babblin' about what I think happened. Anybody who wants to see and follow along with these things, what's gone down and what's goin' down, Flashlight is the place to see it. Because they're trying to ban the book.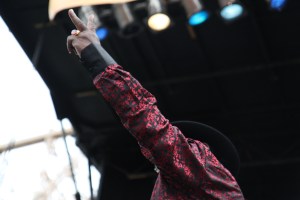 What? Why?
Well they have to try to stop me before I get to court. That's usually what they do. People don't realize that there's a federal investigation, it's not just one or two songs—there's a whole history of music that they're trying to hide under the rug. And when you get ABC or New York Times to back down… they filed motions to have the papers unsealed, then they backed down. I want to know what their reason was for backing down. Jane Peterer Thompson [formerly of Bridgeport Music] gave a deposition in Switzerland. This is so big, I wouldn't be around here if it wasn't as big as it is. So many songs, it's just hard for this shit to go away. They never expected that kids like Kendrick Lamar would still be interested in talking to me. They sufficiently scared the hell out of the other artists from even talking. When you start talking about this you see how far up it comes back to you. It's not just about someone paying somebody off, it has to do with some serious shit, more so political. Something about what happened with that music and all those copyrights has been done through the U.S. copyright office, and they can't admit that it has taken place. You know, this is the same shit that guy Snowden is talking about. If he can go in there and change documents, copyrights, patents and things like that, which these people did, we have paperwork showing it…
Maybe it's the funk, man. Your music isn't political in of itself, but if politics is about dividing the people and funk is about bringing people together, there's a clear opposition, isn't there?
Well if that's what it is then they got a real problem, because I'm still gonna be fightin' for that.
Stay funky, George.
All right, so that's what I got to do.
The hardcover edition of Brothers be, 'Yo, Like George', Ain't That Funkin Kinda Hard On You is out of stock on Amazon, but you can preorder the paperback, slated for release this fall.