London-based artist Hilde Krohn Huse hung helplessly from a tree for 3.5 harrowing hours at the hands of… herself.
The artist, who is originally from Norway but has lived in London since she was young, decided to suspend herself from a tree with rope in a forest near Aukra, Norway as part of a video piece for an art class.
Clearly, something went awry, and the 26-year-old Ms. Huse found herself strung out in the buff, unable to free herself.
"The video ends when the camera shuts off, but I was there calling for help for another 30 minutes," Ms. Huse told Norway's VG newspaper about the incident.  "I felt sick when I saw the video for the first time, I experienced everything anew. But I slept on it and realized that the video is quite decent."
As luck would have it, Ms. Huse's video was chosen for the prestigious Bloomberg New Contemporaries exhibition, where the work of 37 promising fine arts graduates in the U.K. is showcased.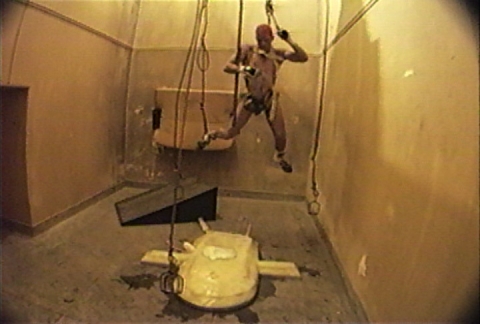 One of Ms. Huse's friends eventually came to her aid after hearing the artist's screams. Fortunately, Ms. Huse escaped with only a cut on the ankle and this story. The ad-libbed video, which is described as a "breakdown between performance and reality," has all the hallmarks of a classic piece of video art: humor, nudity, and risk of bodily harm.
Indeed, perhaps it was inspired by the early Matthew Barney work 'Field Dressing,' wherein the artist climbed around his studio, inserting petroleum jelly into a variety of orifices.
Gallery representation is likely not far off for Ms. Huse.