You know Jon Hamm right? This face, it looks familiar?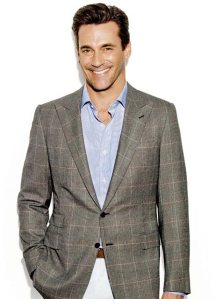 Okay, good.
This man is a very gifted dramatic actor. He played Don Draper on Mad Men for seven seasons. For those of you who are unaware, Mad Men is widely known as one of the best dramatic shows ever made. Its nominations reflect the high praise. Mad Men has been nominated for many, many awards—including many Emmys.
Jon Hamm himself has been nominated for an Emmy for every season of Mad Men. He has not yet won. Many (including myself) are puzzled as to why he has not yet garnered the award. Do the voters not watch Mad Men? Do they not care about Don's seven season struggle to become whole? Please, do watch this clip and tell me John Hamm does not deserve an award for his brilliant portrayal of the 60's ad man.
Have you finished crying yet? I'll give you another moment to collect yourself.
Mr. Hamm's nominations and talent are not reserved exclusively for Mad Men. No, it appears that our favorite dramatic actor can slink into comedic roles, quite well. Mr. Hamm has also been nominated this year for his work on Unbreakable Kimmy Schmidt, on which he plays a religious cult leader who charms his small town jury. Observe here.
But that's not all. Mr. Hamm was also nominated twice for his work on 30 Rock—his two nominations belong to two different characters. Which he played on the same show. He is also the only known man to perform in black face, and garner laughs and not death threats. In fact, his black face was one of his Emmy nominations. For your consideration:
Perhaps Mr. Hamm is simply too handsome to win an Emmy. Perhaps voters are intimidated by his good looks and charm. Oh, and his talent. Emmys, I beseech you. We know what a comedian Mr. Hamm is, and if his interviews are any indication, his acceptance speech(es) will be amazing. Don't rob the world of that. No one deserves an Emmy more than Jon Hamm. Let's make it happen.