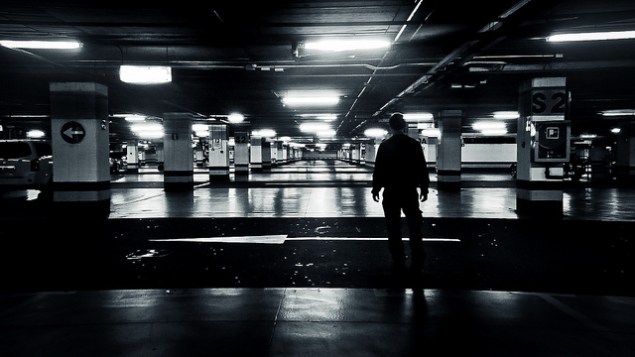 Last Wednesday, the famed F.A.O. Schwarz toy store shut its Fifth Avenue doors, which have, along with the bright red awning and soaring windows, beckoned passing children for the last 29 years. (The store, in a series of other locations, has been inducing high-pitched pleading since 1862). The cause of the closure—a substantial rent increase—was common enough, and so increasingly, was F.A.O. Schwarz's solution: moving the store to a cheaper, subterranean space.
In a city where space is ever at a premium, but perhaps no more so than this current moment—Manhattan land prices now average $1,200 per square foot—F.A.O. Schwarz's decision to sacrifice its prime street-level retail space for two sub-grade stories at 1633 Broadway makes perfect sense. The cost of retail space in the city's premiere shopping districts has reached levels that make it hard for even the busiest or priciest of stores to break even; indeed, it has long been assumed that many international brands don't expect to, and that they write off the astronomical expense of a Fifth Avenue address as an marketing expense.
And it's far from the only beloved local institution to go underground.
The same day that F.A.O. closed, the redevelopment of the Brooklyn Heights library branch, which would replace the ailing two-story structure on Cadman Plaza with a condo tower, received community board approval. According to the plan, a space on the ground-floor and below would be carved out for library and community use; and lest locals dread a dungeon-like bunker, Marvel Architects promised that "light would filter into the below-ground level from above."
The Brooklyn Public Library's decision also makes a certain amount of sense—faced with years of budget cuts, a number of dilapidated branches and some very valuable land, the library decided to follow in the footsteps of the New York Public Library, which inked a similar deal for the Donnell Library branch some years ago, selling off the plot to a developer in return for much-needed cash and a largely subterranean space that is now projected to open in 2016 (two of the three floors will be below grade).
Putting public schools and community centers in the base of condo towers, meanwhile, has long been a staple of redevelopments, such as Riverside Center and 8 Spruce Street, that require community approval, though in most cases, these, at least, are at street-level and above. But unlike the schools, libraries are negotiating for both space and sales price, and are therefore more inclined to concede more desirable space in return for a larger lump sum to spend on the entire system. (Nor may schools always be so privileged: after the private St. Ann's declined to lease the Brooklyn Heights building's below-grade community space, there were suggestions that the overcrowded P.S. 8 might use it as an annex.)
Indeed, going below-ground has, in some cases, come to seem so palatable that the "Lowline"—a proposed underground park on the Lower East Side and something of a celebrity pet project—recently raised more than $200,000 in a Kickstarter campaign.
On a case-by-case basis, such decisions seem perfectly logical, but taken in aggregate, it's more than a little concerning that more and more of the city's institutions, public or otherwise, are forsaking streetlife and sunlight.
Of course, entrepreneurs and institutions in this city have always made do with funny spaces—there are second and third-floor nail salons and showrooms, as well as a great many stores that lure customers in with street-level window displays before depositing them downstairs amidst basement clothing racks. And as New York's population grows, it's both good and necessary that low-rise buildings, especially ho-hum ones, be replaced with development that make better use of scarce land. Similarly, many Manhattan non-profits have sold off their former homes and taken the kingly profits to attend to their core missions. And who could argue with that?
But there is something lost in sacrificing the city's best real estate for all but the high (or highest) earning—primarily, the notion that civic institutions, non-profits and even iconic stores deserve a prominent place alongside luxury condos and chain retailers. It's a reality that is not much improved by the clever tricks employed by architects to disguise the subterranean nature of the space: glass wall at street level, atriums, Apple-like glass cube entrances.
Nowadays, regret at the closing of beloved institutions is almost always accompanied by an undertone of inevitability: that were not pulling their capitalist weight—that they failed to fund-raise aggressively enough, or retain the upper classes among their patronage, or change their business models to suit the times; perhaps they held tight to an insistence on selling something, like books, that less and less people were buying, or failed to expand their "brand" such that paying triple the rent would be possible. That they do not, rightly, have a place in the cities they have helped to make.
There is an assumption (an increasingly prevalent one) that just by continuing to exist in so expensive a city, these institutions have been lucky. And they have been: luckier, certainly, than many.
And inevitably, those fortunate enough to survive follow a short period of mourning with the celebration of their "sleeker" new spaces, a nice euphemism for the loss of something much grander. And we all breathe a collective sigh of relief that the things that seem to make New York New York have not been lost completely.
But while it is true that an institution's physical existence—the space it commands in an urban landscape—is less important than its existential one, it is important nonetheless.
Perhaps a free-standing school or library is, at this current moment, something of an affectation—a preciousness which a place like New York can ill afford. And F.A.O. Schwarz, which was bought out several years ago by Toys R' Us, is hardly a mom and pop in need of coddling or other cultural protections. We are, after all, a city of many pressing and competing needs. But there's a value to architectural autonomy, in addition, of course, to above-grade square-footage, it's impossible to ignore more and more long-time institutions going below-ground while luxury condos, hotels and chain stores claim pride of place in our landscape.
Many of these spaces are, if not publicly-owned, still public, and as such, their transitions from free-standing and street-level institutions to subterranean lairs at the base levels of luxury condo towers impact the feel, and ultimately the fate, of the city. There is, after all, the question of what public benefit all the city's new development bestows. If it cannot guarantee a place in the sun, it seems fair to expect, at the very least, a place with some sun.