Is the 8,500-square-foot townhouse at 54 West 87th Street that just sold for $15.5 million, the home shared by Joanne Rosen and Amy Cappellazzo, much-beloved former chairman at Christie's of postwar and contemporary development respectively? Well, if we had to guess—and we do, given that Peter McCuen, whose eponymous firm had the listing, did not immediately respond to our request for comment–we'd have to say, probably not. (Ms. Cappellazzo left the auction house not long ago to found the art consulting firm, Art Agency, Partners.)
According to Vogue, the couple occupies a Westside townhouse that was once a nunnery, but we can find no trail of evidence that attaches that pedigree to the recently sold home, which seems to have been an apartment house until relatively recently. And according to New York, Ms. Cappellazzo's go-to local restaurant is Cafe Luxembourg, which is a bit of a hike from West 87th. But Ms. Rosen, who is a partner in the real estate investment and development firm, Beacon Advisors, LLC, is certainly among the sellers—known in total as Beacon 87 Member LLC and Monkwell LLC—and the house, which dates to 1910 and stands in the Central Park West historic district, has most definitely had the benefit of a keen aesthetic sense.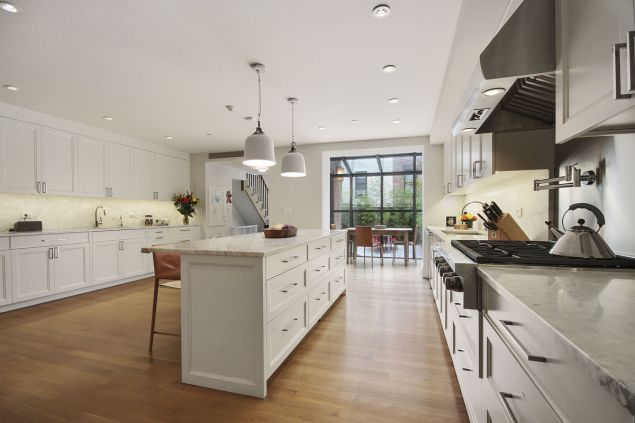 Twenty-two feet across and six floors high—if you count the basement, which you should, because it has a gym, playroom and wine room—the home features six bedrooms, a sizable rear garden and several terraces. The result of a complete renovation by Alan Wanzenberg that is at once understated and obviously really, really expensive, the townhouse's current iteration conveys little about its lengthy past. But who needs history when you've got an elevator, white statuary marble counters, three wood burning fireplaces and a newly-added penthouse with views of the Upper West Side? The buyer looks to be Guy Weltsch, a partner in the hedge fund TOMS Capital, operating through the aptly-named 54 West 87th Street Holdings LLC.