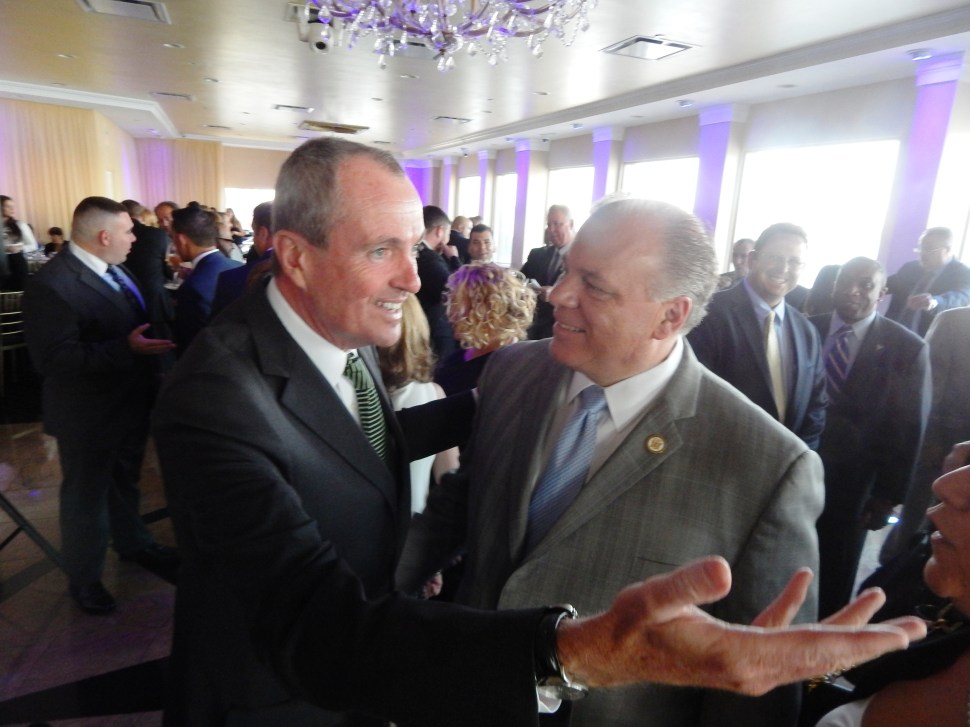 Miles Davis had Sketches of Spain and we, with apologies, have Gubernatorial Sketches in honor of Wayne (DeAngelo). Political junkies look for this updated list with the same rabid expectation that Parthenon Huxley fans await the maestro's next album.
But while those latter listeners most continue to have faith, look no farther than below, ye devotees of PolitickerNJ.
What follows is a casual mid-summer, mid-Sunday dissection in two parts of the latest ramblings and rumblings of those competitors seeking the governor's office in 2017…
PART ONE: DEMOCRATS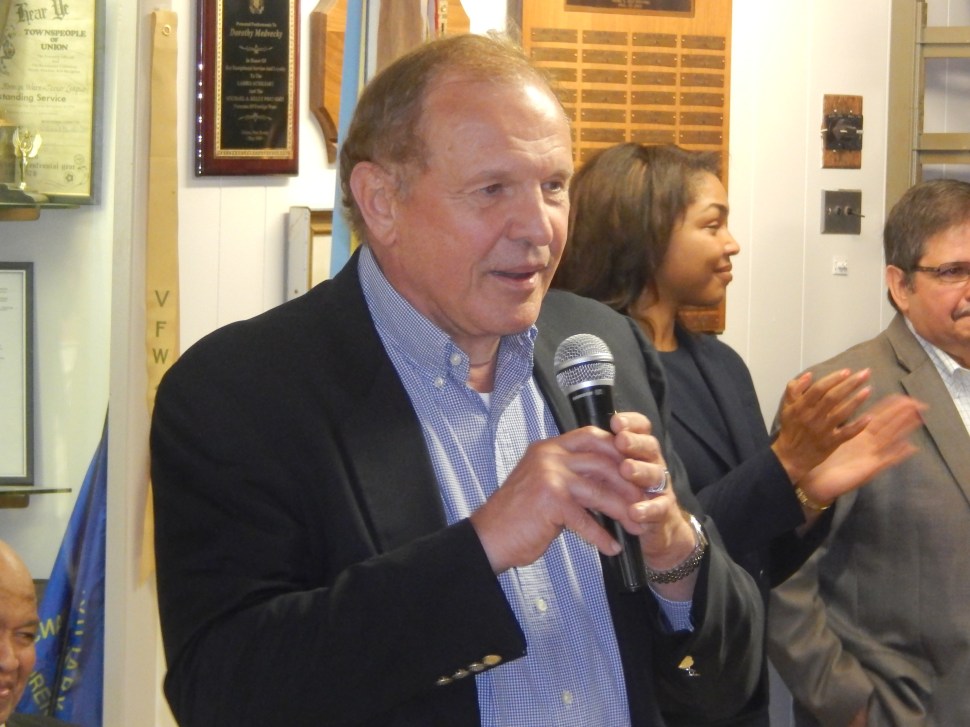 Ray Lesniak 
The veteran state senator's early obstacle appears to be his own longstanding reputation as a master political tactician. The moves he makes generally don't produce the expected conventional result, but some other as-yet unseen and ultimate goal. Having said that, Lesniak has convinced large handfuls of Democratic Party insiders that he is indeed running for Drumthwacket Denizen Number One in 2017, not U.S. Senator (perish the thought), or Senate President.
Still, the questions nag.
Is it real?
Last month, a Democratic Party big-shot told PolitickerNJ that he had come away from a lunch counter meeting with Lesniak convinced the Elizabeth-based senator is running. Then just last weekend, Lesniak regaled a boatload of politicos at his Mantoloking beach house, a group that included 101.5 FM radio personality Jim Gearhart and some Essex Democratic Party operatives. Everyone came away from the encounter resigned to the notion that Lesniak is running for governor.
In cocktail conversations with guests, Lesniak routinely spells out his Democratic Primary advantages: a NJ leader in abolishing the death penalty, accomplishing marriage equality and advancing animal rights causes, who possesses an arsenal of issues where he can demonstrate public advocacy, including the ExxonMobil debacle. His allies have also set up an independent expenditure political action committee, which has successfully engaged in several local contests, including the mayoral contests last year in Newark and Bayonne and the Elizabeth Board of Ed race.
Whatever his own political ambitions, and yes, there must be moments, probably a lot of them, when Lesniak looks around the caucus room at would-be rising stars, and says to himself (or out loud), "I'm smarter than that guy, that guy, that guy, that guy, that guy…" ad nauseam, or almost, quite possibly to the point of being convinced he should sit on the throne rather than content himself to whisper in the ear of someone intellectually inferior on the throne. But as complex a public personage as Lesniak is – and he has admitted that legislating for him is not a job but a passion – the Weiner Lesniak partner is also a boss at heart.
That means we cannot help but dissect his public moves and at least nurse the suspicion that he's angling for something that most dirt level pols can't yet see. His tightening of power in Union County this year – keeping ally Jerry Green in place as chairman while beating his own Union-centric gubernatorial drum – indicates he wants something. If not governor, and he insists that is absolutely what he wants, might Lesniak be satisfied to advance his protégé, Senator Nick Scutari (D-22), to the Senate Presidency?
An intellect in his own right who refuses to be pushed around, Scutari has excelled as chairman of the powerful Senate Judiciary Committee. Based on the size and political persuasive power of their population-rich Northern counties, insiders are apt to put forward the names of senators from Essex and Bergen as successors to Senate President Steve Sweeney (D-3). But consider this – neither Bergen nor Essex has a candidate in the 2017 gubernatorial mix right now, and it's not outlandish to picture the likes of senators M. Teresa Ruiz, Paul Sarlo, and Bob Gordon tearing one another to pieces for the seat while Lesniak coyly sits in Union County (and maybe stretching tentacles into Middlesex, if those two counties stick together, as they've flirted they might) as Scutari does neck rolls and shadow boxes in a satin robe, both of them – master and apprentice – casually waiting for the highest bidder.
Steve Sweeney
The Senate President gently flexed his muscles last week when he reminded onlookers what he can do from his throne in the Legislative upper house. He can let the likes of Ronald L. Rice get worked up over the absence of coveted programming funding, then not only restore that funding but add more, make a friend out of Rice, then do a victory lap up North with Rice and former schools principal Mayor Ras Baraka.
Sweeney will have a wheelbarrow full of regionally advantageous punch list items like that, and he will actively attempt to inflate the narrative that he's a South Jersey guy with a friendly North Jersey disposition.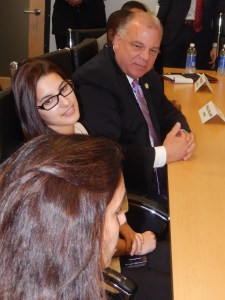 "It's painful," a North Jersey source told PolitickerNJ last week at Senator Brian Stack's fundraiser, speaking just out of earshot of Sweeney as the former ironworker grabbed hand after hand at the Waterside Restaurant mixer. "He's going nowhere fast," the source added.
There's a joke in the North, in fact, about how sooner rather than later, South Jersey Democratic Party Shogun George Norcross III (GN3) is going to take Sweeney out on a fishing trawler off the Cayman Islands to break the news to the Senate President that it's over. But regardless of the buzz, some of it intensified as Governor Chris Christie sinks, the ultra competitive Sweeney does not appear of a mind to back down.
His friends set up a political action committee to support his efforts, just as Lesniak's pals have a PAC.
And again, a day after the Stack event, Sweeney appeared in Newark and reiterated to PolitickerNJ that he will continue to aggressively compete. "They really think it's going to wear me out, eh?" he said, wearing the grin of an ex-linebacker (which he is) when he feels a helplessly flailing quarterback within his grasp. His labor origins in a labor state – remember, during the 19th Century the words "New Jersey feelings" resonated worldwide as a euphemism for workers who refused to be manhandled by management, groundwork that ultimately produced an AFL-CIO state that stands a million strong – augment his a bully pulpit as senate president. Say what you want about Sweeney, he has held the job with agility and plucky political calculation. He hopes that will be sufficient to offset his most apparent Democratic Primary deficiencies: residency in South Jersey, when the bulk of New Jersey's Democratic Primary voters reside in the North, his lead role in overhauling public pensions and benefits, which makes him a Brutus in some labor circles, and his perceived closeness to an unpopular sitting Republican governor.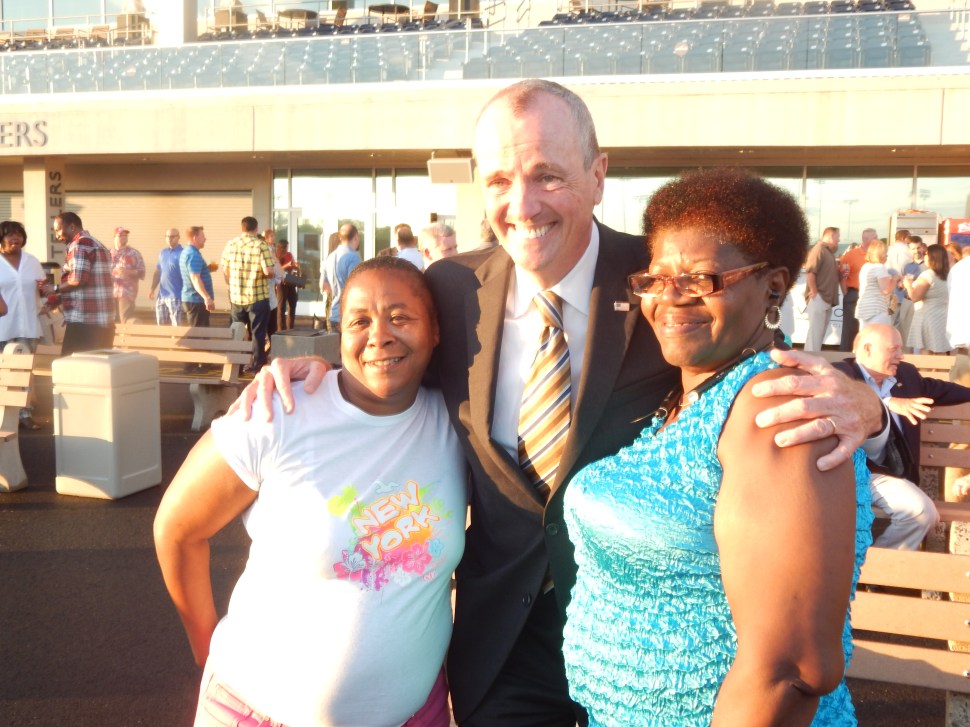 Phil Murphy
For a long time it looked like the former U.S. Ambassador to Germany had made the calculation that he wouldn't compete in Hudson County. Steven Fulop is the mayor of Jersey City, the biggest and most politically important town out of 12 local fiefdoms in Hudson, so if he had to cede ground somewhere it would be there, while he would try to out-hopscotch Fulop nearly everywhere else (with the exception of Sweeney's domain in South Jersey). Fulop, of course, had a job. Murphy was retired from Goldman Sachs, so even if the mayor had a regional advantage in terms of the time it takes to get to key events, Murphy had a cleared schedule and nothing, apparently, but time.
No 12-alarm fire was going to pull him away from a political event.
But after weeks of getting seen in Essex, Bergen, Passaic, Middlesex and Mercer, Murphy made forays into Hudson, attending Nick Sacco's victory party last month and Brian Stack's fundraiser last week. The hardest and coldest-eyed Hudson pols observed Murphy and said he's delusional. Hudson will be with Fulop and Murphy's time would be better spent at a salt water taffy pull in Ocean City.
Still, Murphy's indubitably good natured presence again in Hudson underscored what has characterized his early campaign presence: energy. Murphy comes from Boston. On the wall in his office in Red Bank hangs a picture of his mother with Jack Kennedy, and when you talk to him he quotes Tip O'Neill prodigiously, particularly that line from O'Neill's autobiography about all politics being local. The backslapping, handshaking, imparting of goodwill, and competitive will to win all contribute to the Murphy mystique, greatly enhanced, insiders acknowledge, since he turned to veteran Essex County cowhand Brendan Gill to ride herd on the party's chief influencers and get reluctant politicians in a Murphy mood.
"He's a nice guy," Steve Sweeney had to admit to PolitickerNJ of his rival.
But there have been complaints too, granted they come tinged with the political outlook of those closer to other rival circles of power, that there's too much familiarity. The knock on Murphy is that he's too quick to burst into someone's private space and proclaim something like, "I love what you do," leaving many a decomposing and self-loathing hack to wonder what the hell he or she has done (after a lifetime of screwing over the public) to warrant such attention let alone praise.
Nonetheless, Murphy has excelled at getting in the political bloodstream. His dynamic presence on the Chamber train earlier this year became a large part of the political storyline that week. He also put his fingerprints on a League of Municipalities happening with his pal Jon Bon Jovi, and at the Democratic State Committee jamboree weeks ago with his old chum Howard Dean. But the Bon Jovi event left 80s groupies feeling shanghaied because Jon Bon didn't play any signature songs, and vaguely condescended to as a pair of millionaires talked solemnly about the pains of the middle class. As a Goldman guy, Murphy, for all his party animal ways, can't shake the associations with former Goldman Sachs guru turned Governor Jon Corzine, a narrative excruciatingly extended, for example, in a holiday card sent out by Murphy that made him look like a tone deaf fop.
Like Sweeney, the Monmouth County family man also lacks the regional pluck that Fulop has, and he appears to know it, as Murphy continues to let fly some loose elbows when he routinely mentions the state's need for "adult" leadership, an apparent slap at the under 40 front-running Fulop.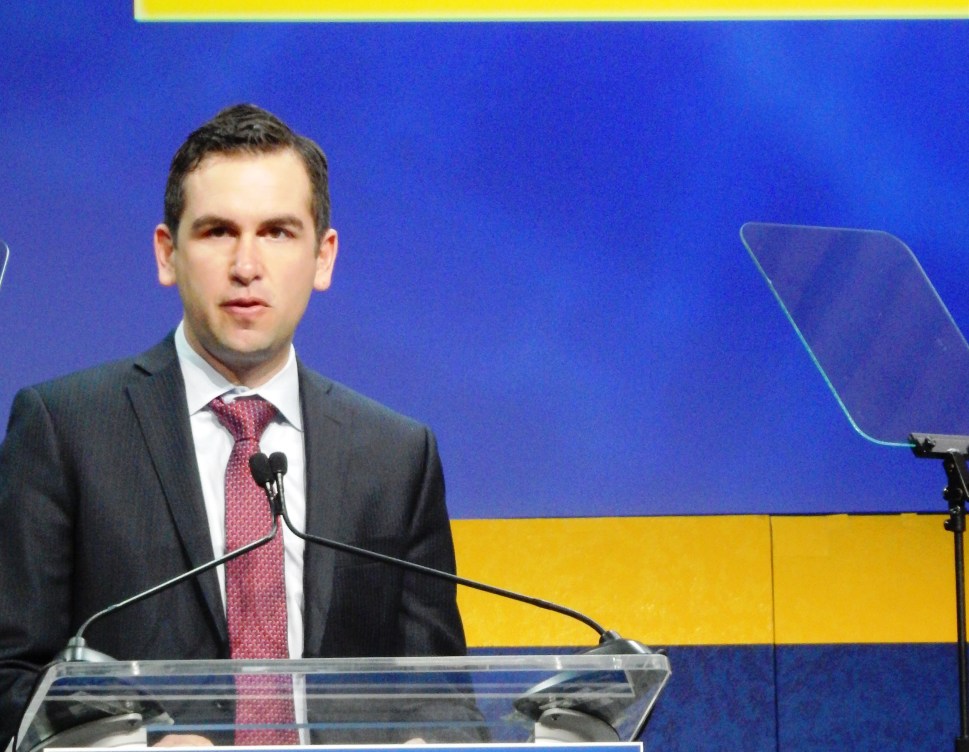 Steven Fulop
The knock on the Mayor of Jersey City for the longest time was that he wasn't personable enough, a supposed shortcoming exaggerated when the perpetually elastically grinning Murphy landed on the scene.  This is a criticism that goes back to the 2013 mayor's race. Former Assemblywoman Joan Quigley mentioned at a St. Peter's University cocktail party that Fulop is glued to his BlackBerry when he should, apparently, be glad-handing and small-talking, or at least appearing interested in people.
It is New Jersey politics, after all, not Kierkegaard.
He's not all over the BlackBerry the way he used to be. When he shakes people's hands looks them in the eye. He makes an effort to make contact. And he's less apt to give people the sense of staring through them to ascertain what instrument in them can most immediately serve his political designs.
Thanks to development on Jersey City's gold coast, successful initiatives like citywide paid sick leave and a local bully pulpit in New
Jersey's most exciting municipality that puts him front and center (above, for example) for news like Goya Corporation's decision to expand its operations in JC, Fulop has a story to impart statewide. That's in addition to his own unique story: deli owner's son from Edison, Goldman Sachs employee who was at Ground Zero during the Sept. 11th attacks, Marine volunteer in Iraq, and Hudson County politician. Jersey City is doing well owing to a combination of investment going back to the Gerry McCann years and the young mayor's own stewardship.
On the political front, Fulop has definitely McGreeveyized himself (former Governor McGreevey, incidentally, is one of Fulop's core advisors), avidly getting around from event to event. But more important than that, though, Fulop has from the beginning of his projection into statewide politics shown a shrewd propensity to get into fights in order to build political capital.
Most notably (like Lesniak, incidentally, who was also with Ras Baraka), he dove into the Newark Mayor's race last year on the side of anti-establishment candidate Baraka, a move that henceforth gave Fulop two oversized engine rooms (JC and Newark) out of which to develop his 2017 gubernatorial campaign.
His stout presence in his home county of Hudson and close relations with Nick Sacco, Brian Stack and Speaker Vincent Prieto form a power projection platform that can easily interface with Bergen, Passaic, and Essex. If Fulop can ensnare Bergen, Passaic and Hudson, the big question then is Essex.
Land Essex and it's over.
But it's still two years away.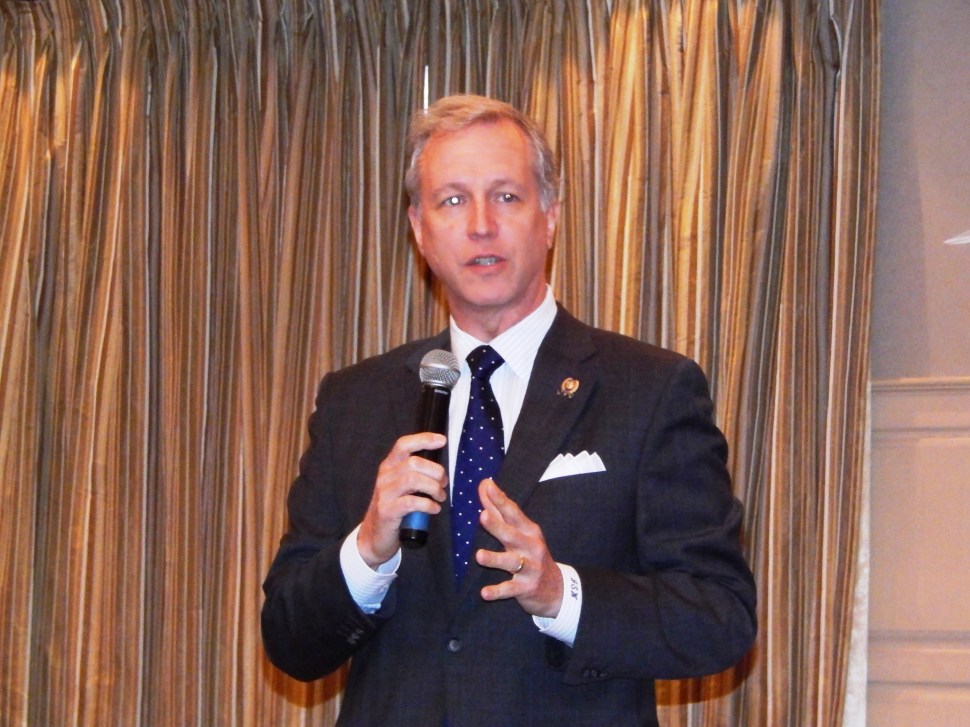 John Wisniewski
The veteran Democratic lawmaker from Middlesex County, chairman of the powerful Assembly Transportation Committee, built considerable goodwill within his party as the Assembly's lead investigator into the Bridgegate scandal.
Middlesex sources say the former Democratic State Party Chairman, a 20-year veteran of the Legislature, is all-in on a 2017 guv run.
One of the smartest people in the Legislature who, in the words of one county party chair, looks and acts the part and would be a good governor, more knowledgeable then the other candidates, Wisniewski still has a lot of political groundwork to build in order to be successful in a statewide Democratic Primary.
While his record enables him to legitimately package himself as a fan friendly primary contender defined by his public advocacy during Bridgegate, Wisniewski lags behind others, namely Sweeney, Fulop and Murphy, in terms of mechanical political ability to land party lines beyond his own county. Even his home county of Middlesex might cut a deal for legislative leadership or LG sooner than lock in behind home county brand Wiz. But maybe that's part of the assemblyman's game: a play for the speakership in exchange for Middlesex's full support for someone else, a move that might be more probable if Middlesex were 100% united. Sources insist it is, but only 2017 will tell the whole story.
It's possible given the turbulent history of his own district, coupled with early indications of Middlesex closeness with Phil Murphy, that Wisniewski's best shot at retaining his own assembly seat depends on his using the threat of a gubernatorial bid to force party members into giving him a seat at the table.
But sources say he doesn't care about that anymore.
He wants to be governor.