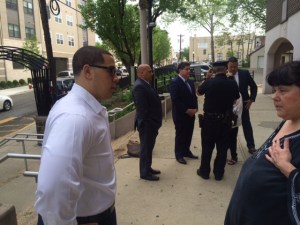 Joseph Roque, son of embattled West New York Mayor Dr. Felix Roque, has accepted a new position with the Hudson County Department of Roads and Public Property. In 2014, Joseph Roque was sentenced to one year of probation and 100 hours of community service after he hacked the website of one of his father's political opponents.
When asked about his son's new position, Mayor Roque told PolitickerNJ that he was "extremely proud."
"I am so happy that he is working and I believe that everyone should be given a second opportunity," Roque told PolitickerNJ. "People make mistakes, especially when they are young. He paid his dues to society and now he is coming back strong."
While Mayor Roque does not know details like job title or salary, he did say that he was thrilled when he heard his son applied to and was accepted for a county job.
"He has always been a public servant," said Mayor Roque referencing his son's past volunteer efforts in Colombia and the Dominican Republic. "He is always saying that we need to share our good fortune with people."
According to Mayor Roque, his son—a Hofstra University graduate—hopes to eventually become an attorney.
"He wants to be a great lawyer one day to help the community," said the mayor. "He hasn't said anything to me about politics but I do hope that one day he can be a leader to young people."
Mayor Roque is currently facing indictment on allegations that he accepted over $250 thousand in bribes.
"I have been through indictments twice now," Mayor Roque said. "God knows I wouldn't wish politics on anyone but, if that is what he did decide to do one day, I think he really understands how to feel the pulse of the people."
Prior to accepting his position with the county, Joseph Roque was working with Dr. Roque in his company's marketing department.