There were signal problems at 135th Street last Friday evening, so the subway to the past was running with delays in both directions.
When the train finally pulled into 163rd street, the Observer ran upstairs, past the C-Town and Laundromat until we found the almost hidden staircase. Just a flight above the nondescript Washington Heights strip sits Sylvan Terrace, a cobblestone street lined with matching wooden rowhouses leading to the Morris-Jumel Mansion. The house, Manhattan's oldest, is celebrating its 250th anniversary this year.
Built in 1765, it was originally the summer estate of a British colonel, but became the temporary headquarters for General George Washington's army in the fall of 1776, during the Battle of Harlem Heights. In 1790, Washington returned to the area under far better circumstances, having been elected president the previous year. The occasion called for a celebratory dinner.
Which is how the Observer found itself, exactly 225 years later, recreating the dinner party at the Mansion originally attended by people we now call founding
fathers—Alexander Hamilton, John Adams, Thomas Jefferson, as well as the nation's first secretary of war, Henry Knox—and hosted by the president himself. "George Washington will be happy in the pleasure of your company at dinner where he has already ordered provisions to be made for a small party," the president's secretary had written to John Adams in his invitation to the July 10, 1790 event.
The evening's recreation of the event was a collaboration between the Mansion—motto: "There is always something new at Manhattan's oldest house"—and The Alexander Hamilton Awareness Society, or, as members refer to it, AHA!.
(In an odd coincidence, Eliza Jumel, who moved into the house in 1810 and gave the home its name, eventually married Aaron Burr, years after his famously fatal duel with Mr. Hamilton resulted in the latter's death. "I think he killed someone, but we aren't going to talk about that tonight," noted Carol Ward, the executive director of the house, in her introductory remarks.)
AHA! is a young organization, founded in 2011 by Hamilton aficionado Rand Scholet after he retired from a career in management at IBM. As we waited for a presentation on the evening's significance by the society's vice president (and Mr. Scholet's daughter), Nicole Scholet-de Villavicencio, to overcome its technical issues—although the air conditioning was faint, there wasn't enough energy for both the small trickle of cool air and the projector—we overheard members of the crowd discuss what has become the AHA! society's pet cause: keeping Hamilton's portrait on the $10 bill despite recent plans by the Treasury Department to unseat him with a woman.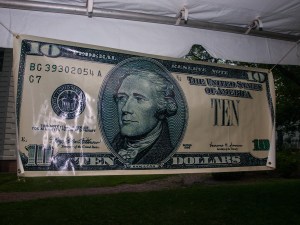 "There isn't a woman who did what the founding fathers did for this country," the Observer overheard a female member of the audience say, before allowing that Eleanor Roosevelt was maybe an exception.
The crowd on Friday was composed of about half friends of the Mansion, who mostly live in the neighborhood, and half AHA! members, who looked to be youngish, button-down types. There was even a Hamilton in attendance: Douglas Hamilton, Mr. Hamilton's great-great-great-great-great grandson.
"They asked a Hamilton to come talk about someone," he said. "We don't have a very good track record of making comments about other people." The joke got a laugh.
After the presentation, we headed to a tent on the lawn, where we got a taste of 1790. "Tasting a food of a different era is the closest to time traveling," said assistant curator and food historian Kelsey Brow. "So eat up, it's educational."
And a little dry. The main course was a selection of dishes meant to approximate the original meal: meat pie filled with grass-fed beef "not because we are a snob, but because it's more authentic," Ms. Brow explained; a bite of roast chicken; and either toast with asparagus and a sauce that resembled hollandaise, or a savory carrot tart. Madeira and (perhaps less authentic) white wine flowed freely. Desert was a creamy cocktail concoction called a Syllabub, and a custard inside a candied orange. Ms. Brow handed out teabags of green tea, which she said was a favorite of the time.
As we began our journey downtown after dinner, we thought of Washington and his guests, who traveled to and from lower Manhattan by horse and carriage. The subway was more efficient, but only slightly.