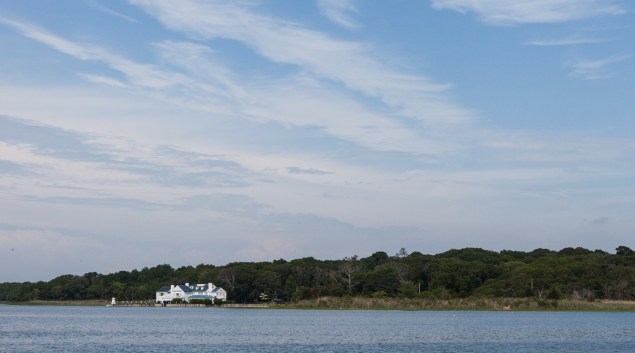 Our house in Bridgehampton overlooks a horse farm. In every room in the house, every inch of land, I can chart the years of my son's childhood. When we first bought the house the field beyond the deck was a sea of wildflowers. My son used to ride his toy car into those fields. He learned to swim in our pool, ride a bike and later drive a car along the cul-de-sac. Every Friday night we left the city, our son in the back seat, watching the horizon expand into a swath of blue the closer we got to East End. When we opened the car doors and breathed in the salty sea breeze the stresses of our life in the city slipped off my back. Once it did not seem possible that a home would bring tranquility.
After I left for college I dodged the idea of home. I came to associate it with stagnation, a place I'd be unable to escape. I worried that if I stayed still and planted roots something bad would happen.
I was 2 years old when my father's life was cut short by a heart attack. My mother was left to raise three daughters all under the age of 4. Our white clapboard house with black shutters, red door and a rectangular front lawn was the house my father had built for my mother shortly after I was born. Our house was our only security, and yet being at home filled me with dread. When we accompanied our mother to her bowling league games, the beauty parlor or dinner with friends, she put on her outdoor face and seemed happy. But when she came home, she grew quiet and melancholy and grieved. I came to think of a house as place of sadness and a reminder of the childhood we might have had if my father had not died.
It was no surprise that I moved to New York City when I finished graduate school. I wanted no part of suburban life with its winding rows of box-like residences like houses on a Monopoly board. My first abode was an SRO apartment with a hot plate and mini fridge to call a kitchen. I soon graduated to a studio smaller than the size of my mother's master bedroom closet. Once I got hitched we moved into a rented three-floor walk-up brownstone. When our son was born we took the plunge and bought a two-bedroom co-op peeling away decades of layers of paint and linoleum. I found strange comfort in the anonymity of city living. Anytime I felt that familiar sedentary malaise from my childhood creep in, I could go out the front door of our building and walk to the gym, pick up flowers at the greengrocer, meet a friend for coffee. But when our son was born, I wondered if something would be missing in his childhood if he did not have the fields to roam, the green space to scamper around, the fresh air and open spaces I had experienced growing up. And because my childhood  had been rocky, I wanted his to be idyllic.
We decided to rent an apartment in a house in East Hampton one summer. We went on long bike rides to the beach; our son perched in the baby seat on the back of my husband's bike. As we rode past houses with lit windows and sprawling gardens I imagined the life inside—a home represented the heart of a family, that amorphous, intangible organ that is impossible to describe, but walking in a house its aura is immediately recognizable—and a sharp longing traveled through me and my eyes filled. I realized that I wanted my own house and all the possibilities for happiness it held out, not the carved pumpkins on the stoop for Halloween or baking sugar cookies in the kitchen, we could have those equivalent rituals in the city, but home as living monument and sanctuary to the three of us as a family. All the years in which I was running from the idea of a traditional life a house embodied it was tragedy I feared, not setting down a foundation. We loved coming out to the beach, not for the parties or the scene but for tranquility, and that first summer began to look at real estate, at first as a sort of fantasy, and then slowly the fantasy turned into a reality. We were both employed and secure in our jobs. Buying a house would be an investment in our future.
When we found the barn-style home near the beach, with the field of wildflowers overlooking grazing horses we knew immediately that we had found our home. It is our haven from the frantic life in the city. For 18 years, my son has run in the fields with the boys from next door, hit baseballs on the cul-de-sac, body surfed in the sea. Now he hangs out with his friends at the beach. We spend weekends, holidays and summers here. When Memorial Day hits we take out the barbecue and the lawn furniture. Every year the garden grows more lush.
Jill Bialosky is the author of most recently a book of poems, The Players and a novel, The Prize, forthcoming in September.