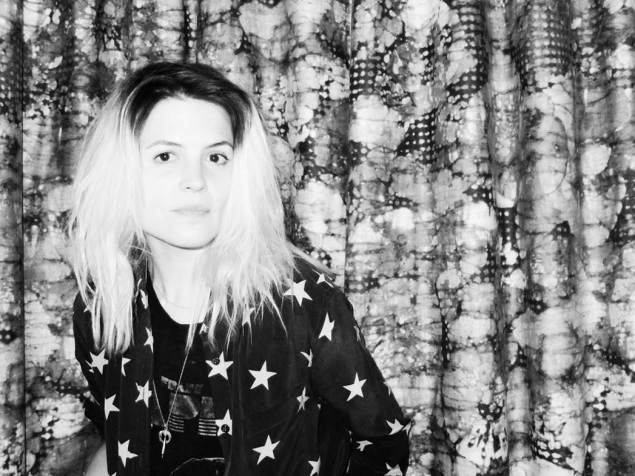 Everything's about to change for Alison Mosshart. Mostly known as the badass lead singer of The Kills and the leading lady of The Dead Weather, the punk rock vocalist long marked by her killer Joan Jett-dark hair (now bleach blonde) has broken out on her own with her first solo art exhibition at the Joseph Gross Gallery in New York. The Florida native's exhibit—"Fire Power"—features an array of mixed media, drawings, paintings and more culled from Mosshart's gypsy lifestyle over the past three years.
'It's bizarre in life how things just happen maybe when they're meant to. It's a whole new world for me.'
While her work has been a part of group shows at ArtNowNY and Art Basel, Mosshart's current 127-piece collection focuses on her life on the road through harsh brushstrokes and vivid colors. In case Mosshart's art collection isn't enough, fans of The Dead Weather and The Kills can get pumped because new music will be on the way by next year.
During the time Mosshart was recording in Nashville, the Observer caught up with her about her first solo art collection, what's up next for her bands and being Julianne Moore's muse in What Maisie Knew.
Mosshart's exhibition is a must-see, don't wait too long to catch it. It'll be gone before you know it on July 11.
Your first solo exhibition is happening now. So exciting! What inspired the collection of artwork?
Being on the road, being in a different city every day, people, places, conversations, endless moving and moving too fast—really the last three years of my life. I've been doing it forever, but if you look back it's that again and again. [Art is] something I've been doing forever. It's super-exciting to be asked to do a solo show—it's completely mind-blowing to me. It's a snippet of what I always do.
What kind of art shows have you been a part of in the past?
I've been part of a few group shows in the last year. Some work was at Art Basel. The same gallery my work is at now is where my first group show was. All of this is pretty brand new—the idea of showing art to everyone else. For me, it wasn't really something I ever thought I'd have time to do or know where to start. It's bizarre in life how things just happen maybe when they're meant to. It's a whole new world for me.
When you were younger, were you always an artist? Did you ever want to pursue that as a career?
'It's overwhelming in the best possible way.'
I never really thought about it: I always did it. When I went to school, the things that appealed to me were art, photography and printmaking classes because that's the stuff I like doing. I gravitated to it my whole life. When I went to university, I just did all the art classes and then I left because I was already in a band, and I was already on tour. I had been since I was 14: I was working. It was incredibly hard juggling this university thing, which I never thought of it as a job. I never thought of music as a job. I suppose making that decision in high school—what you're going to major in—didn't carry too much weight with me.
What's behind the aesthetic of the exhibit? Did you stick to certain colors or textures?
The aesthetic is that I paint with what's around me. It started when I was a kid. It's just what I had around. What do we have? I'll use that. Or backstage, what do we have here? There's coffee and wine—great I'll use that. That stuff too seems to be really organic to me. There's not much thought going into, I'm going to use this medium or this medium, or I'm going to use this color scheme. It's all pretty much a natural reaction to what's going on around me. It's more realizing that doesn't make the mark I want it to make or that doesn't work on that surface.That's really sitting down and trying to make myself focus and learn that stuff—I don't really know how to properly mix colors.
Following the exhibit, what's up next for The Kills?
We've been recording. We were out in L.A. up until three weeks ago recording. I'm meeting back up with Jamie [Hince] in London in July. Then we're doing a tour in America in July. We should be done with the record pretty soon. The music will be done this year, but there's so much lead time everyone wants for a proper record release. I'm guessing it'll be next year, but don't quote me on that. For all I know, it could come out next week. I don't know. I just make the music. We'll see what happens.
Are The Kills taking a new direction with this upcoming record?
Well, everything is always going to be "The Kills" when it's The Kills. That's what takes so long: we're always trying to take the music in a different direction. We're always trying really hard not to repeat ourselves, which is very hard when you're a two-piece because you go into this realm of trying to change your whole mode of writing, thinking, learn things you don't know and try things for the first time while surviving the most uncomfortable zone for a long time and come out the other side and be proud of what you've done because you've never done it before. I couldn't tell you how the record sounds because there's so much that changes after we track.There are so many steps when there are two people: it's a lot of thought and silence when we're recording because we're thinking when we're trying to do something.
[youtube https://www.youtube.com/watch?v=hniPVDz12bc&w=560&h=315]
Are you also working with The Dead Weather again?
I am. We're doing a record right now too, and we're almost done with that as well [laughs]. I'm wearing 30 hats right now. I'm in Nashville right now finishing that record. There's going to be a lot of music all over the place.
When the film What Maisie Knew came out, Julianne Moore modeled her character after you. How did it feel to have a character in a movie modeled after you?
Well, it felt pretty damn good because it was Julianne Moore and she's a badass. There's no way that couldn't be amazing. She came out to a few shows and watched me perform. Whatever other research she did I don't know. Watching that movie and seeing her, Jamie (Hince of the The Kills) felt like he should be embarrassed for me because it was so exact in so many ways. It was so bizarre to see that. I loved that film, and I can't believe she stole my soul. She totally got it. Obviously that character isn't a very nice character, but the movements were so much like mine. She sang my songs, which was super cool. We sent her music, she took me off of it and sang the songs. My mind was blown. Fair play. She rules.
Are you working on another solo exhibition?
This one just opened less than a week ago, and I haven't thought further. I literally came home and went into the recording studio. I'm almost living in a dream state—you could ask me if it happened and I would say I have no idea. I'm already onto the next thing. It's overwhelming in the best possible way. I've gotta see how this one goes. If something comes up, it comes up. I hope I get to do another one, but I don't think it would be for awhile. I have a lot of music stuff to do.