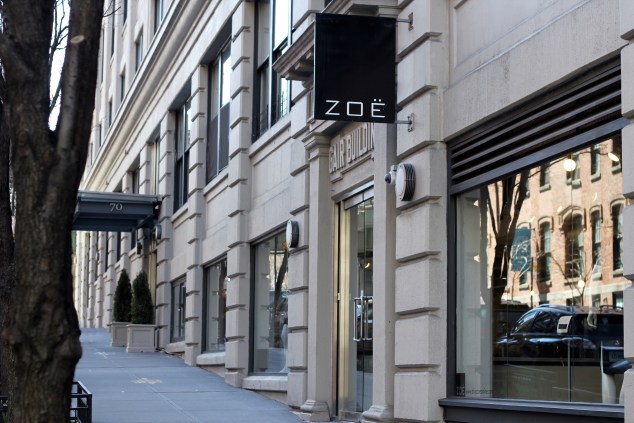 You may think that Manhattan has the best shopping in New York, but these Brooklyn boutiques will have you rethinking that assumption. Here you will find classic high-end brands, as well as small, independent designers not available on Madison Avenue. Unlike the masses of identical, shiny and über-luxe boutiques in Manhattan, each of these Brooklyn shopping destinations are as unique and original as their merchandise.
Zoë is FIT graduate's Lisa Brock's vision of the ultimate shopping experience. Housed within a huge warehouse in Dumbo, Zoë offers a wide range of popular fashion options, from high-end brands such as Stella McCartney and The Row, to lower range brands like Diane von Furstenberg.
Zoë
68 Washington Street
Brooklyn, NY 11201
(718) 237-4002
Founded in 1980, Chuckies has been a haven for the shoe-obsessed Brooklynite for over 30 years. They stock the 'it' shoes of the season, like Aquazarra's red tassled 'Wild Thing!' sandal. There is also a good selection of lesser-known, up-and-coming brands, like hand-made label Daniele Michetti, whose spring 2015 gladiator sandals put this brand on the fashion map.
Chuckies Brooklyn
1304 Kings Highway
Brooklyn, NY 11229
718-376-1003
With a lush pink carpet encompassing the length of this boutique, Pink Label is all about bold femininity. Selections include hard-to-find labels like Delpozo, Toni Maticevski and Razan Alazzouni. The owner, Rachel Kairy, also creates custom designs for Pink Label's clientele.
Pink Label
446 Avenue P
Brooklyn, NY 11223
(718) 645-7465
Bird is a downtown girl's dream store, with brands like Acne and Comme des Garçons, resulting in a mix of edgy minimalism and colorful bohemian. With three locations spread throughout Brooklyn – Williamsburg, Cobble Hill and Park Slope – this boutique has become a mainstay of the Brooklyn shopping scene.
Bird – Williamsburg
203 Grand Street
Brooklyn, NY 11211
(718) 388-1655
Bird – Cobble Hill
90 Smith Street
Brooklyn, NY 11201
(718) 797-3774
Bird – Park Slope
316 Fifth Avenue
Brooklyn, NY 11215
(718) 768-4940
This Park Slope boutique epitomizes the ethos of hipster Brooklyn, with items that are both handmade and sustainable. It sells small, exclusive designers who create beautifully crafted collections. The proprietor, Diana Kane, also personally designs a limited amount of custom-made jewelry. Here you will find that special, one-off item that you can be sure no one else in your circle will own.
Diana Kane
229 5th Avenue
Brooklyn, NY 11215
(718) 638-6520

This quirky conceptual boutique, which doubles as an event and art gallery space, is the brainchild of married couple Briana Swords and R Smith. With a focus on original and cutting-edge designs, Swords-Smith stocks a wide-range of relatively unknown brands, ones that are not available at your local Barneys. These include Henrik Vibskov, a Scandanavian native known for his flamboyant and playful designs, and Vladimir Karaleev, who has gained recognition for his use of abstracted geometries.
Swords-Smith
98 South 4th Street
Brooklyn, NY 11211
(347) 599-2969
Located in Park Slope, Eye Shoppe On Seventh carries some of the most lusted-after brands of sunglasses and eyeglasses, including avant-garde frames from Theo, Anne et Valentin and Thierry Lasry. To increase the haute factor, the Eye Shoppe can customize your newly purchased glasses with lens tinting and a selection of frame finishes.
Eye Shoppe on Seventh
133 7th Avenue
Brooklyn, NY 11238
(718) 789-8123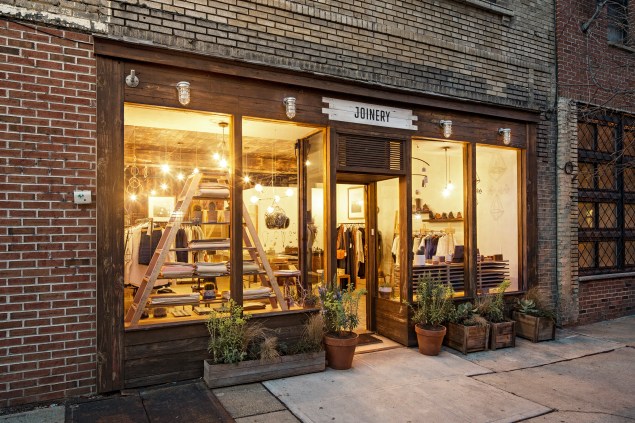 Joinery is a curated lifestyle boutique of unique items for both home and dress. With a minimalist vibe and eye for craftsmanship, this shop is a hipster utopia.
Joinery
263 South 1st Street
Brooklyn, NY 11211
(347) 889-6164
Hollander & Lexer is a luxury men's boutique with a Brooklyn twist: they also sell tchotchkes, like an antique mini-book of Shakespeare's plays, which happen to make great gifts. The well-edited selection of merchandise is rugged-yet-classic, with pieces from Nicholas K and Steven Alan sold alongside an in-house label.
Hollander & Lexer
369 Atlantic Ave.
Brooklyn, NY 11217
(718) 797-9739
Situated within a former dry cleaners, Alec Stuart and Celeste Wright kept the name and the neon signage to add a historic backdrop to their exceptionally curated selection of off-duty essentials. Here you will find gems like embroidered tops from Isabel Marant and the perfect summer tee from A.P.C.
French Garment Cleaners Co.
85 Lafayette Ave.
Brooklyn, NY 11217
(718) 797-0011