It's been fun to watch the Democratic establishment mounting defenses against the Bernie Sanders threat. The early attacks hammered Bernie along what, for lack of a better term, would be called "identitarian" lines, particularly race and sex.
First out of the gate was Dara Lind in Vox. In a move that would become standard for the genre, Ms. Lind acknowledged Bernie's appeal: "there are a lot of those progressives out there who are very concerned about economic inequality, the rise of the super-rich, the financial industry, and the role of money in American politics." But the focus on economic concerns slights the concerns of "other progressives—many of them black or Latino" about biased policing, mass incarceration, and maltreatment of immigrants. Ms. Lind points to Hillary Clinton as "the Democratic candidate who's spoken out the most about the concerns that animate nonwhite progressives." Ms. Lind doesn't mention that Hillary supported Bill's 1994 crime bill, cheering the legion of new cops it helped fund and the new prisons it helped build, nor does she mention Hillary's support of Bill's "end of welfare as we know it," which hit black and Latino women hard. No, what matters is that Hillary has held important campaign events.
Days later, Salon's Joan Walsh—who in 2004 declared herself "behind much of Bill Clinton's 1996 welfare reform—seconded Lind's complaints. She responded to claims by Sanders supporters that his redistributionist agenda "will disproportionately benefit black people, because they're disproportionately disadvantaged" by saying this would still fail to address "the core issue of criminal justice reform." (Of course, most people in prison were disproportionately poor after they got there, but apparently that's not part of the core "core.")
And who is addressing these issues? Hillary of course. "The woman who stumbled facing Barack Obama" may be the "unlikely beneficiary of white progressives' stumbles on race." One of those stumbles: when she declared, after a couple of bruising primary losses, that Obama's standing among "working, hard-working Americans, white Americans, is weakening again." Because, you know, black people are lazy and not real Americans.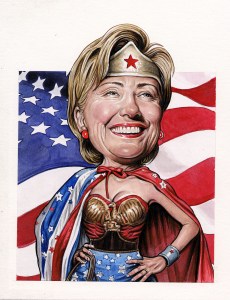 The Hillary apologetics genre took a fresh turn—entering the realm of the hyper-comic—with an intervention by Anthony Weiner>, who questioned Sanders' party loyalty. Leaving aside the substance, such as it is, of Mr. Weiner's commentary for a moment, one has to pause and savor the irony of our nation's most famous sexter coming to the defense of the wife of our most famous presidential adulterer. In fact, you have to wonder how many people can get past that irony to the meat of Weiner's objection: that Sanders has never identified as a Democrat even though he's running in the Democratic primary. Weiner acknowledges (see above, re: conventions of the genre) that Bernie is his "kind of politician," who "always got [him] fired up to make the fighting wing of the Democratic Party feistier." But he's not really a Democrat. And, besides, "his battle cry on behalf of working Americans is almost as good as Hillary Clinton's."
Of course, as Mr. Weiner has to admit, his poor wife "works for Hillary," as he puts it, mildly. That wife, Huma Abedin, started working for Hillary in 1996, while still a college student. She later worked on Hillary's 2008 campaign, for her at the State Department, then later for the family foundation, and is now vice-chair of her current campaign. They are so close that Hillary said at a pre-wedding celebration for the couple that if she "had a second daughter, it would [be] Huma." Sexting aside, why should anyone take Mr. Weiner's opinion on the topic seriously?
When they're not funny, there's something desperate about all these defenses of Hillary, starting with how she's now running against many of the policies her husband embraced and she supported. Of course people can change their minds, and it's admirable when they do. But in Hillary's case, like her husband's, you can't avoid the feeling that they believe in nothing but themselves and the pursuit of power and the money that has come with it. All the staged campaign events and histrionic punditry in the world can't chase away that perception—unless you're a true believer.
Doug Henwood is the editor of Left Business Observer, a newsletter on economics and politics he founded in 1986, and host of "Behind the News," a weekly radio show broadcast on KPFA, Berkeley. He is the author of Wall Street (Verso, 1997) and After the New Economy (New Press, 2004). His book on Hillary, Her Turn, will be published by OR Books in the fall. He lives in Brooklyn.