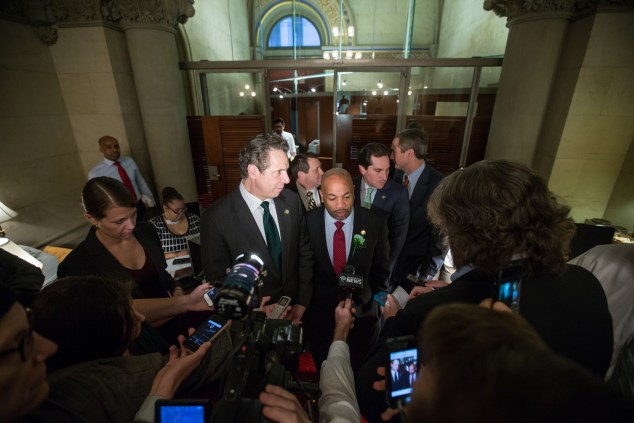 Mark one more leading Democrat refusing to take Mayor Bill de Blasio's side in his feud with Gov. Andrew Cuomo.
Assembly Speaker Carl Heastie last night presented a New York County Democratic Party award—a donkey-shaped "Demmy"—to the governor and praised Mr. Cuomo's priorities in the budget negotiations that closed out the legislative session in Albany last month. The mayor blasted those same priorities as cynical, "transactional" "horse-trading" in a candid interview with NY1 last month, in which he also accused Mr. Cuomo of collaborating with Republican State Senate Majority Leader John Flanagan against Mr. Heastie and the Democrat-dominated Assembly.
"Though sometimes the press doesn't like to paint it the right way, a lot of good things did happen for the State of New York, and one of the reasons why we had that is because we had the governor, you know, steering the ship,' Mr. Heastie told the crowd at the American Airlines Theater on 42nd Street, before he handed the statue over to Mr. Cuomo, who had joined him on stage.
The Assembly and the governor battled in Albany over the city's rent laws, which got renewed with less extensive reforms than Mr. Heastie had pushed for. But in his speech last night the speaker instead emphasized the heavy investment in public and parochial schools, and praised Mr. Cuomo's decision to issue an executive order making state Attorney General Eric Schneiderman the special prosecutor in cases where police kill a possibly unarmed civilian.
"Even in the midst of us not being able to negotiate criminal justice reform, the governor still stood up, stepped up," Mr. Heastie said, noting that New York is the first state to create a special prosecutor role for such cases. "It was a proud, proud moment for the governor. As I said that day, what he did was not showing leadership just in this state. It was about showing leadership in this nation."
Another powerful Assembly Democrat, Keith Wright of Harlem—chairman of the Manhattan Democratic Party and now a candidate for Congress—echoed Mr. Heastie's effusive praise for the governor and his executive order.
"We needed real leadership, just like in the past on marriage equality and gun control, and on the issue of sexual assault on our college campuses, the governor absolutely stood up and he delivered," he said. "Our state is a progressive leader once again on an issue that continues to affect communities across this nation."
When former Assembly Speaker Sheldon Silver stepped down amid federal corruption charges earlier this year, Mr. de Blasio and his aides pushed city Assembly members and Democratic Party leaders to back Mr. Heastie for the position. The governor reportedly made a push for Assemblyman Joe Morelle of Rochester for the powerful perch, though he, like the mayor, professed neutrality throughout the process.
Shortly after Mr. de Blasio's fiery NY1 interview, a number of his longtime allies on the Democratic Party's liberal wing—including Mr. Schneiderman, Council Speaker Melissa Mark-Viverito and Public Advocate Letitia James—pointedly refused to join in on his criticisms of the governor.