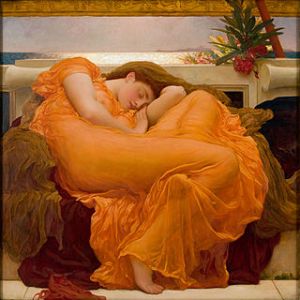 History, especially sometimes art history, is cruel.
In his day, painter Frederic Leighton was much better established than his contemporary and rival James McNeill Whistler – Leighton even achieving the presidency of the Royal Academy in 1878, the same year that he was knighted (He eventually become a peer, or Lord Leighton, the day before he died). Today, their positions are somewhat reversed, and museum-goers can weigh their rivalry for themselves at the Frick Collection this summer.
Leighton's Flaming June, painted circa 1895, is our august summer visitor from the Museo de Arte de Ponce, in Ponce, Puerto Rico. It hangs in the Oval Room at The Frick, its place of honor facing the Garden Court. It is flanked by four admirable but much more familiar (also much darker and much more freely-brushed) full-length portraits by Whistler.
In the early 20th century, academic painters like Leighton descended into oblivion, as French-style avant-gardism, from post-impressionism through to cubism, ascended to stage center in the capitals of Europe. However, with the return to figuration in the form of pop art in the 1960s, and the concurrent rise of that highly contagious sensibility that Susan Sontag so memorably identified as "camp," academic art began its long return to popularity.
Sontag didn't mention Leighton in "Notes on 'Camp,'" her famous 1964 article in Partisan Review. But she did cite the writings of Walter Pater, the drawings of Aubrey Beardsley, and the androgynous figures in later Pre-Raphaelite paintings as examples of art admired by devotees of camp. All were either closely allied to, or very much a part of, the Aesthetic Movement in late Victorian England—the same movement to which Leighton belonged.
According to Sontag, camp is "one way of seeing the world….not in terms of beauty, but in terms of the degree of artifice, of stylization…." (Though the paintings of Leighton, and the drawings of Beardsley, were considered very beautiful when they were created, and intended to be so. What distinguished them to their contemporaries was the fact that they had no purpose or moral or message beyond the mere fact of their beauty.)
For stylization, consider "Flaming June" itself. Leighton's masterpiece measures just under 4 feet square. The painting is very appropriately surrounded by an elaborate gold portico-like frame, with Ionic pilasters on either side, rosettes at their bases, and a classically-embellished frieze across the top.
The powerfully-built brown-haired woman portrayed in the picture, curled up on a bench of her own, is deep in dreamland. Some oleander flowers decorate the balustrade behind her, and a Mediterranean vista extends deep beyond them into space.
Like the frame of the painting, this lady's diaphanous orange costume is more Greco-Roman than anything else.
It clings so closely that every curve of her voluptuous, statuesque body can be seen through it—though since she is seen from the side, all that is revealed (except for one modest little nipple) is her face, arms and powerful, upwardly-bent legs. Her right thigh, in particular, which stretches almost clear across the painting, is so long that it suggests she might be as much as seven feet tall if she stood up.
Some of the brushwork in the background of the painting is moderately loose, but most of it – and especially in the figure – is tight and precise.
This creates the "licked" surface that was so popular among 19th century academic painters (in both France and England) and was a major characteristic differentiating academics from avant-gardists at that time.
Also popular among academic painters, especially in Victorian England, were lovely ladies in clinging Greco-Roman costumes. Leighton made many other such images besides 'June.'
One of Whistler's biographers, Stanley Weintraub, has said that this was "the ideal way to sell nudes to nineteenth-century buyers, for naked or near-naked females in Greek or Roman settings satisfied the market for mildly erotic art without outraging Victorian taste."
Such remarks sell Leighton short. Born to a wealthy Yorkshire doctor, he never had to paint for a living—his father sent him an allowance even after he grew up. Meticulously trained in his art on the Continent, he settled in London in the 1860s.
At first he became familiar with those Pre-Raphaelite painters who were most influential in the later stages of that movement's development. He had already established a name for himself by executing elaborate scenes from history or literature for which the Pre-Raphaelites, no less than more conventional academic painters, were known.
But it is to Leighton's later involvement with leaders of the Aesthetic Movement, from Pater to Albert Moore, that paintings like Flaming June belong.
In his catalog essay for this show, Pablo Pérez d'Ors, from the Museo de Arte de Ponce, speculates on the relationship between the sleeping pose of the mysterious lady June, and the fact that Leighton, when he painted it, was in poor health and destined to die within the next eight months.
Pérez d'Ors also points out that oleanders, while luscious in appearance, often symbolize danger in Victorian poetry—quite rightly so, as they are highly poisonous (particularly when taken internally).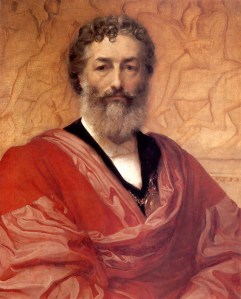 This leads him to wonder whether this particular combination means that the sleeping woman, like the flowers, might be as dangerous as she is alluring.
I'd go further, and suggest that maybe to Leighton, women in general were scary.
He never married, though opinion is divided on whether he was straight or gay.
It's true that he was fond of having young men around his palatial studio-house in Holland Park (now a museum). But there were also rumors that he sired a child by one of his models.
Secretive to the end, he left no diaries and even his surviving letters carefully avoid discussing his private life.
All of which only adds to the mysterious charms of Flaming June. It is on view at the Frick through Sept. 6.