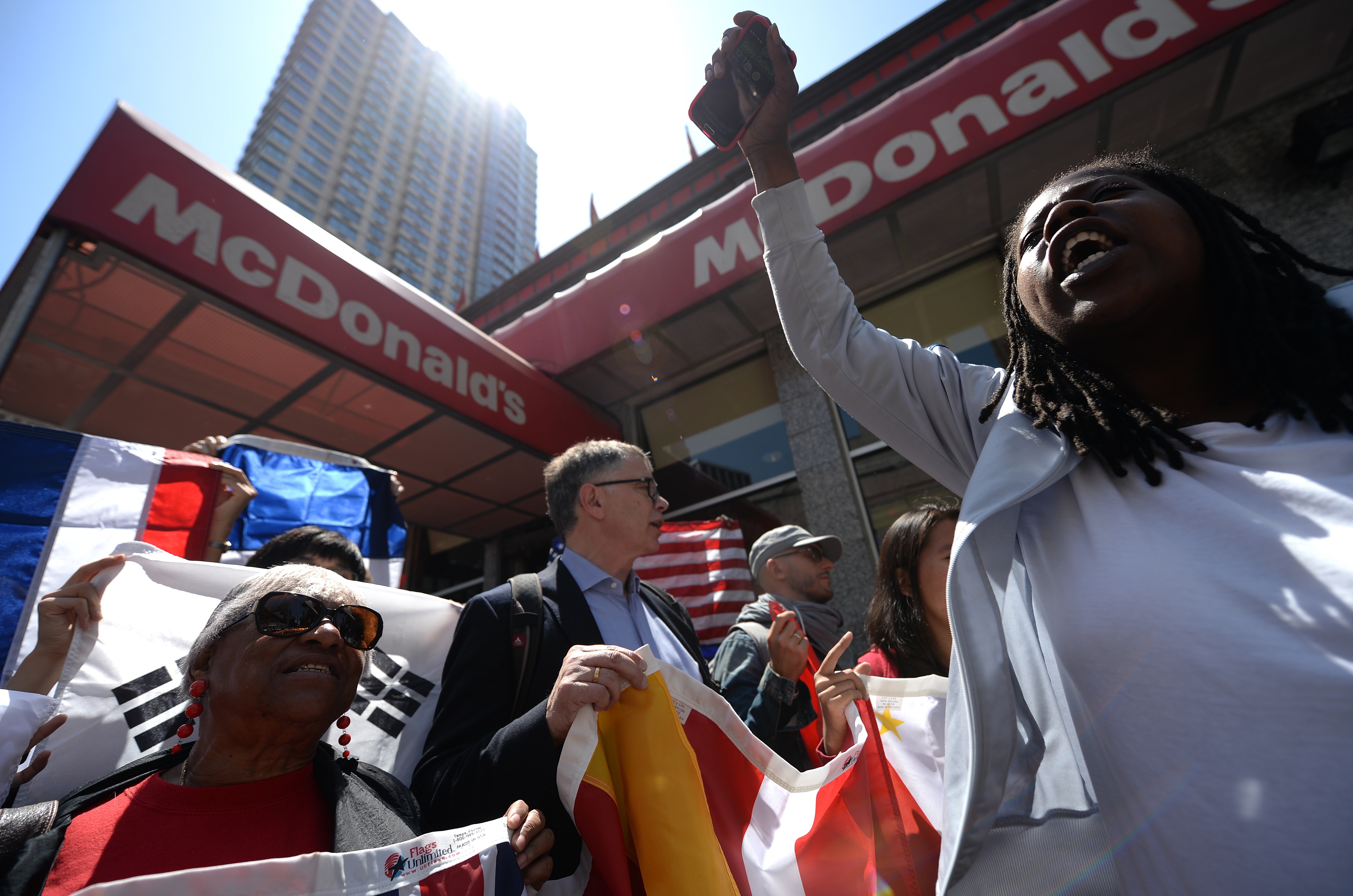 Former Secretary of State Hillary Clinton today backed New York's decision to pursue a $15-an-hour minimum wage for fast food workers here, and called on it and other cities to continue reaching higher than the federal minimum wage.
"I agree with New York's proposal this week to raise wages for fast food workers to $15 an hour," Ms. Clinton, who is seeking the Democratic nomination to run for president, said during remarks on the economy delivered room at New York University's Stern School of Business in which she decried the system of "quarterly capitalism."
The support for a fast-food specific wage comes just days after a Wage Board panel created by Gov. Andrew Cuomo recommended a phased-in $15-and-hour minimum wage for workers in the fast food industry in New York State. The hike is expected to be approved by the state's Labor Secretary, also appointed by Mr. Cuomo. The move comes after broader proposals to increase the minimum wage withered without votes in the State Legislature this year.
Ms. Clinton has previously voiced support for local pushes for $15-an-hour minimum wages, but said she was unsure about instituting one nationwide—something supported by her top rivals, Vermont Senator Bernie Sanders and former Maryland Gov. Martin O'Malley.
Today, she stopped short of endorsing the $15 wage for fast food workers nationwide, though she did say the minimum wage federally should increase..
"The national minimum wage is a floor, and it needs to be raised," Ms. Clinton said, without offering a number. "But let's also remember that that cost of living is different," she continued, in areas like Little Rock, Ark., and New York City. "New York or Los Angeles or Seattle are right to go higher."
The fast food industry employs scores of minimum wage workers—increasingly, advocates note, adults who are working full time and often a second job to support a family—and has been a particular focus of advocacy coalitions like the Fight for $15. It's also a popular target for politicians, as the restaurants are run by giant corporations reeling in huge profits, not the more sympathetic mom-and-pop small business owners who might more visibly struggle to pay a higher wage. (Opponents of the wage, however, argue that even fast food companies will resort to lay-offs or increased automation if faced with a wage hike.)
Ms. Clinton spoke at length about the need to reign in executive pay and to better share the success of a company with its workers, to ensure everyday workers—those people Ms. Clinton is so aggressively trying to court—are "seen as the engines of growth that they are."
Well-paid employees "work more efficiently, stay on the job longer, and provide better customer service," Ms. Clinton said.
But "quarterly capitalism"—the pursuit of quick gains for shareholders—means corporations are often unwilling to invest upfront, Ms. Clinton said.
"Those [benefits] can be harder to measure than the increased cost in payroll and training, so under the pressure of quarterly capitalism, they're often squandered," Ms. Clinton said.
In her remarks, Ms. Clinton proposed doubling the capital gains tax on short-term investments held by the highest earners—the top 0.5 percent of taxpayers.
Ms. Clinton's remarks on the economy also came as she continues to face scrutiny over emails she sent from a personal address while she was Secretary of State, with the New York Times reporting last night two inspector generals had requested a criminal investigation into the emails. Today, the Wall Street Journal reported that the inspectors found at least four emails from the personal address that contained information deemed "secret," and which was classified, at the time they were sent. Ms. Clinton's campaign has insisted the reports of a criminal inquiry are false and has called on the Times to issue a correction.
She referenced those stories at the top of her speech, saying there have been "inaccuracies" surrounding inquiries into her emails.