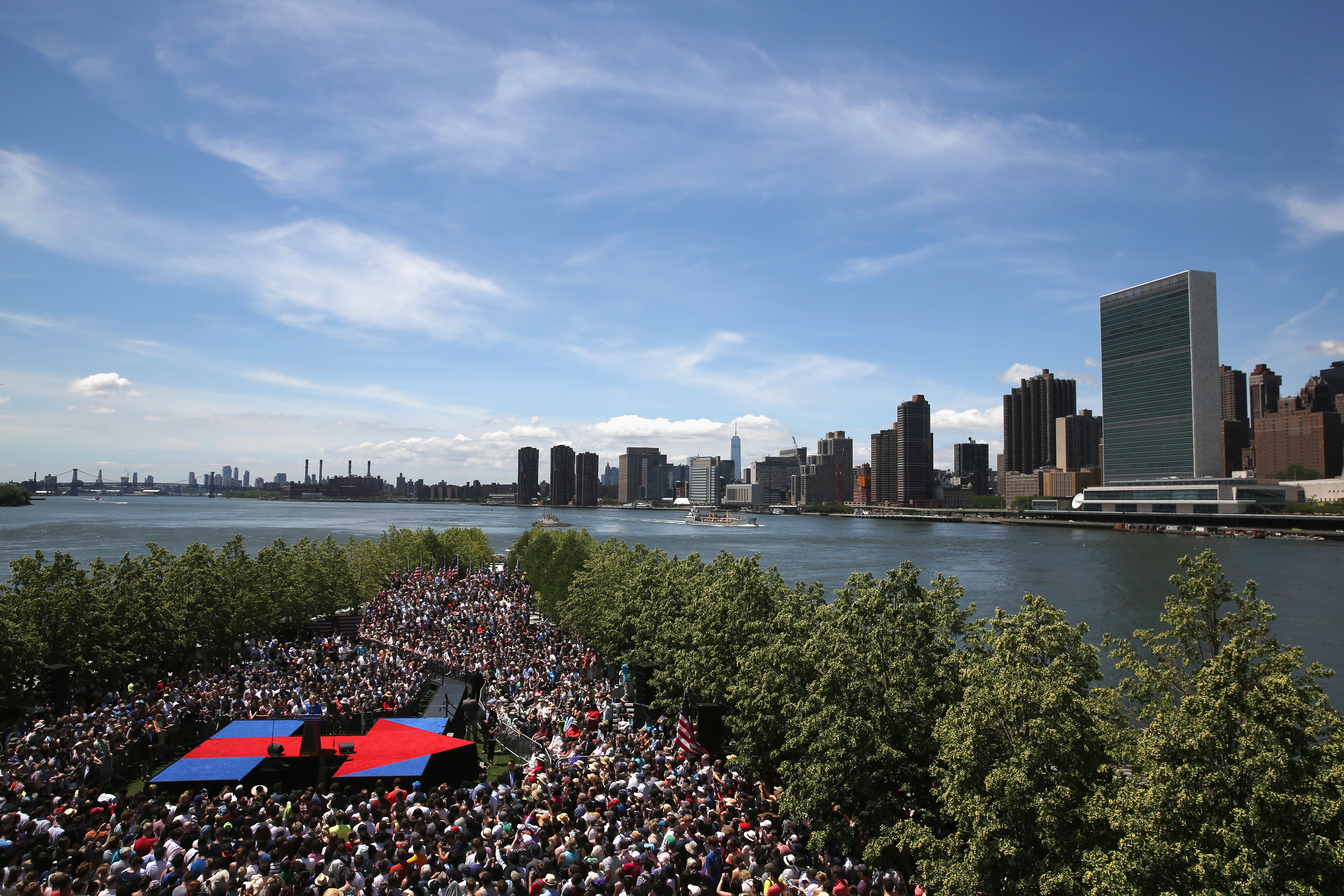 Out-of-town reporters whined in advance about Roosevelt Island's supposed inaccessibility, but it might have been the ideal location for Hillary Clinton to launch her presidential campaign.
Four Freedoms Park offered the kind of green space typical of a more Middle American city as well as a plum view of  Manhattan's skyline. More importantly, it gave Ms. Clinton ample opportunity to compare herself to Franklin Delano Roosevelt, the last president from New York.
In her speech, Ms. Clinton seemed at pains to evoke F.D.R.: from the location to her "Four Fights," which paralleled one of Roosevelt's most famous speeches.
The Broadway-worthy production raised questions that the Illinois-born Ms. Clinton has faced since she moved to Chappaqua in 1999: is she a New Yorker—and what does that mean for her candidacy?
"Of course she's a New Yorker," said attorney and Clinton fundraiser Jerry Goldfeder. "She lives here, she votes here."
But when she first arrived here to run for Senate, her presumptive opponent, Rudolph Giuliani, answered unequivocally "no." To underscore the point, Mr. Giuliani scheduled a fundraiser in Arkansas and asked locals whether they considered him an authentic Arkansan. But 16 years later, the architect of that stunt, former Giuliani aide Bruce Teitelbaum, has come around.
"Back then, I think people raised questions about her connections to New York, and about her reasons for moving to New York. Those were legitimate questions," he said. "Anyone who would raise those same questions today would be unfair and unreasonable. She's a New Yorker at this point in her life."
Political hands, including officials in early voting states, doubt whether Ms. Clinton's affiliation with New York will matter much to voters.
Tom Henderson, chairman of the Polk County Democrats, recalled watching Ms. Clinton declare Chicago her hometown when the Windy City hosted the Democratic convention in 1996. He argued that Ms. Clinton is not a product of New York or Illinois or Arkansas—or any state. "She's more cosmopolitan than that," he told the Observer, suggesting that Ms. Clinton's roles as first lady and secretary of state have elevated her above any one region.
Some experts said New York roots could prove a problem in New Hampshire—if you're a Republican. GOP candidates from our area run muscular state governments—causing them to struggle when wooing primary voters in libertarian New Hampshire.
But Democrats in New York aren't much different than Democrats in New Hampshire, said Dante Scala, author of Stormy Weather: The New Hampshire Primary and Presidential Politics. And if you asked a New Hampshire voter to list characteristics about Ms. Clinton, he thought New Yorker would be low on the list.
"She's much more of a national politician than a regional politician hoping to step up," Mr. Scala said, adding she's also a well-known entity to locals. "We've had Clintons up here campaigning for president for two decades, not just Hillary but Bill as well."
Ms. Clinton's persona, noted prominent Democratic pollster Mark Mellman, "transcends any one place."
Part of that transcendence might be her lack of a strong regional accent—something that distinguished her from Sen. Bernie Sanders, the Brooklyn native whose decades in Vermont have not dulled his Kings Highway inflections.
"This might be a problem for some politicians, who sound like a New Yorker … She doesn't," said Larry Sabato, founder of the University of Virginia's Center for Politics.
In this way, she again echoes Roosevelt, whose voice conveyed to a troubled nation a patrician paternalism—in contrast to the previous New Yorker to seek the White House, Gov. Al Smith. His accent, wrote Herbert Mitgang in the Times, "was no asset when he talked about 'woik' on the 'raddio.'"
"He was thought the embodiment of New York, and the campaign was something of a referendum on the city," historian Michael Wallace said by email of Smith. "His enemies saw Gotham as the anti-U.S.: an offshoot of Europe, home to Catholics, communists, Tammanyites, anti-prohibitionists, gangsters, blacks, Jews, a plethora of immigrants, religious liberals, feminists, antiracists."
New York's image is now rosier in the rest of the country. In fact, New York City repeatedly ranks atop the Harris' annual poll of cities Americans want to live in. But the city's toned-down image is also a less forceful presence on the national scene.
As Mr. Wallace pointed out, "I don't think [Ms. Clinton's] identification with New York, if she chooses to stress that—which I doubt she would—would make a great deal of difference one way or the other."