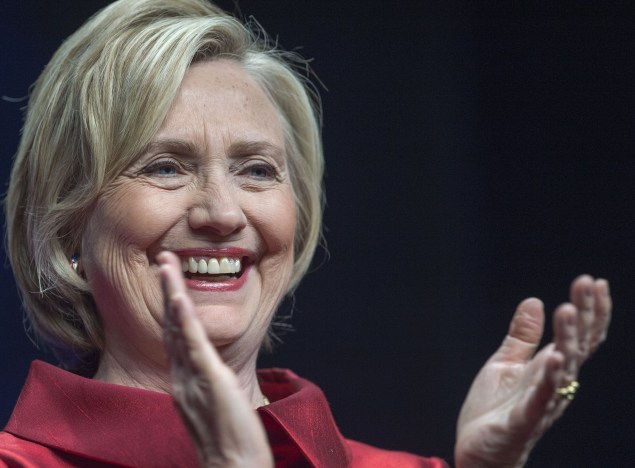 With the presidential debates soon to assume center stage in national politics spring training is ending, the serious race for the pennant will begin, and the World Series will arrive after Labor Day in 2016. Three big facts have emerged during the spring training phase of Campaign 2016.
First, there is only one candidate in either party who appears to voters to be qualified to be president and commander in chief and offers the realistic possibility of winning a landslide victory in 2016. It is Hillary Clinton, the woman who has been first lady and closest confidant to the most successful and popular living former president, United States Senator, and Secretary of State.
Second, there is a progressive trend in America today and the surprise star of the spring training season is Sen. Bernie Sanders (I-Vt.), who I have written about favorably and often, most recently in a column for The Observer titled "Bernie Sanders, Forever Young." Mr. Sanders has earned his place as the undisputed leading opponent to Ms. Clinton for the Democratic nomination.
Clinton leads Jeb Bush by 13 percent. She leads all of her leading Republican opponents by margins ranging from 13 to 24 percent.
Third, and critically important to the trajectory of the race for the pennant, the brand of the Republican Party is in free fall, with a ridiculous number of candidates who appear minor league by presidential standards compared to Clinton, all competing to see which GOP candidate can be the furthest to the extreme right and the most out-of-touch with modern day America.
In a CNN/Opinion Research poll released July 1 Ms. Clinton leads Jeb Bush by 13 percent. She leads all of her leading Republican opponents by margins ranging from 13 to 24 percent. She is clearly viewed by voters as having presidential and commander in chief competence and stature in ways not one of her GOP opponents can claim. This is by far the most important factor emerging from the spring training season of the campaign.
As the terror threats surrounding the July 4 holiday remind us, America is electing a president who would protect us from danger while increasing our wages and standard of living, not a talk show host who will entertain us or a rightist ideologue who sounds like the voice of earlier days that America has left behind.
Hillary—-alone among all 2016 candidates— is viewed by voters as competent, calm, steady, experienced, self-assured and ready to be a president who can command the military in times of danger and lift the economy in ways that leave no American behind.
By contrast, here are the faces of her GOP opponents:
Jeb Bush has been re-writing many of his campaign materials to refer to himself as "Jeb" and eliminate the word "Bush." Think about it. The poor fellow has an identity crisis, running away from his own legacy as a Bush. Considering that the political magic of Bill Clinton is largely created by the truth that his presidency is remembered as a golden moment when the rising tide lifted all economic boats, if Jeb could get away with it he would probably formally change his name and run as Jeb Clinton.
Meanwhile, with the great Hispanic population wave changing the demography of national politics, while Hillary Clinton and Bernie Sanders promote bold immigration reform, the most visible face of the GOP today now dominates media coverage about comments that are widely viewed as insulting to Hispanics and creating a feud with Univision, the television network that is the home page for Hispanic media.
Donald Trump is a brilliant entrepreneur and showman who has vaulted to the first tier of Republican candidates and will probably dominate the GOP debates. GOP strategists are apoplectic that Trump is drowning out other candidates in a field that is larger than the starting lineup of the New York Yankees with a message that alienates a fast-rising demographic group of voters.
The Clintons have always had great relationships with Hispanic voters, and while Hillary moves boldly to seize the immigration issue Sen. Marco Rubio (R-Fla.), who could be her most dangerous opponent, is so under the thumb of the GOP right that he was for immigration reform before he was against it.
Meanwhile, New Jersey governor Chris Christie (R), who like the Marlon Brando character in On the Waterfront could have been a contender, announced his candidacy this week and was widely seen in clips repeated on national television bellowing to a constituent: "sit down and shut up." While one might take pleasure in the thought of Christie saying this to Vladimir Putin, the governor whose popularity in New Jersey has collapsed and whose state financing in New Jersey offends even bond rating agencies, hardly improves the brand of Republicans with his bullying and rudeness toward those he was elected to serve.
While Hillary Clinton and Bernie Sanders continue their campaigns for income equality for workers and protecting the earth from the ravages of climate change—and Pope Francis who champions these causes prepares to arrive in the U.S. for a historic visit in September—the GOP candidates are so owned by special interests and terrified by the far right wing that they line up to denounce the pope!
Voters will witness an army of GOP candidates, all of whom are minor league compared to Clinton in terms of qualification to be president, desperately trying to elbow each other for scarce minutes of debate time.
Francis is the most popular public figure in the world, with approval ratings that reach 90 percent from American Catholics and 70 percent or more from all voters, and the GOP is branded as the party that castigates this magnificent and widely revered pope.
With bombings of black churches returning to plague the land, and Hillary Clinton speaking eloquently for equal rights and tolerance, some conservative commentators who are even ambivalent about the confederate flag now attack Clinton and liberals for speaking about racial justice too much.
With a new tolerance becoming the new normal in America, and gay rights having become a majority view across the nation, and Hillary Clinton championing this historic cause, and young voters feeling particularly strongly, and the Supreme Court making gay marriage the law of the land—the GOP candidates defining the GOP brand line up against gay marriage while some conservative commentators and GOP candidates, sounding like the legal theorists of the darker days of the segregationist South, propose that states find ways to obstruct or prevent gay marriages that have been sanctified by the court as the law of the land.
When the presidential debates begin voters will witness Hillary Clinton, Bernie Sanders, and other Democratic candidates engaging in a civil discourse about ways to chart a course and lift the nation in directions that a majority of voters usually agree with.
By contrast voters will witness an army of GOP candidates, all of whom are minor league compared to Clinton in terms of qualification to be president, desperately trying to elbow each other for scarce minutes of debate time and compete for support from right wing ideologues who define the GOP brand and are angry about an America of enlightened views that is leaving them behind.
Hillary Clinton—the candidate who would be the first woman president; the candidate who as first lady, Senator and Secretary of State is extraordinarily qualified to be president; and the candidate attuned to the temper of modern times—-is poised to tower over her Republican opponents whose brand screams yesterday at a time when voters yearn for tomorrow.