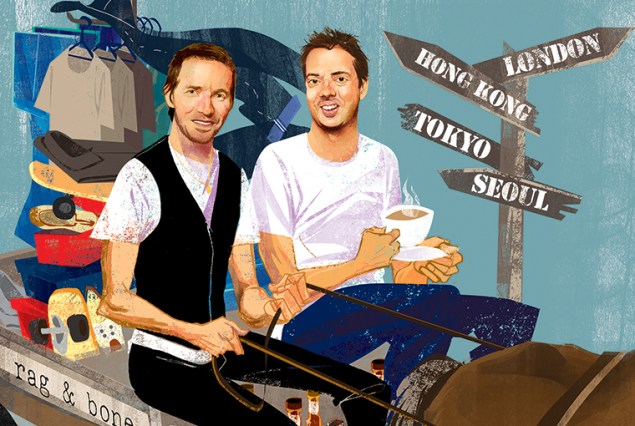 Berman leaves at 6.
The hard-faced elevator operator may resemble Danny DeVito on a bad day, but he still looks you up and down, in that way familiar to anyone who works in New York fashion.
He is, after all, gatekeeper to rag & bone—the uber-cool downtown label, headquartered in a 115-year-old, Meatpacking District loft building.
"The day of my job interview, I walked up six flights of stairs in four-inch heels," recalls the brand's VP of communications, Melanie Fisher, of failing to consult Berman's schedule.
His groaning freight elevator transports visitors into a sixth-floor showroom that looks like Hollywood's fantasy of a hip New York atelier: tall ceilings and exposed brick, with a luxury of space and light.
And it is staffed with a species of beautiful ostrich: fast-moving, elongated people who are all neck, legs and bustle. That day, the hubbub was about getting ready for NYFW: Men's, the new menswear fashion week where rag & bone presented its spring/summer '16 collection on Tuesday.
A zone of calm was the office in the back, shared by rag & bone's managing partners: Marcus Wainwright, the 40-year-old designer, and David Neville, 39, who runs the business. Their desks are coyly side-by-side, like the twin beds of a married couple in a 1950s sitcom.
Reader, they're adorable.
Two Brits, they embody the romantic notion of Sting's "Englishman in New York," which is the exact point of view of their brand: American casual wear elevated by English tailoring.
They are tall—very tall—and thin. They're buddies from boarding school. Mr. Neville once dated Sienna Miller, but now he and Mr. Wainwright both have wives and multiple kids the same age and houses near each other in the Hamptons. They speak in identical, very long, scrupulously thoughtful, just very slightly elliptical but grammatically immaculate sentences. They don't tweet.
Ask Mr. Wainwright about his brand's appeal to men, and he stretches out in an armchair, a 6'3" runway of white T-shirt, khakis and sneakers.
"A lot of guys just want a nice shirt," he says. "Let's be honest."
Founding the company in 2002 with no design background, Mr. Wainwright undertook to teach himself the art and craft of fashion. He ended up in a denim factory in Kentucky for 18 months, learning how to make jeans.
"That taught us a lot about just the straight skill-set," he says of his training in the factory. "These people had been doing the same thing for years, it had been going since 1945 and some of these ladies in their 60s had been doing the same thing every day, sewing 501 jeans. That was a real point of learning, from a pattern-making, general craftsmanship point of view."
But back in New York, the challenge was turning that knowledge into a business.
"In the Garment District, there's a thing called the Giant Button," Mr. Wainwright recalls, referring to the information booth on Seventh Avenue at West 39th Street. "And you can walk in there and go, 'I need a pattern maker.' Unfortunately, I did not discover that for about a year."
Instead, "I was, like, cold-calling people, walking around the Garment District. That's how we found our first pattern maker, first sample makers. And for a long, long time, until 2006, I spent every single day in the Garment District. Walking around, buying buttons, buying linings, buying zips. Looking for people to do the sewing."
"Rag and bone men" was a term in Britain for junk cart street vendors, and from the beginning the brand embodied that cool geezer vibe: it was the skinny dude on the make who can always hook you up. Rag & bone launched as a men's label and then quickly added a women's line, which is now about 70 percent of the business.
"I think it's important to understand, we didn't have any fashion training whatsoever, whether it was business or design," says Mr. Wainwright.
"When we started, the No. 1 focus was on the clothes for us, and the quality and the integrity, where things were made, where the fabric was from, the details, the buttons and all that kind of thing. And that stood us in very good stead, from just a general philosophy about what clothes should be. The English thing really comes in when you don't have any design training. So, when designing clothes from the very beginning, it was like, 'O.K., I grew up with this.' We ended up with a lot of American workwear with English tailoring details; general construction points that are taken from English cues and applied to American clothes. As we've evolved, our focus is way broader than that, and the English thing comes into our brand in many different ways, whether it's just the point of view of our tailoring or the use of Harris Tweed or fabric from [175-year-old British woolens mill] Abraham Moon."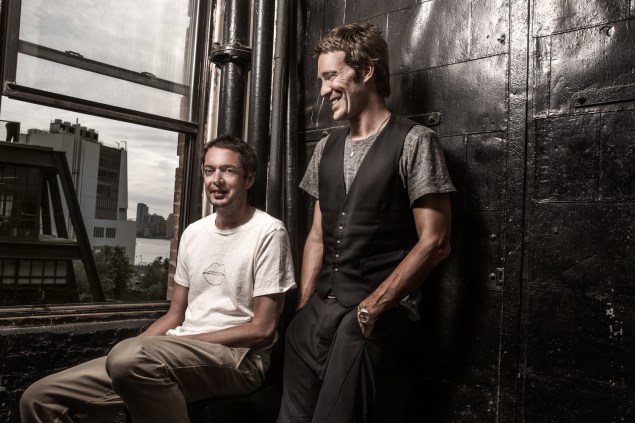 The label began as a wholesale business, selling to big retailers. But early counsel from Ralph Lauren prompted them to open their first store in 2008, in a former coffee shop on Christopher Street in the West Village.
"It was a really great piece of advice," says Mr. Neville. "It forced us, early on, in a retail store, to create an environment around the clothes that is an important part of the concept." A congratulatory card from Ralph Lauren is prominently framed in their office.
Today, the company has 18 stores in the U.S., plus one each in London, Tokyo, Seoul, Hong Kong and Bangkok. (When Mr. Neville said "Bangkok," they both giggled.) He says that further international expansion is the company's main strategic focus in the next 12 months.
Around 2005, the business brought on its first investor. Andrew Rosen is the co-founder of Theory and a stakeholder in, among other labels, fellow fashion darlings Alice + Olivia and Proenza Schouler.
"When I met them, they had two employees—themselves," Mr. Rosen said of his introduction to Messrs. Wainwright and Neville.
"The reason I wanted to meet them was, my son and I were shopping in L.A. a few months earlier, at Fred Segal, and my son discovered these jeans that had a tremendous cut and shape to them, and the denim was really unusual. And he bought a couple of pairs, and I bought a couple of pairs, and I was sort of impressed with the product."
Shortly afterwards, a friend offered to introduce him to the designers.
"What happened was, a week or so after they met me, they said they had a third partner and they had a deal to buy him out, and they didn't have the money to do it, and would I be happy to put up the money?" says Mr. Rosen. "I said, 'Let me go down to the showroom and look at the clothes, and if I like the clothes as much as I did what I saw in Fred Segal, I'd be happy to do it.' It took about three days."
The departed partner was Nathan Bogle, a prominent male model who was also a co-founder of the brand. He added a fizz of glamour to the label in its early days, and it didn't hurt that heads turned when the boys walked into fashion parties. (During his year of dating Natalie Portman, a gossip web site informs us, the couple was known as "NatNat.")
But the partners disagreed on direction, and with Mr. Rosen's injection of money; Mr. Bogle departed in 2006.
Since then, the brand's rise has been seemingly meteoric. But it doesn't feel that way to Messrs. Neville and Wainwright.
"For us, the last 12 years has felt quite methodical," says Mr. Neville. "People have said to us, 'You've grown so quickly.' We have done well, but I think we feel like it's been quite measured. At one point in time, it was the two of us sitting in a room, not even having an office. But I think we always knew we wanted to achieve something great."
For a label that gestures so obviously toward English tradition, it is remarkably innovative. A theme of the men's collection presented on Tuesday was movement, drawing inspiration from parkour, the urban gymnastic discipline that treats the city as an obstacle course.
But Mr. Neville is focused on creating "content" that sustains the brand online and has a longer life span than a runway show, which the company no longer stages. For example, a video featuring the fall/winter '15 men's collection, starring Mikhail Baryshnikov, is approaching 1.2 million views on YouTube.
And for spring/summer '15, they commissioned a portrait series of such notable "friends of the brand" as Jerry Seinfeld and Knicks star, Carmelo Anthony.
"It's a man's line," Mr. Anthony told the Observer, approvingly, about why he likes the label.
"Whether you want to be casual, whether you want to be dressed up, it's a cool thing for men to be a part of. And to be able to go out there and wear rag & bone, it says something about you as a person. It says something about your status."
Mr. Anthony, something of a fashion emissary has attended the Met Ball in a rag & bone tuxedo. He collaborated with them on a hat line, and is just back from Milan Men's Fashion Week, where he wore the brand.
"I can't travel without having a couple of rag & bone pieces in my luggage," he says.
Rag & bone's attention to business detail is as ingeniously understated as the stitching on their clothes. Log your phone onto the guest Wi-Fi in their offices (password: Bermangotmehere1), and you are automatically dropped into their mobile e-commerce platform.
It's just the sort of subtle and deft move that, spending any time with Messrs. Wainwright and Neville, you come to associate with them.