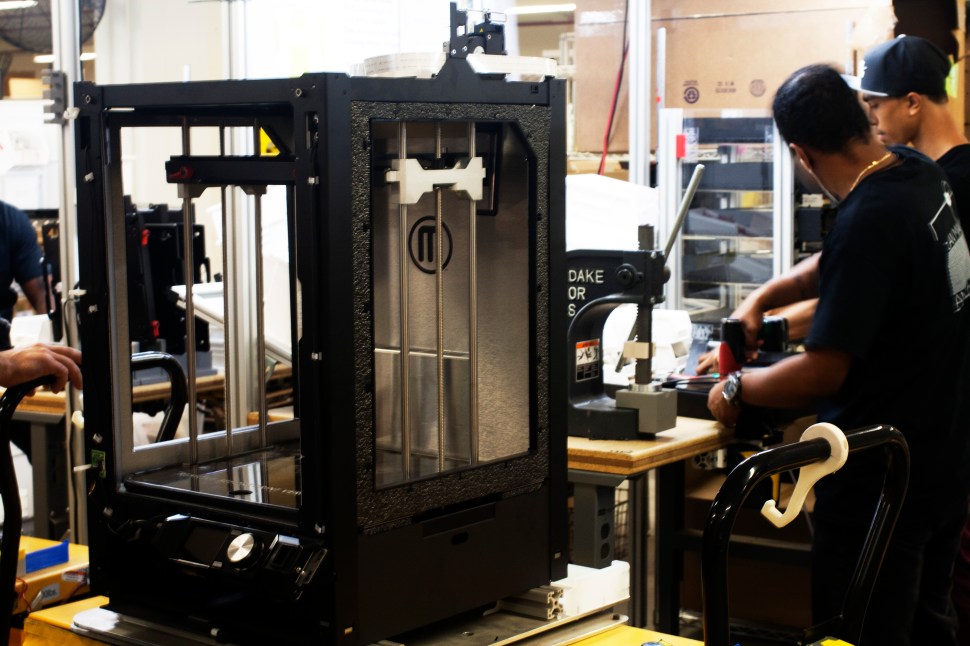 Factory work at Makerbot is nothing like the dirty, crowded image of yesteryear. Its new Sunset Park factory at 147 41st Street, between 1st and 2nd Avenues, is bright, clean and well-ventilated. In fact, one of the most striking features of the large space—where workers build the company's 3D printers—are the Lexington, Ky.-made Big Ass Fans hanging from the high factory ceilings, well above its assembly teams, shifting cargo containers worth of air through the largely window-lit room.
The six-year-old company opened the new space to a tour for the press and members of the community last week.
The Brooklyn-founded company, now a division of Minneapolis-based Stratasys, has expanded its footprint at Belvedere Capital, Jamestown and Angelo Gordon's 6-million-square-foot Industry City complex, from its original 80,000-square-foot space, with an additional 170,000 square feet of space, bringing its total area in the complex to 250,000 square feet. It had previously assembled 3D printers in a much smaller space, which it now uses for confidential new product testing, according to Scott Crouthamel, from the Makerbot operations team.
"We're very vertical here," Mr. Crouthamel explained as he led the tour. "All lines start at the outside and finish in the middle." That's because that's where the freight elevators are located. Unlike factories based in middle America that can take up one continuous space, Makerbot has to move its products up and down for the manufacturing process.