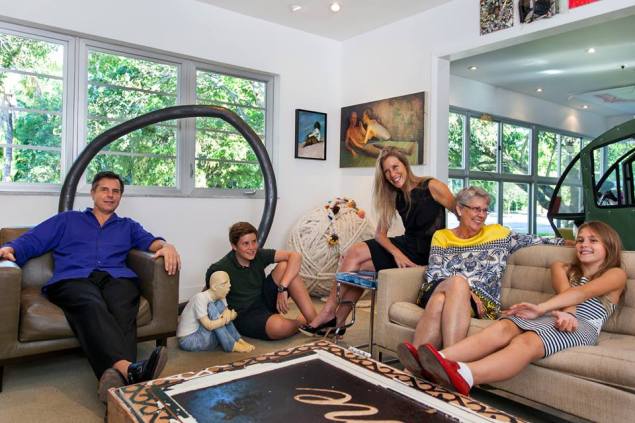 Maybe you own a home in the suburbs and have a spare room or even a back house that you rent out for a bit of extra cash. You must think you are pretty clever, right? Well, here is what Miami resident and art consultant Kathryn Mikesell did with a house she owned adjacent to her own suburban Miami home.
In 2008, after talking it over with her husband Dan, Kathryn decided to reach out to a few artists she had bought work from and offer them airfare and that second house as a temporary studio. What the couple asked for in return was an artwork from each artist who stayed to commemorate the experience.
Seven years and nearly 300 artists later, the couple's "Fountainhead Residency" continues to attract exceptional artists from all over the world, and the Mikesell's art collection has blossomed. It now includes big-time artists (Shepard Fairey, Ted Gahl and Parker Ito just to name a few) who have stayed at the couple's home.
The Observer spoke to Mrs. Mikesell about the program and whether or not artists are house-trained (just kidding, artists!)
Can you give us a little background on what drew you to art collecting?
Dan and I began collecting almost immediately after we moved in together.  Dan's family collected art, and he had two artworks (from their collection) that we hung in our home.  This was my first introduction to living with art, and I was immediately hooked.  Back then, we both traveled extensively for work, and art became our way of staying connected while we were apart. From there it blossomed and, in many ways, art encompasses our entire lives now.
You get an artwork from each resident after their stay. When you came up with this idea, were you aware that you might have discovered a better way to collect art?
When we started the residency we couldn't have fathomed the way it would change our lives. We just wanted to give back and have an impact with our collecting, so we decided to offer roundtrip airfare to and from Miami and living and working accommodations for up to two months to artists whose work we admired. What we got in return was a worldwide family that would enrich our lives, help us raise our children and inspire us on a daily basis. We're also extremely appreciative of the art that the artists leave with us. It's a constant reminder of their time here, and it gives us the opportunity to introduce their work to others long after they leave.
It sounds like you've developed long-lasting relationships with some of the artists you've hosted.
Many! I think every vacation we've taken since starting Fountainhead has included visits with artists from the residency.  We actually have two (artists) staying in our home now. These relationships have also grown thanks to my art consulting.  It's fulfilling when I'm able to call a Fountainhead alum and ask to show their work to a collector.
Have you had any awkward situations with any of the artists that have stayed with you?  You never know when a van Gogh-type will show up.
Believe it or not, very few. Considering nearly 300 people have come through the residency (most of whom did not know each other prior to being at Fountainhead in Miami) I'd say that's pretty good.
As you mentioned, you consult as well as collect and run an ever-expanding residency. Do you ever experience a conflict of interests because of the many hats you wear? For instance, have you ever had a hard time selling a fantastic artwork that you had located for a client instead of nabbing it for yourself?
That's an interesting question. I feel like I fought becoming an art consultant for years. Dan and I have always tried to inspire new collectors but doing it as a "job" was concerning. I was worried that it would taint my passion or "muddy" the way I viewed work.  Luckily neither of those were the case. As far as a particular work being a conflict, yes, it was bound to happen and it has. My clients come first so they got the piece, but I asked for first right of refusal if they ever sold it.
You've helped support non-profits, galleries and museums in Miami, but you're also a big fan of New York City's art scene. Do you find that you navigate the two differently?

In some ways yes, and in others, no. Miami has a close-knit art scene that is easier to navigate, but even in New York I always start by talking to the people I know well. In both cities I start with clear objectives: looking for artists for the residency, artwork for clients or our collection, or just an opportunity to learn about new galleries.  From there, I start calling and emailing to build an agenda. In the end, I almost never accomplish everything I've set out to do, but I have to be open to unexpected experiences.
Clearly art has deeply affected your lives… Your son is now a practicing artist! What kind of work is he making and who are his influences?
Yes, Galt is making work and has been in art school since middle school. Next year he heads into New World School of the Arts for high school and we're very proud as you might imagine. He's currently working with street signs. He acquires them through a number of ways. He then bends and manipulates them with power tools, fire, and a pick ax. There are many Fountainhead artists that have inspired him. Most recently he spent almost three weeks in El Salvador without us working with artist Simon Vega who had previously been with us as the residency. (Our daughter, Skye, is also very creative: She's already won her first writing prize.)
What's the one piece of advice you would give to a new collector?
If you have the opportunity, be more than just a collector.  Try to give back and invite your friends along on the journey.