"If I had any advice for a young designer," Ryan Roche told the Observer following her July 9 participation in the  Designing Women speaker series at the Museum of Arts and Design, "It would be that you don't have to give everything up for this job, or you shouldn't. You should always be true to your personal priorities." And of this, Ms. Roche is a shining example. At 37 years old, she lives with her husband and three children in Rhinecliff, N.Y, where she has renovated an old barn on her property into a working studio. "I wanted to wake up and drink my coffee and look at something beautiful, it helps my designs," she explained. Ms. Roche, draped in a nude cashmere scarf on the MAD stage, was every bit poised as one would expect from a top New York designer.
While frequently criticized for her decision to settle down with her children outside of New York City, Ms. Roche has certainly impressed the fashion world with her ability to maintain the life of her choosing, while continuing to cultivate a career as a major player in the fashion world. She designs on her own terms.
Known primarily for her knitwear, '90s inspired and reserved in shape and color palette, her pieces are immediately recognizable as signature staples. "Every woman needs a hero in her closet," Ms. Roche claimed, in reference to the importance of stunning basics.
Her collections come largely in her signature pastel pink, along with a number of faded blues and nudes. She has been involved in the sustainable and socially responsible production of clothing since her start and she did eco-fashion before it was cool. When pushed by the MAD's host to explain a little further on her signature shade of "blush" as he called it, Ms. Roche explained that she uses avocado skins and pits to dye her cashmere knits. "I buy them or we just pick them up from the Mexican restaurant" she joked.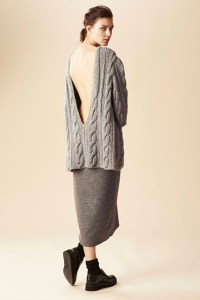 All of her cashmere knits are crafted in a small women's cooperative in Nepal. Ms. Roche has been working with the Nepali collective since her humble beginnings as a children's wear designer, and this past year she travelled with her family, for the first time, to visit the women she's been loyally working with for years, claiming it was exceptional to be so substantially supporting such hard working, kind-hearted women. "That's real luxury," she explained from the MAD stage, "feeling truly good about every part of the clothes you're wearing." The remainder of her pieces are produced locally in New York. Her design process is entirely transparent; there are no ethical ambiguities about her production.
Following her graduation from the Academy of Art College in San Francisco, Ms. Roche moved to Boulder, Colorado where she worked in a small textile shop with a woman who gave her sewing lessons in the back room. "That's where I really learned couture sewing," she explained, commenting that the woman she worked for had taught her to love Georgia O'Keefe, an artist she's cited on multiple occasions are one of her primary inspirations.
As she continues to expand her collection of extraordinarily minimalist cashmere knits, and her recent line of Fall wovens, she shows no signs of slowing down. Capable of creating ethically sound clothing of the absolute highest quality, without sacrificing her Idaho roots to embrace city life, is part of what makes Ms. Roche such an exceptional figure in the design world. Her clothing line, like her, is entirely disinterested in altering its convictions for the sake of the traditional market.