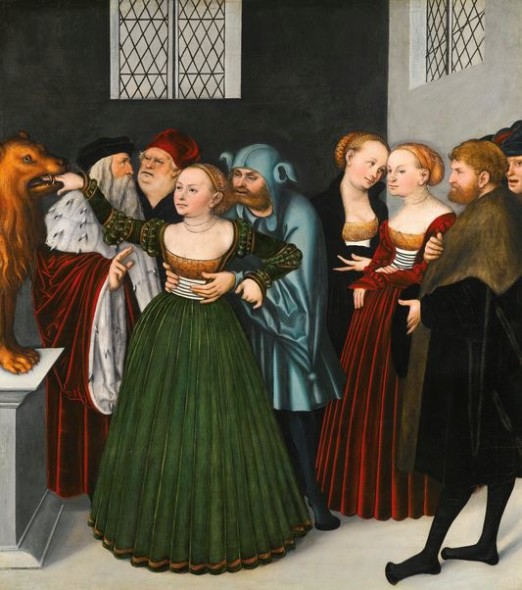 An Old Master painting of an adulterous wife being tested by judges on her faithfulness — and fooling them with a sneaky trick — sold for an artist's record of $14.3 million at Sotheby's. The famous image by Lucas Cranach the Elder shows the woman accused of adultery placing her hand in the mouth of a sculpture of a lion; the legend goes that such a statue was believed to be something of a lie detector in Renaissance Germany.
The painting, dated 1525-1528, is called: Bocca della Verita (The Mouth of Truth), and the story it tells would have been familiar to 16th-century high society.
The legend goes—and as the painting depicts—the canny wife tricked the device and the judges. How does she pass the test? She has arranged for her illicit lover to dress as a fool (the man garbed in blue) and grab her just as she places her hand inside the lion, so she can then confess: "Only this fool and my husband have touched me!"
Her skeptical husband is shown to the right, her friends, presumably in on it and smirking, behind him, and the judges to the left.
(If the story sounds somewhat familiar, Cary Grant put his arm a similar 'lie-detector' statue, this one with the head of a man, in the 1953 film Roman Holiday).
The Cranach was the top lot in a Sotheby's Old Masters sale in London earlier this week that saw six artist's records set, but more than a third of the works unsold in an economic climate nervous about the debt or market situations in Greece and China.