JERSEY CITY – You can see the Statue of Liberty out here but those who have spent years on this decrepit pier evidently turn inward after a time, to that close-knit circle of fellow bone-tired inheritors of a tradition that once prompted the French to offer their gift apparently out of recognition of democracy, all but a distant halogen now among this machine crowd of hardnosed, self-interested Hudson pols.
"Who else would put up with Mayor [Richard] Turner?" former Governor James McGreevey said. "He's the one guy on three payrolls who actually shows up to all three jobs."
Yet for that great gulf between art and reality, one man among them seemed to embody the best shot at breaching the divide, however unheralded he is much of this time in this world of brass knuckle, self-promoting politics.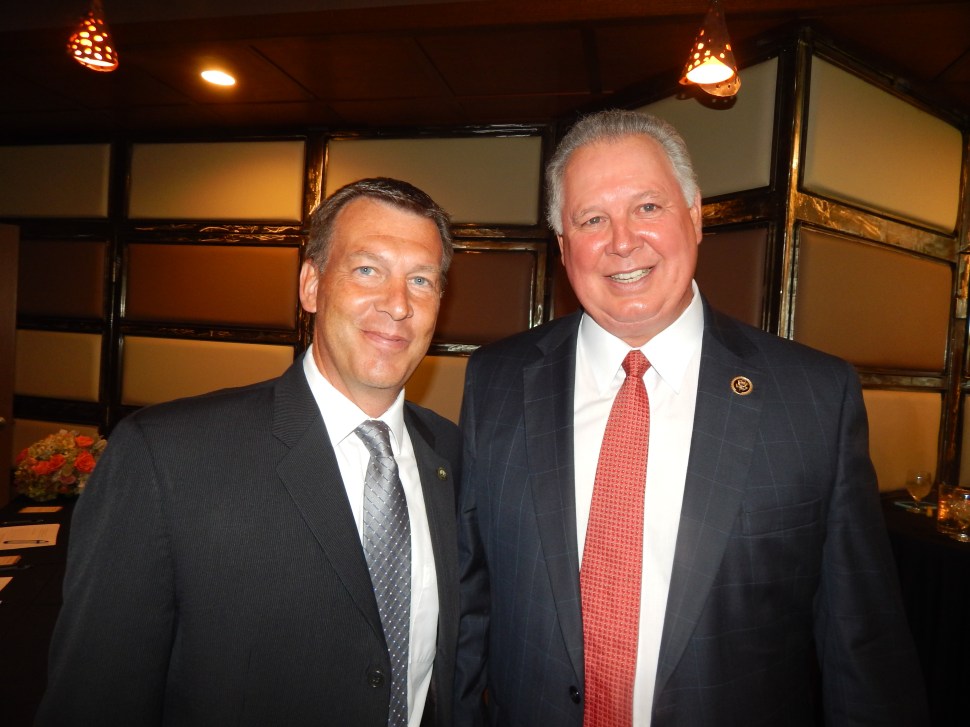 The event tonight honored U.S. Rep. Albio Sires (D-8), who pulled in more fundraising cash than usual, obviously obliterating any static that he might not run again. He's running, no question. This party at the Liberty House turned into a cross-section of Northern Democratic Party power, demonstrative at the very least of the kind of goodwill the gentle giant from West New York has amassed over his years in public life: from Cuban immigrant turned Memorial High School basketball star to St. Peter's jock to teacher to coach to Mayor of West New York to Speaker of the General Assembly to Congress.
There was a lot of power in the room, and the fascinating fact was it all led back to Sires.
Jersey City Mayor Steven Fulop anchor-legged the event.
"To my leader here in Hudson County – Steven Fulop – you have done a magnificent job," said Sires. " I appreciate the fact that you have always – well, maybe not always…"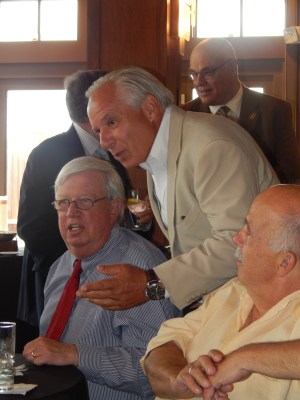 A big belly laugh ensued from the crowd.
Perhaps there were images of the 2013 mayoral contest pin-balling through people's memories, when Sires loyally sprang into action in the 11th hour on behalf of then-incumbent Mayor Jerry Healy – and the consequent bad blood when Fulop won. Or maybe recollections went to the rivalries and aftermaths of Fulop v. Menendez. It did, in fact, back to Fulop's 2004 challenge of Menendez and his subsequent endorsement of then-Perth Amboy Mayor Joe Vas over Sires for Menendez's former congressional seat in 2006.
They were buried now in abiding love, another word for political expediency in the Hudson lexicon.
Also present in this theater: Bergen Freeholder Steve Tanelli, slimmed down and
already through two pairs of shoes in an election year, Hudson County Executive Tom DeGise (a lifelong Sires friend), Weehawken Mayor Turner (Sires' closest political confidant), Hoboken Mayor Dawn Zimmer, state Senator Sandy Cunningham, Assemblyman Raj Mukherji (D-33), Hudson Freeholder Bill O'Dea, Bayonne Mayor Jimmy Davis, LD31 Assembly candidate Nick Chiaravalloti, Senator Bob Menendez political advisor Mike Soliman, Department of Transportation Commissioner Jamie Fox, Freeholder Anthony "Stick" Romano, Democratic State Committee Vice-Chair Lizette Delgado-Polanco, Newark Councilmen Luis Quintana and Anibal Ramos, and Essex power pooh-bahs Joe Parlavecchio and Assemblyman Ralph Caputo (D-28).
Others?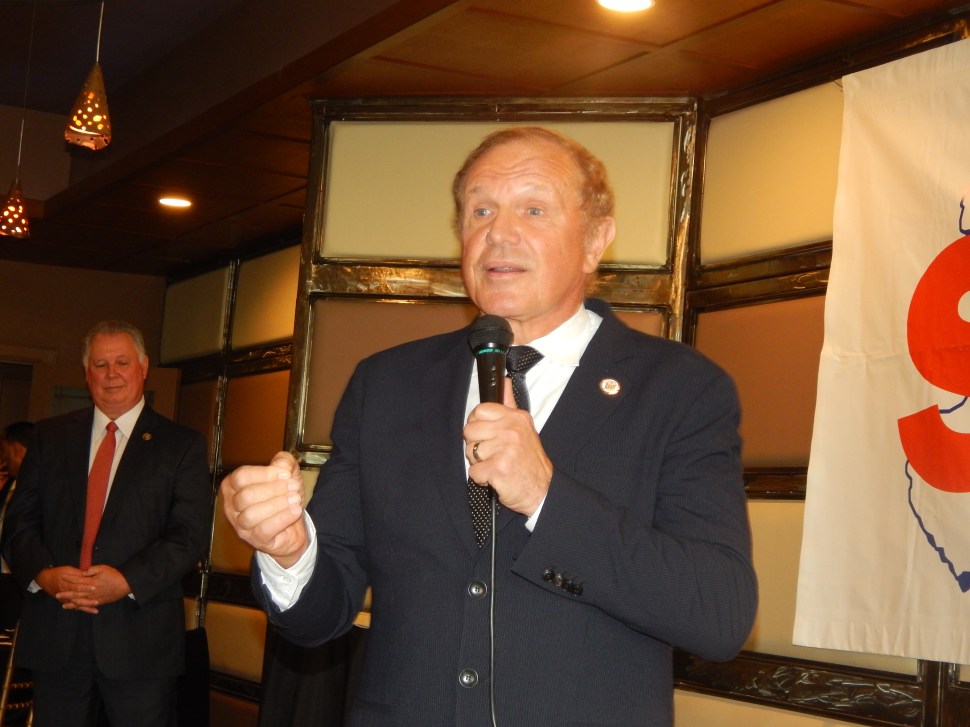 State Senator Ray Lesniak (D-20), who, like Cunningham, had a speaking role. "If I have anything to do with it – and I do – you'd always
be my congressman," said the veteran player from Elizabeth.
But even arguably more significantly symbolic was the presence – complete with speaking role, just as he had last week at state Senator Brian P. Stack's (D-33) fundraiser – of former Governor Jim McGreevey, who received a big hand. At one point, in the ultimate Abba Waterloo deja vu all over again video moment, McGreevey backed up to a tanned visitor In beige blazer and shocking white hair who looked like, and yes, happened, in fact, to be, former U.S. Senator Bob Torricelli.
He, too, received applause from the crowd. Buzz persists concerning Torricelli's possible return to power if Menendez – under indictment – stumbles. "The Torch" stoked those fires as he moved gracefully among the tables.
But there were other persistent and local storylines under the surface, one of them developing in West New York where indicted Mayor Felix Roque now has two young commissioners quietly bucking to take his place when and if the time comes. On one side of the room, looking like a dignitary on the receiving line that might include a bishop, stood stately Commissioner Cosmo Cirrilo; on the other side, pacing hungrily in the shadows was Commissioner Gabe Rodriguez. The two of them appear to be on a collision course. "Cosmo [the
aide de camp to Speaker Vincent Prieto], has the support of the party superstructure, but Gabe's the street guy," one of the party's guests told PolitickerNJ.
Finally, it was Sires' moment. He thanked McGreevey and Fulop, and Quintana – the first Hispanic mayor of Newark, whom Sires remembered campaigning in the early days on Bloomfield Avenue in Newark in a beat up white car.
"I want to especially thank the unions," Sires said, acknowledging 30 different labor groups in attendance. "I would not be where I am without your support."
He complained about the Republican Congress' herky jerky transportation funding, noting, however, with some acknowledgment of good news, the GOP's allowance of another six months' worth of transportation dollars, the 33rd time the majority party's signed off on a "continuing budget." But the congressman's agitation evaporated in the upsurge of applause from friends, who felt, for just a moment, like real friends because it was SIres, and not simply the people one meets in politics, and the Statue of Liberty seemed to stand a little closer to the shore, even if it was just an illusion.
It was an illusion.
Menendez was still under indictment, and Torricelli was on the move in a possible power vacuum, and Hudson was still, immigrant kid made good Sires and all, ineradicably Hudson.