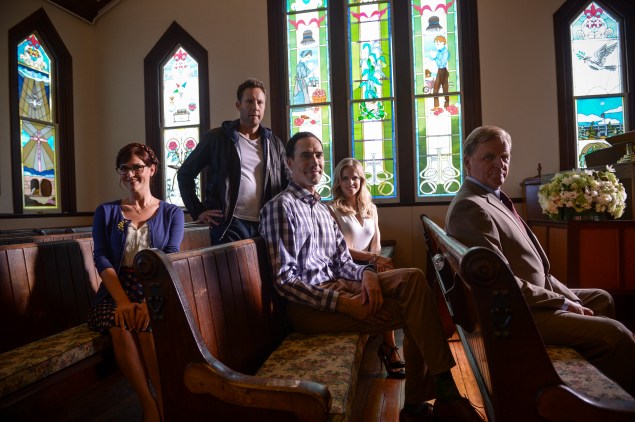 Where do you think you might see a comedy series with lines like, "Sorry, I'm not trying to boguard The Lord," "Once, I saw him light his dick on fire," and "You're blowing the pastor!"
I bet the TV Land network isn't the first place you thought of, right? Well, that's exactly where you'll hear those sentiments, along with some other raunchy, and yet hilarious, conversations about crime, identity theft, love and religion.
(Plus an uproarious party in which the subtle choice a character must make between chicken breasts and jumbo meatballs speaks volumes.)
If all of that's too cryptic, here's the real skinny – this is all about a new show entitled Impastor. The series features Michael Rosenbaum as Buddy Dobbs, a small time slacker crook on the run from a loan shark who steals a man's identity and ends up posing as a small town's new gay pastor.
"I read it and I heard it was for TV Land and I was like, 'oh I don't need to do this,' because truthfully I thought of TV Land as the rerun channel," admits the star, and an Executive Producer of the series, Rosenbaum. "But the script was so good; I really did want to do it. My biggest fear was that the material would get watered down. I mean in that script, they used the word 'cock' on page 23 and I felt that was a pretty important 'cock' and I didn't want to lose it," he says as he laughs. "They said, 'don't worry, we'll keep that and the rest of the script intact.' They made it clear this was the show they wanted to make and, pardon the pun, I had faith in them. After we made the pilot, I was like,  'Wow we really did it,' and I loved it but I absolutely thought that there was no way we were going to get to keep the edge, but we did. They're committed to this material and that was so amazing to me. In my mind, a pilot is kind of an easy thing to make, but then to keep the edginess intact in the following episodes can get a bit tricky but we really worked hard to keep that going and I think we succeeded."
Although the main character is a criminal and is attempting to pull quite an elaborate scams that could affect many innocent people, Rosenbaum feels that Buddy is still worth rooting for. "Deep down he has a heart. When you see why Buddy is where he is – the path that's led him to this – you feel for him. He's trying to do the right thing; he just unfortunately never seems to actually do it. Yes, he's an opportunist and looking out for himself, but slowly as the series goes on he starts to realize that this is the family he never had and he doesn't want to hurt them but he's never had to be concerned about anyone other than himself so he's not very good at thinking about other people."
Rosenbaum is clear that it's a bit of a challenge to play such a character, saying, "Well, he has to be likeable otherwise not one will care about what happens to him." He pauses just a moment and then continues with, "I have to tell you when we were making the pilot, the director (and another EP on the series) Rob Greenberg told me, 'this is all on you man – if you're not charming or likable this thing will go down in flames and it's all your fault.' I was like, 'oh great, no pressure or anything, just the whole thing rides on me and if I can't make this guy likable we're all sunk,'" he says with a laugh. "But in all seriousness, I think Buddy does come across as a guy who has a heart and he cares in his own way, it's just not the normal way that most people care."
But then Rosenbaum reflects a little and adds, "Hey, we live in a world where people rooted for that meth dealer Walter White and that womanizing alcoholic guy Don Draper so I don't think a slightly shady guy impersonating a pastor is really too much of a stretch for the audience."
The main thing that Rosenbaum wants viewers to know is that the series is just plain different. "I just don't think there's anything on that's like it right now.
It's got edge, it's funny, there's an intriguing twisty story and not everything ends well in every episode. It's just not your typical show because you never really know what's going to happen to this guy and the people he's interacting with."
The folks surrounding Buddy throughout this adventure are the church assistant Dora (played by the lovely Sarah Rue!), two suitors – one a vivacious woman, Alexa, and the other a gay parishioner, Russell, (this makes for a fascinatingly unique love triangle) and Alden, a senior churchgoer who's constantly skeptical of Buddy's credentials and methods.
"There's a lot that goes down with all of this people this season," says Rosenbaum. "In addition to the people in this town, there are these detectives on the hunt for Buddy, then there's some crime in town and people suspect Buddy. Then you have the whole thing with Russell and Alexa battling for Buddy's affections, which makes from some very funny moments. But, I think the main thing that happens is that everyone starts to realize that within this little church town everyone has there own little secrets and they all start to come out."
Because the show has a religious theme, when asked about possible backlash from the conservative sect, Rosenbaum responded with, "The thing is we're not really mocking religion at all. That's not our intention in any way. We're aware there are always going to be people out there who get offended by something. We can't predict that and we're certainly not trying to stir anything up. We're just tying to tell good, funny stories here. I will tell you that I know a couple of pastors who have watched the show and they told me they weren't offended. So take away from this what you will, but all we're tying to do is tell funny stories about people in interesting situations."
Whether considered controversial or not, Rosenbaum's greatest hope at this point is that people will just tune in and judge for themselves. "I know there's so much out there for people to watch right now. There are so many networks and Hulu and Netflix and all of that that it's a bit crazy, right? But, I really just think if people will give this a shot, they'll like it. It's not a set-up, joke, laugh-track show, it's very unique. It's really funny and every character is very is likeable it different ways. We're really hoping that this show does for TV Land what Breaking Bad and Mad Men did for AMC – that people will see that this network has really turned the page in terms of content and that they're willing to show edgy stuff and not water it down in any way."
With another chuckle Rosenbaum adds, "The thing is people are smart and funny in real life and they deserve to see smart, funny people on TV. I'm smart and funny, really I am! Ok, it's mostly the writers that make this funny, but I'm in there too, making it funny too. I am! I will make you laugh if you watch this. I will! I'm certain of it. So just watch, alright? Wow, I just realized that that sounds like some begging there, doesn't it? Well," he pauses and says with a humorous level of mild sincerity, "I'm not above doing that…. if it will get you to watch!"
Impastor debuts on TV Land Wednesday night at 10:30/9:30c.