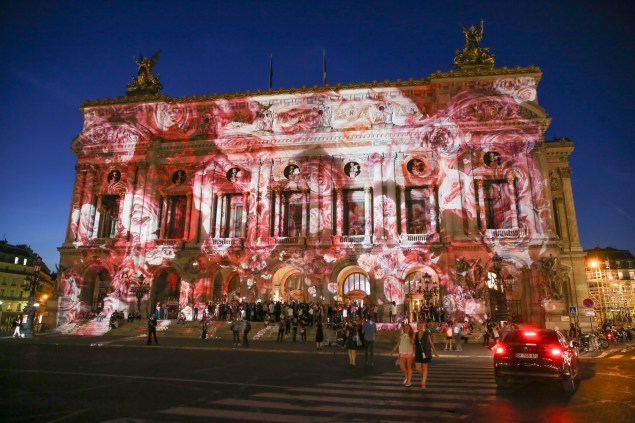 Haute fur, a bevy of soirées for makeup companies and more than a few celebrity sightings have kept onlookers on their Dior-clad toes this Couture Week. As the shows and parties come to a close, and the fashion flock heads back to their respective corners of the world, all we have left are luxurious memories from the past five days. So let's revisit those fond thoughts…
A rose-colored ball: MAC and Giambattista Valli have been working together for over a decade now, and their Flower Obsession Ball on Monday showed that this collaboration is just as fresh as ever. Their new lipstick collection — five colors of rich red, berry, and pink hues — was celebrated with an over-the-top party. Outside, oversized visions of dreamy roses were projected onto the Palais Garnier's impressive exterior. Inside, a who's who of the week's guests: Jessica Alba, Naomi Campbell, Alber Ebaz and DJ Mark Ronson, who played a set at midnight.
Fur faux pas: Karl Lagerfeld's fur-only Fendi runway show weathered a slight disruption: Protestors from the Brigitte Bardot Foundation (yes, that Brigitte Bardot), an animal-rights group, unsuccessfully tried storming the gates outside the event. Only one woman in a fur coat was able to make her way inside, with just enough time to peel off her coat and reveal a bloody body suit underneath. Despite the interruption, critics and editors agreed the Italian brand's first-ever couture presentation was a success.
It's a gamble: Chanel's couture models may have tried to steal the show with their short coifs, but there was more on the runway to take in. In the middle of the Grand Palais, starlets including Julianne Moore, Kristen Stewart, and Lily-Rose Depp (the gorgeous offspring of Johnny Depp) were working the craps tables. Yes, these A-lister were gambling, as part of a show set. Perhaps they're Karl Lagerfeld's good luck charms.
The '90s called… It's not every day that the leading lady of '90s rom coms is spotted in the front row. But Meg Ryan — Nora Ephron muse and star of When Harry Met Sally and You've Got Mail —  stepped back into the spotlight in a simple, shapely navy dress to take in the Schiaparelli show.
Al fresco, redefined: Bulgari might have Italian roots, but their star-studded launch for Italian Gardens took place in Paris. Their new gems and jewels are one of a kind, inspired by the Italian Rinascimento. Carla Bruni is the ad campaign's muse, and VIPs including Amber Heard and Juliette Binoche were in attendance.

Olivier Rousteing, Tory Burch, Jessica Alba (Photo: Courtesy)

Tory Burch, featuring Lauryn Hill: One of the biggest surprises off the runway? That Tory Burch is a fan of the '90s neo-soul songstress, Lauryn Hill. The chanteuse performed at the designer's party celebrating the opening of the first Tory Burch store in Paris. Guests at the party were eager to be 'miseducated' at the Hotel de Sully's Moroccan-themed bash, with Jessica Alba and Olivier Rousteing in attendance.
Eight decades later…Lancôme rang in their 80th birthday with A-listers instead of age spots and cocktails instead of crows' feet. Brand ambassadors Penelope Cruz, Kate Winslet, Julia Robert, and Lupita Nyong'o celebrated the French brand in an old Pigalle theater, and Aussie pop star Kylie Minogue sang happy birthday.

Tilda Swinton, Haider Ackermann and Kanye West (Photo: Julien Hekimian/Getty Images)

Yeezus and friends: Kanye West left Couture Week after kicking it with a host of unexpected new friends. Photos document the fashion-focused rapper getting drinks with Kristen Stewart and friends, and smiling beside Tilda Swinton and designer Haider Ackermann.

Dutch designers Viktor and Rolf celebrated Flowerbomb's 10th birthday at a party at Le Trianon. (Photo: Courtesy)

Flowerbomb turns 10: It's been a decade since the grenade-shaped scent made its way from the dreams of Viktor Horsting and Rolf Snoeren and onto vanities across the globe. The sweet, best-selling fragrance was celebrated in a party at Le Trianon, DJ'd by Charli XCX. The Dutch duo gave a special thanks to Tori Amos for her support; Ellen von Unwerth and Michelle Rodriguez were in attendance.