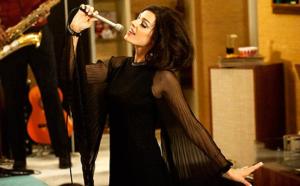 (Disclaimer: This is not about live TV musicals. At all. This is about regular television shows that include a musical aspect or episode. I am not, in any way, shape, or form, referring to live TV musicals. If you think for a second this refers to something like Peter Pan Live then you are mistaken. And yes, I know Peter Pan Live has an exclamation point at the end of it. However, I am refusing to include it because it doesn't deserve nice things, least of all enthusiastic punctuation. You know what you did, NBC. Don't look at me.) 
I can't quite imagine what's happening in a writer's room when a TV show decides to feature a musical episode. Maybe the writers have been awake for 72 hours straight, surviving off only a diet of coffee and cigarettes (eating them, not smoking). They've started to make tents out of flying sheets of paper, old scripts, and slips threatening the termination of their positions if the show doesn't improve, fast.
"I know," says one of the writers, as he stops rubbing table legs together in an effort to make fire. "We'll do a musical episode! Of course."
Musical episodes, I think, have always been widely seen as a hail Mary of sorts. Are you totally and completely out of any original ideas or content? Add a song! Maybe even a jazz square or two, because hell, who's even watching.
But I'm here to defend the TV musical episodes. Sure, they're very clearly a last resort kind of episode, a shameless filler in between blocks of actual plot. However, I think they're far and away the most entertaining to watch.
Take, for instance, the Scrubs episode "My Musical." Please, try to convince me that wasn't the best episode of Scrubs. I'm waiting, and I'll continue waiting forever, because you just can't do it. That episode addressed, head on, how much Turk and J.D love each other. And they did it in song. I mean, one of the lines in "Guy Love" is, "though I'm proud to call you chocolate bear/the crowd will always talk and stare." Don't tell me that's not quality writing, because it is. See below.
Or what about the Fringe episode that becomes a 1940's noir detective musical when Walter smokes too much marijuana? You can't make this stuff up. Listen, I just call good TV when I see it and that, that is good TV.
And don't think I'm forgetting the episodes with just a song, that maybe aren't dedicated entirely to a musical. Think How I Met Your Mother. Realistically, that show is unbearable to watch.
However, throw in a Marshall–written tune, and you're good to go. I once listened to "Nothing Suits Me Like a Suit" on repeat for most of a drive back from San Francisco. I do not regret doing it, and I do not regret revealing it now. It's just that good of a song. Honestly, How I Met Your Mother should be taxed for every episode they made that didn't include a musical number featuring Neil Patrick Harris.
American Horror Story: Asylum let Ryan Murphy flex his Glee musical muscles with a performance of "The Name Game" by Jessica Lange. It's hard to make American Horror Story good, and for those couple of minutes, I almost believed I liked the show.
And finally, the best for last. Mad Men. Oh, Mad Men. The show featured two of my all­–time favorite music TV moments. There was Megan Draper performing "Zou Bisou Bisou," and let us not forget our musical farewell to Bert Cooper. Hail Mary? Hardly. That's television gold.
I rest my case. And I will wait patiently for a musical episode of House of Cards.