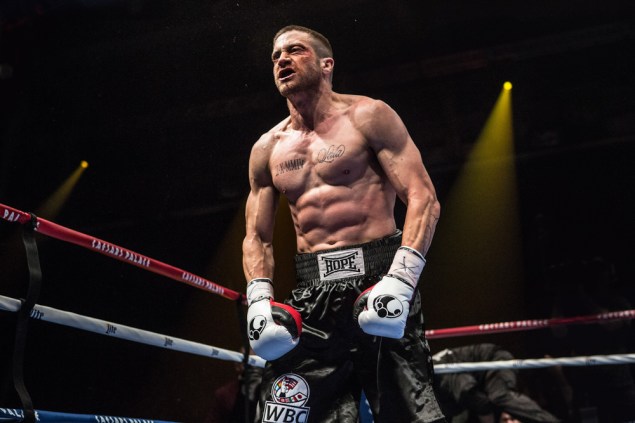 The astonishing rise of Jake Gyllenhaal from likeable nice guy in easy Hollywood comedies to formidable dramatic force with range and versatility in bold, powerful dramas that flex his muscles and test his endurance continues in Southpaw, a familiar tale about a boxing champion who loses everything and punches his way back to glory and redemption through the school of hard knocks in and out of the ring. We've seen it many times before, in everything from Champion to Requiem for a Heavyweight, but what makes this one different is the dedication, commitment and sincerity the star brings to every aspect of the role. This is a pugilist with a heart.
---

SOUTHPAW ★★★½
(3.5/4 stars)

Written by: Kurt Sutter
Directed by: Antoine Fuqua
Starring: Rachel McAdams, Jake Gyllenhaal and Forest Whitaker
Running time: 123 min.

---
Billy Hope is a rags-to-riches hero raised in an orphanage in Hell's Kitchen who fought his way from poverty to undefeated light heavyweight champion of the world. Beloved by fans and sports journalists alike, envied by his foes and staunchly supported by his proud, worshipful daughter Leila (Oona Laurence) and smart, beautiful and loyal wife Maureen (Rachel McAdams), who shares the same background (they were both in the same orphanage as kids), Billy's is the kind of American success story that makes great movie fiction.
Billy has everything—cars, a lavish mansion, love—but even when the film opens with another pulverizing knockout in Madison Square Garden, only a few blocks away from the orphanage where he grew up, Maureen shows her worry about where his aggressive, two-fisted fighting technique (or lack of one) will lead if he doesn't get out of the fight game before he is permanently damaged by the endless blows he endures in the ring. The more he gets hit, the harder he fights, and Maureen fears if he continues to get battered, he'll end up punch drunk in two years. So he's on his way to an early retirement when fate deals a fatal right cross that stops him in his tracks. Tragedy strikes early when, at a gala charity fundraiser ball, an unexpected melee with fiery, resentful opponent Miguel Escobar (Miguel Gomez) results in violence, random shots ring out, and Maureen is accidentally killed in the crossfire.
Devastated and despondent, Billy never recovers, but dropping out doesn't seem to be an option. The dead-end sadness of the fight game is that once a champion, you have to spend the rest of your career defending your title. So when the money runs out, Billy has to return to the ring to pay the bills. The physical toll it takes is ruinous and Billy's downfall is swift. Even though we know the blows are fake and the punches are choreographed, the beatings are still horrible to watch.
Even his closest advisors fall away when he loses his title. In debt and under suspension for slugging a referee, the court remands his daughter to child services, he's ordered to attend sobriety and anger management classes, his house is foreclosed, and his possessions go to auction. Billy hits rock bottom, and the rest of the movie follows him while he valiantly picks up the pieces, struggles to make a comeback and fights to regain custody of his daughter with the help of a legendary trainer (Forest Whitaker).
The script by Kurt Sutter (Sons of Anarchy) and the gutsy direction by Antoine Fuqua (Training Day) conspire to keep you dazed and repulsed by the bloody action while you reach for a tear-stained Kleenex, but it is really the overpowering performance by Mr. Gyllenhaal that keeps Southpaw sparring with the audience. Blending the sensitivity he showed as a gay cowboy in Brokeback Mountain with the peculiar oddball distance from reality he displayed in Nightcrawler, the star is the centrifugal force that keeps you slack-jawed with admiration. Mentally and physically collapsed yet fired up with the dogged tenacity to start his life over, he's vulnerable, rough, ferocious, charismatic and riveting.
As boxing movies go, Southpaw is bland and doesn't always successfully manage to avoid the pitfalls of the genre. The inevitable final championship bout at Caesar's Palace in Las Vegas between Billy and his archenemy Escobar, the man responsible for Maureen's death, is a cliché. Well crafted with blood spraying the screen, it explodes with vitality, but Mr. Gyllenhaal's outcome is all you really care about. Moving effortlessly between big Hollywood movies and modest New York stage vehicles, he's turned into quite an actor. Few stars make such concentrated efforts to improve their craft while rising through the ranks of stardom. With cauliflower ears, black eyes, busted lips and covered with tattoos, he's not always as entirely believable in Southpaw as, say, Robert Ryan in The Set-Up or Anthony Quinn in Requiem for a Heavyweight, but he is entirely spellbinding.