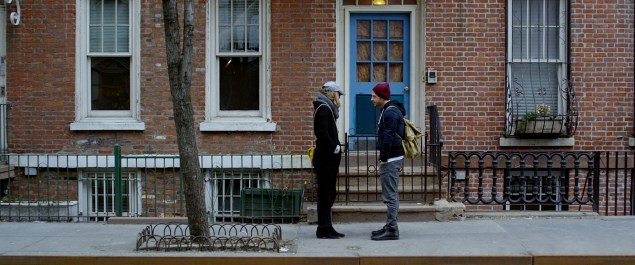 In Stereo, a new indie flick set in New York, starts out as though it's gearing up for romantic comedy terrain, but quickly confounds your expectations.
David, a fashion photographer who dreams of producing loftier art, comes home to his apartment to find his girlfriend Brenda, a struggling actress, asleep on the couch. She wakes up and reports that she burnt a towel on his lamp earlier that day, leading to a forced evacuation of his entire building, which somehow leads her to suggest that they move in together. Cut to a freeze-frame of David's horrified face confronted with the prospect of commitment—my, how things progress!—and you have a sense of where this movie might be going.
---

IN STEREO ★★★
(3/4 stars)

Written and directed by: Mel Rodriguez III
Starring: Beau Garrett, Micah Hauptman and Melissa Bolona
Running time: 90 min.

---
As you probably could have guessed, David (an unhinged Micah Hauptman) and Brenda (Beau Garrett, excellent) don't end up moving in together, at least not right away. The majority of the film, directed by Mel Rodriguez III, making his feature debut, spins circuitously—and sometimes frustratingly—around their relationship until the very end. But it takes some surprisingly and subtly dark turns in the process. In Stereo has a sad undercurrent running through it.
The plot's tension revolves primarily around two things. A year and a half after David and Brenda break up, he finds out that his vapid live-in girlfriend, Jennifer (gorgeous newcomer Melissa Bolona), is cheating on him with his best friend Chris (Kurt Russell lookalike Kieran Campion, whose IMDB roster is quickly growing). The rest of the movie focuses on whether David and Brenda, who has resorted to appearing in genital herpes commercials, will get back together—and how Jennifer wedges her way between them.
What ensues is a dark, manic farce, as much about the destructive things we do to those we care most about as it is a cautionary tale for love-seekers in their thirties. About half-way through, you get the sense that these characters should know better than to resort to the immature antics that make up the movie. The morning David and Jennifer break up, for instance, he follows her to Chris' apartment, snapping photos as she rides the subway, unaware of his looming presence. "It's amazing what you pick up when you look at things this way," David says, kind of creepily. "When you look at things in stereo."
You get what he means, but the movie doesn't really bear out this idea clearly enough, and the weight it's given feels more like a distraction. (The soundtrack, on the other hand, is a delight, full of deep, grooving funk numbers that complement Bryan Koss's gritty cinematography.)
As the film progresses, and Jennifer tries desperately to pry herself back into David's life, it becomes clear that Brenda and David are meant for each other, or at least meant to live with each other … which, as we find out, means something different than you might expect. As a viewer, you crave more interaction between the two of them; their scenes are the best in the film—warm, funny and tender—and there aren't enough of them. But perhaps that's meant to convey the way David and Brenda really feel about each other.