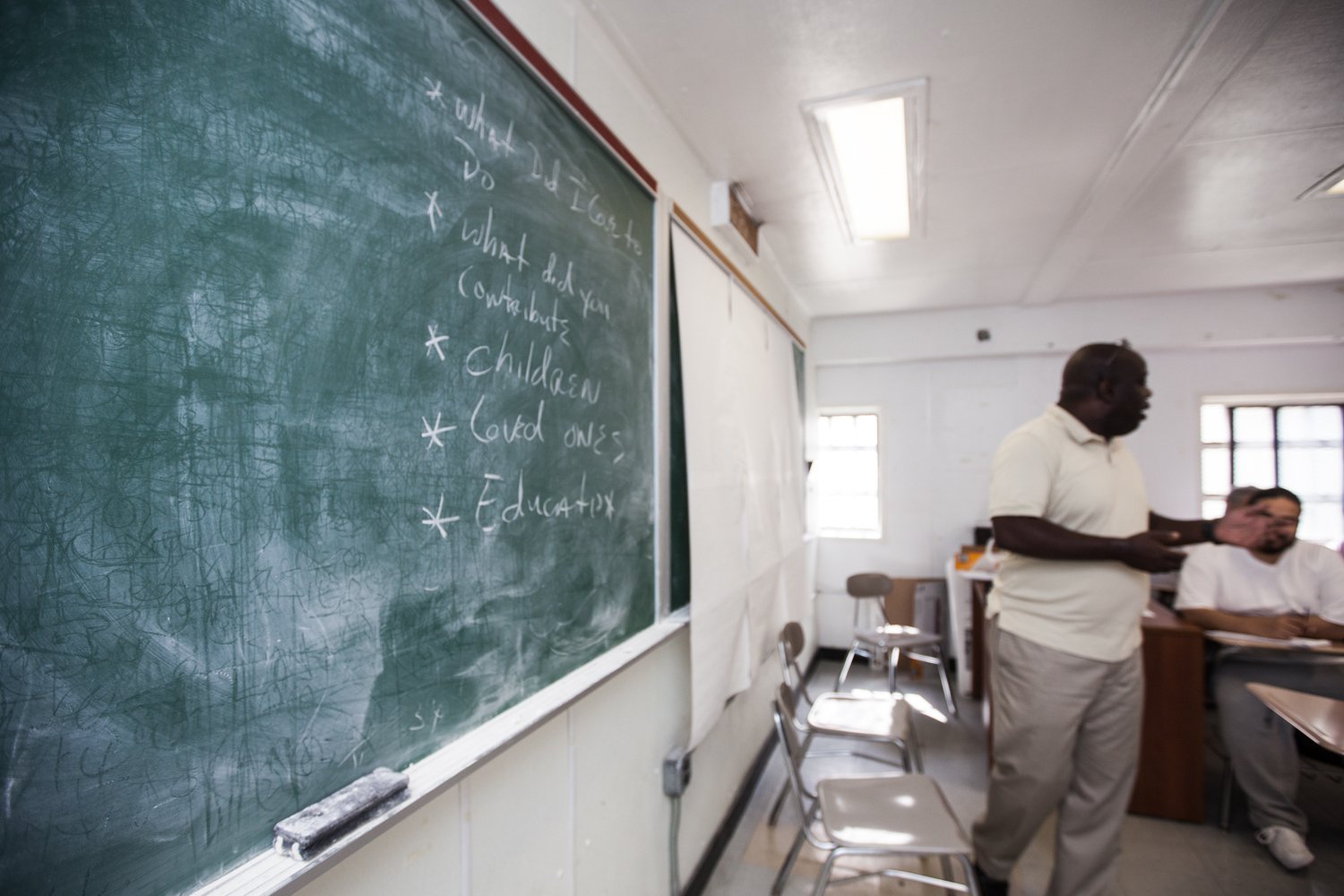 Inside a small classroom, Frank Horton stands in front of a chalkboard and asks one of his students what he's contributed to society.
Other than his child, the student can't think of much of anything he's contributed. "I haven't left a blemish on society," the student responded, "except prison time."
Mr. Horton, an instructor with STRIVE International, was teaching class in a rarely used corner of the George Motchan Detention Center on Rikers Island, where the student is an inmate. The lesson—part education, part cognitive behavioral therapy—is part of a multi-pronged program dubbed the Next Steps program developed by STRIVE, the City University of New York, the Public Library, and the Department of Correction.
"Write me an obituary," Mr. Horton instructed his class, "that tells me the person that you really wanted to be."
Introspective lessons like this one are one way the Department of Correction is trying to stem the tide of surging violence in the city's jails on Rikers Island, as part of a 14-point plan unveiled by Commissioner Joseph Ponte earlier this year. The Observer was given an exclusive tour of the new program last week.
In its 14-point plan to reduce violence, the department calls programs like this one "idleness reduction." That's a fancy way of saying: giving inmates something to do.
"It basically takes them and it puts them in a productive environment for a big part of the day," Deputy Commissioner James Walsh told the Observer. "If they're busy in a classroom productively engaged with an instructor, obviously they're not sitting around getting into the trouble that inmates sometimes get into."
The city is betting a considerable sum on that hypothesis—Mayor Bill de Blasio's administration is providing new funding to the tune of $11.7 million in fiscal year 2016, $16.9 million in fiscal 2017, and $16.3 million in fiscal 2018 for "idleness reduction." With that money, the department hopes to be providing a minimum of five hours of programming each day to adult inmates by March 2016.
During the class last week, Mr. Horton managed to keep class mostly on-track, even with the unusual distraction of a reporter and a photographer dropping in during lessons. One man stood up and offered to model for a photo, a few others cracked jokes about being watched—if not for the students being older (and sporting many visible tattoos) it might have been any slightly rowdy high school classroom. In writing the obituary for their ideal selves, they were asked to think about what they'd contributed—in terms of children, loved ones, education—essentially, outlining goals for a life better lived.
There's more to the classes, Mr. Walsh said, than just keeping the inmates busy and getting them out of their housing areas—which the program currently does for two-and-a-half hours each week day. The lessons focus on preparing inmates for their futures after jail or prison. Lessons focus on computer literacy, cognitive behavioral therapy, goal-setting, job-readiness, and library services.
(Studies have also shown that education reduces the chance an inmate will re-offend. In the late 1990s, a Texas study found that only 16 percent of inmates who had bene educated in prison committed another arrestable offense when they were released—well below typical and national recidivism rates.)
It's also peppered with incentives to get inmates to participate, among them $15 a week for showing up. But there are less immediate bonuses, too, including access to continued help with employment, and continued education at CUNY, when an inmate is released—not just for the inmate, but for his family members as well.
"This is a big thing, because it gives him an opportunity to be a father and a husband—maybe to be a leader for the first time in his life," said John Chiarkas of CUNY, who directs the program and described himself as akin to the principal of the school.
The promise of college is one reason Demetrio Velez, 27, attends the classes.
"I'm actually looking forward to going home and going to college," Mr. Velez told the Observer during an interview in a computer classroom at GMDC. "I don't care about anything else but going home and going straight to college."
Mr. Velez, who city records show is incarcerated on a felony conspiracy charge, was one of three students chosen by the Department of Correction who were made available to the Observer for sit-down interviews during last week's visit, before a reporter and photographer were able to observe a portion of Mr. Horton's class. 
"We get to know each other. It's not hostile. It's a learning environment—everybody comes in and discusses what's going on, and how things are gonna help us in the future," Mr. Velez said. "A lot of people are skeptical, but we're here. When we're in here, we get looked at differently than everybody outside. But with John's help, and everybody else's, we get to come home and go to college, employment."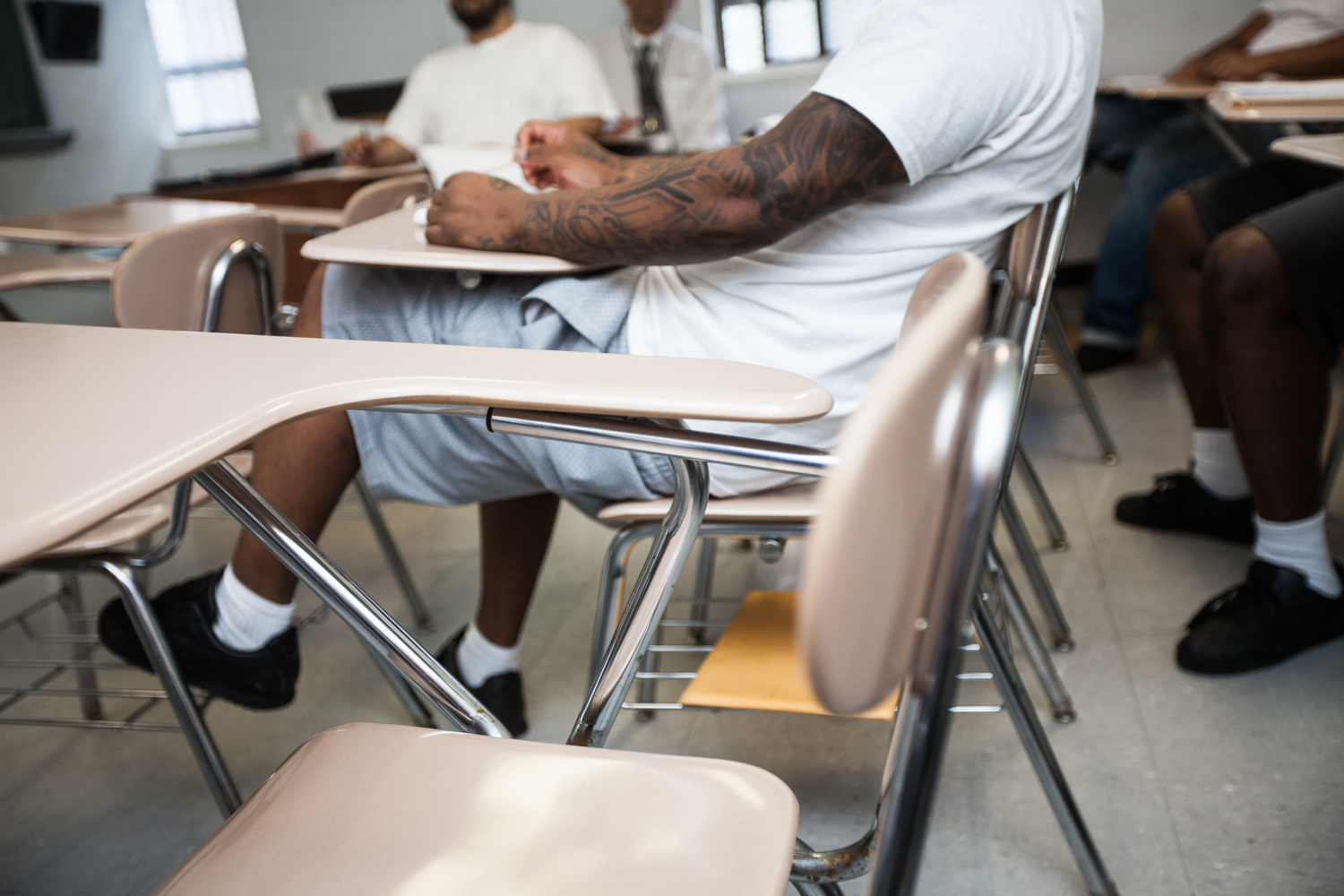 Of course, college isn't for everyone—so the program also offers inmates opportunities to pursue new career paths.
"I think sometimes we make a mistake in this field, where we provide what we think he customer needs—but if it doesn't have an appeal, just like in the rest of the world, it might not work, right?" Phil Terwiel, the director of workforce development at the Department Correction, said. "So what we know that they are very excited about is industry recognized training."
If the inmates attend class during the week, they have the option of attending extra sessions on the weekend where they can eventually earn certifications from the Occupational Safety and Health Administration in construction, or the Department of Health in food hygiene, that can help them get jobs outside.
Francisco Ortiz, 36, from Washington Heights, who records show is facing first degree burglary charges, was skeptical at first, especially since he's served time in prisons upstate where classes didn't come with real-world certifications.
"At first I didn't think it was going to be effective. But after participating and seeing what they were offering and what they really gave us, it's a pretty good program," Mr. Ortiz. "The most important thing I like about is that they actually certify the classes they have, in the sense that when we go home, these certificates are actually usable."
But getting a job and keeping them are two different things, Mr. Terwiel noted, and that's where the therapy aspect of the classes comes into play.
"Without there being some cognitive components to the program, people don't keep the job," he said.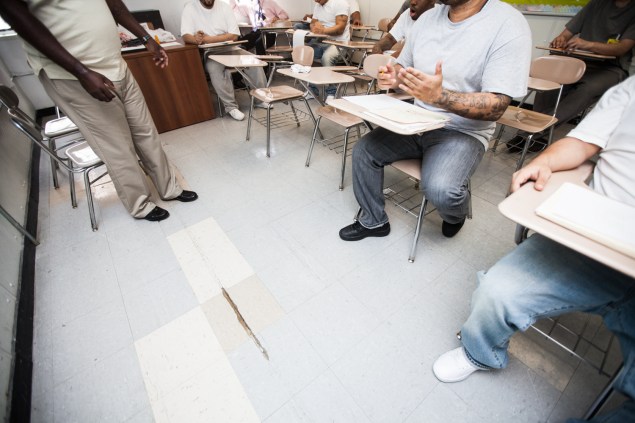 Even if the actual job trainings might be more attractive than the therapy-based lessons, Mr. Ortiz said he even enjoyed that part of the program.
"They give us an incentive of learning about ourselves, you know, how to control our anger, what caused our anger problems, what are other ways to solve our issues, to talk to other people, even to deal with our families," Mr. Ortiz said.
For Christopher Garcia, 28, who is also facing felony conspiracy charges according to city records, attending the classes is about making better choices than the ones he was making at home in the Bronx before he was incarcerated.
"It feels good to call my family over the phone and tell them I'm actually doing something, because me personally, I wasn't doing much with myself when I was in the town, you know, being a bad boy, you know, being hot-headed, not getting a job, hanging around the streets," Mr. Garcia said. "I wasn't really doing much for myself."
But the program gives him an incentive to learn—not just for the $15, but also for the chance at an OSHA license. Mr. Ortiz took a test for that certification this month, and he said he believed he passed. It was something he didn't have when he was outside, he said.
"It gives us some place to go to where we don't have be locked in a cell all day," he added. "It really is working out all right."
And then there are the books. The New York Public Library provides the students with one book to read each week as a class—book club style—and allows them to pick another book on their own.
"They approach those books like we would approach the candy concession at the local cineplex," Mr. Chiarkas said.
As a group, last week the class was reading Standing at the Scratch Line, a historical fiction novel by Guy Johnson.
"It's a pretty good book. You should check it out," Mr. Garcia encouraged the Observer. "I'm really not a book reader like that, but when I started reading the book it caught my attention where I can't even put it down at night."
That's welcome news to Sarah Ball, New York Public Library's manager of correctional services.
"The number one thing we want to accomplish is we wanna get people reading and reading more than they normally would," Ms. Ball said. "And we are certainly invested in doing our book discussion book and our reading together, but we're also checking out other books to them."
Mr. Garcia said he loves anime and wishes the library brought more of it into Rikers. Mr. Velez, meanwhile, recently picked out a John Grisham book. And Mr. Ortiz said his favorite is biography.
Asked whose biography he was reading at the moment, he offered a sheepish laugh: "John Gotti."
Lakythia Ferby, STRIVE's vice president of programs, said one of the best aspects of the new program is combining different organizations' areas of expertise.
"No one person can do it all, so we're not trying to with this model," Ms. Ferby said. "We're really leveraging the New York Public Library, CUNY, we're building on a lot of agency strengths to build a much more holistic strategy than any one of us can offer, rather than trying to recreate things that other people are already experts at."
Like nearly everything that is happening on Rikers Island today, the classes are not without controversy. Norman Seabrook—the outspoken president of the Correction Officer Benevolent Association who has been critical of many reform efforts underway—took issue with the inmates who participate earning $15 a week.
"I think that the agency should not use tax payers dollars to shell out to inmates that have allegedly committed some of the most violent crimes in NY," Mr. Seabrook said in a statement e-mailed to the Observer. "Once you start paying them for their crimes and the money stops what's next? How about enforcing law and order and applying the rules and regulations before a member losses his or her life under this administration. Or one better how about distributing funds to the victims that doesn't have a mother, father or child anymore because of some of these inmates. Maybe they can use a loaf of bread or pair of pants."
Mr. Walsh, the deputy commissioner, compared the payments to the money inmates at Rikers can earn for working jobs on the island.
"My feeling is that for many of the inmates, they could benefit from being in the programs rather than working—so this is like their job," Mr. Walsh said.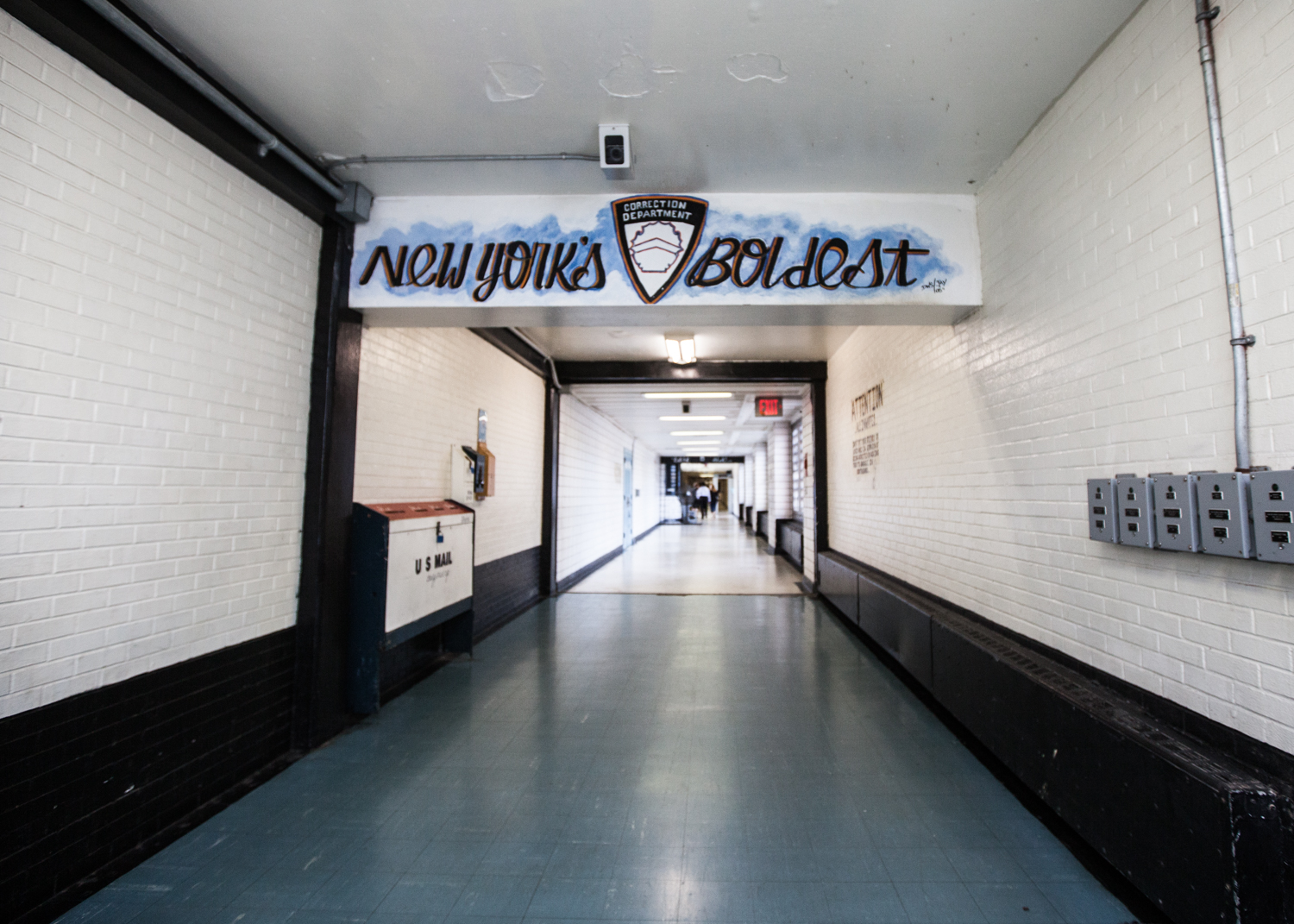 So far, the program is underway only at GMDC—which recently also served as a pilot for a reclassification of how likely inmates are to commit violence in jail—and it's too new for there to be definitive evidence of whether the department is achieving its goal of reducing violence. (The day the Observer visited, there had been a lockdown at the jail—a sign not all interaction in GMDC is as good-natured and friendly as the atmosphere in Mr. Horton's classroom.)
But so far, Mr Walsh said, so good.
"I had a conversation with one of the staff members on Friday to take a look at the first couple of weeks, the attendance week and the rate of infraction," Mr. Walsh said. "While I don't have hard data, I'm very encouraged by what I know it to be, and the numbers look very good."
For the inmates, it's an opportunity to get out of their cells—and to show that they're not all interested in causing the trouble that so frequently dominates the headlines about Rikers and draws Mr. Seabrook's frustration. Asked what he'd want people outside to know about the classes he's taking, Mr. Velez, one of the inmates, said he'd want people to know they were doing something productive with themselves.
"We're not just here wasting away, being forgotten by outside. We're trying to better ourselves, instead of being here doing nothing," Mr. Velez said. "We're not all violent people. We're not all in here committing crimes. We're in here trying to do something, and if given he chance, then that's what we'll do."