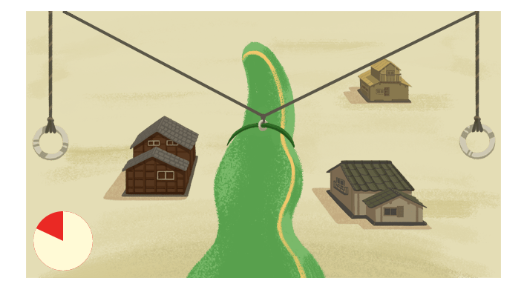 This animated Google Doodle goes really fast.
For Eiji Tsuburaya's 114th birthday, Google is running a Doodle worldwide that shows the filmmaking process through ten different animations. Mr. Tsuburaya was a legendary practical effects (a facet of special effects) master who worked on the Godzilla movies and their kin. Known as the genre Tokusatsu, the films featured monsters known collectively as Kaiju, "strange creatures."
If you make it all the way through the Doodle, you'll swat down buildings with a tail on a string, hang an actor in an Ultraman suit by ropes and smash tanks.
Here's what makes it tough: you only have a few seconds to get through each task. It can be hard to figure out how you're even meant to engage with a screen to succeed in a given animation before the time runs out.
This is intentional. Mr. Tsuburaya was known for the frenetic pace of his productions, according to the blog post on the elaborate interactive offering. The creators wanted to give users that frenetic feel.
"I was resolved to make a Doodle that could show how fun, fast, and totally chaotic the Tokusatsu filmmaking process can be," Jennifer Horn, one of the Doodlers, wrote on the blog.
She and her fellow Doodlers succeeded.
Ms. Horn created the piece alongside Mark Holmes and Olivia Huynh. (Ms. Huynh also made the Doodle for Sally Ride's birthday).
See some great photos here of the master at work, on set, with his monsters.
Practical effects are coming back (as opposed to CGI). The people at Lucasfilm making the new Star Wars films, for example, were proud to use real robots for the new film's droids.