Hunter Jonakin has a funny way of honoring his idols.
"It would be reasonable to assume that I hate [Jeff Koons] due to the fact that I created a video game called, Jeff Koons Must Die!!," the artist told the Observer in an exclusive interview. "Koons is an artist I admire. He's had an incredible career trajectory, and I do not take that lightly."
The video game, displayed in a lovingly crafted, 80's-style stand-up arcade cabinet, is currently on display in Berlin at the KW Institute of Contemporary Art and garnering considerable controversy.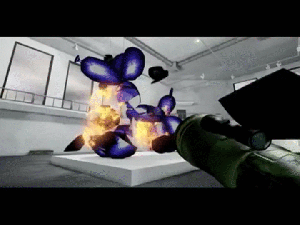 Mr. Jonakin offers the viewer a classic video game environment complete with a first-person, rocket-launcher-laden perspective. But from there, JKMD!!! differs a bit from Mortal Kombat. You see "the enemy" is not a gang of thugs or an army of mercenaries but is in fact an exhibition of million-dollar objects created by Mr. Koons—and the security guards, lawyers and curators trying to defend them.
The premise of the game is that you are locked in a museum during a Jeff Koons retrospective, which you can annihilate with your rocket launcher. The spawn of Koons' attendants grows as more art is destroyed, yet the game is "unwinnable" according to the artist.
"I chose Koons as the subject of that piece because he is incredibly polarizing and is at the top of the art world food chain," said Mr. Jonakin. "I think when people play the game they see that it is much more than just destruction. The viewers find that there is retribution for their actions and, ultimately, they never win. It's an over-simplification of a complex system, but one that still works on several levels."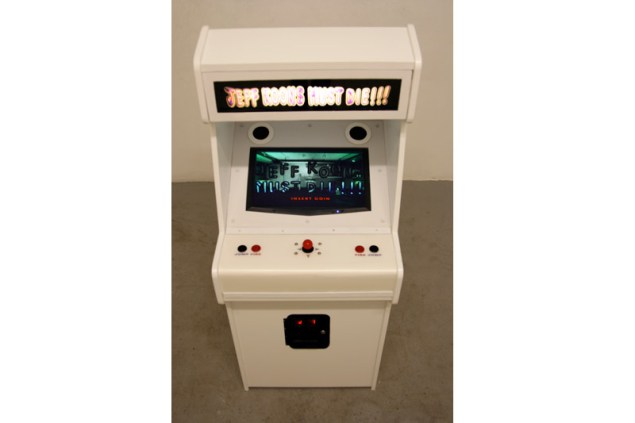 A Minneapolis-based artist who actually created JKMD!!! in 2011, Mr. Jonakim is getting a lot of attention now, thanks to the Berlin-based exhibition. The artist has another video game titled "The Author Must Die", loosely based on the heady book Death of the Author by Roland Barthes. Both games are available for download on the artist's website.
Mr. Koons did not immediately return the Observer's request for comment. So what might the art star think of this? "I have never met Jeff Koons, and I have never received any communication from him," said Mr. Jonakim. "I would hope that he could see the humor in this work. Maybe he plays it at home to blow off steam? Who knows?"
The artist also gave us a sneak peek of a new series of digital works that was made (albeit tongue-in-cheek) with the contemporary art collector's needs specifically in mind. And if you've played JKMD!!! to death at this point, good news! The artist is in the middle of creating a sequel.