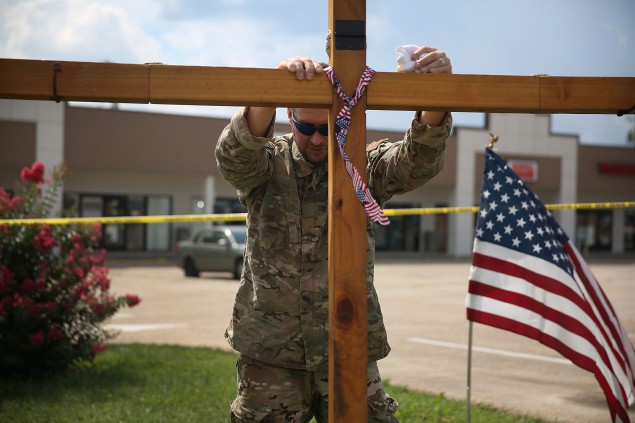 There's never been a more important time to reevaluate how we secure our military bases, recruiting offices, and other soft-target military installations.
Our enemies have demonstrated that they will not restrict their activities to far-away battlefields and they openly herald their intent to attack military targets here at home. Oddly, of all the federal agencies, military installations are often left the most vulnerable.  Even Social Security offices, which process applications for benefits by retirees, are protected by armed security guards, metal detectors, and bulletproof glass. In contrast, most military recruiting stations and reserve centers are completely unprotected and have little to no security. Many reserve centers will post a guard only on drill weekends, although it is little more than a ceremonial post, as they stand guard unprotected, armed with only a radio with which they can theoretically call for backup, which is also unarmed.
Given that our military bases are one of the primary targets for the radical extremist movement, it's time to ensure that our servicemen and women have the ability to fight back to protect themselves.
Thursday's killing of four United States Marines by an Islamic extremist is the most recent demonstration of the enemy we face, and the threats they pose to the men and women in our military service. It is not an isolated incident. Over the 14 years since September 11, 2001 we have increasingly seen attacks, and attempted attacks on our homeland by radical extremist terrorists.  ISIS and Al Qaeda are continuing their inspirational calls for "lone wolf" attacks here in the United States. According to FBI Director James Comey, local, state and federal law-enforcement authorities thwarted a number of attacks on or around Independence Day this year. Yesterday's attack and killing of the four Marines was a demonstration of what happens if we miss one or more of these chameleon extremists who live amongst us.
Given that our military bases are one of the primary targets for the radical extremist movement, it's time to ensure that our servicemen and women have the ability to fight back to protect themselves. Many of the installations around the country are not as secure as they should be and are therefore being left open to attack.
In 1992, the Department of Defense (DoD) issued a directive, stating that it is DoD policy "to limit and control the carrying of firearms by DoD military and civilian personnel. The authorization to carry firearms shall be issued only to qualified personnel when there is a reasonable expectation that life or DoD assets will be jeopardized if firearms are not carried." Although the world has significantly changed since 1992, this DoD policy has not been updated.
But the disarming of our military goes beyond the walls of these installations. In most U.S. jurisdictions, police officers are considered on duty 24 hours a day and encouraged to carry an off-duty weapon unless they are drinking or will be in a position where they cannot secure it. In fact, federal law permits all local, state and federal law enforcement officers to carry a concealed firearm 24-hours, 7 days a week, in all 50 states. The Law Enforcement Officers Safety Act, commonly referred to as HR218, passed in 2004 grants this nationwide authority, provided that the officer meets certain criteria, including annual qualification with the firearm. This law was passed in recognition that having more "good guys" armed on our streets would make society safer. In 2013, this law was clarified to include military police, but has yet to be extended to the majority of military personnel who have honorably, competently, and effectively carried and used firearms in defense of our country.
Members of our military are better trained, experienced and responsible in the handling of firearms than anyone in the world. Yet current laws prevent them from access to the tools necessary to defend themselves on the home front and, more importantly, deny the public the safety and security that would come from permitting these trained professionals to respond, if the need arises.  Consider that the average NYPD officer fires approximately 200 rounds a year in training and qualification, while members of our Special Operations Forces, such as the Navy SEALs and Army Rangers  fire thousands of rounds a year in training and combat, yet are not afforded the same level of trust with a firearm under our current laws.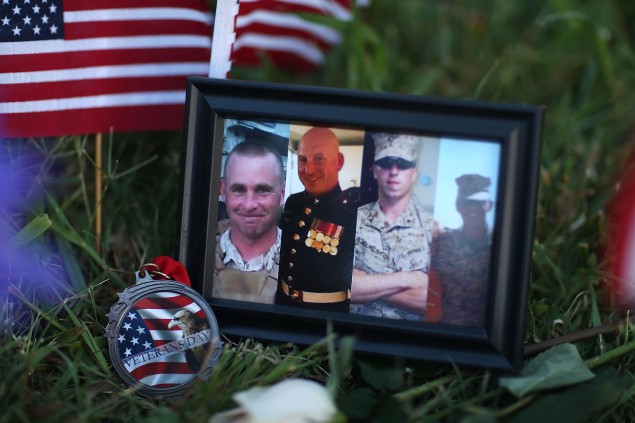 One needs to look no further than Gunnery Sergeant Thomas Sullivan, one of the Marines killed in Chattanooga. Sullivan was a decorated combat veteran and Purple Heart recipient, about whom a friend stated. "There's no Marine you would want that was better in combat than him." Yet, under the current regulations, Sullivan was not permitted to carry a weapon in the United States to defend himself or his fellow Marines.
Our bases are loaded with military personnel who have received superior firearms training from the Government, but who, inexplicably, the Government refuses to allow carry a firearm. Today, most bases aren't even guarded by military personnel… that job having been given to civilian DoD police officers.It is time to ensure that there are people on the base who are in a position to respond to threats. Protecting our military installations would be exceedingly simple to implement. We already train and qualify our military personnel in the responsible and effective use of firearms. All we have to do is lift the restrictions to permit them access to those firearms.
To do this, there needs to be a fundamental shift in our thinking to recognize that our enemy has already designated America to be a battlefield. Almost all military personnel on our bases in the Middle East are required to be armed at all times. Earlier this year, we took a step in the right direction by recognizing the Fort Hood shooting as an act of war on American soil and awarded Purple Hearts to the victims. But our military personnel shouldn't senselessly be made into "victims," who can't be trusted to defend themselves or their homeland.  Our military should be permitted to fight back.
Timothy Parlatore is a criminal defense attorney in New York City and a military veteran. A graduate of the U.S. Naval Academy, he deployed twice to the Mideast as a Surface Warfare Officer and later commanded a reserve Naval Security Forces Detachment.
Bernard B. Kerik is the former New York City Police and Correction Commissioner, and a one time presidential cabinet nominee, for Secretary of the U.S. Department of Homeland Security.