It pained Vladimir Gritsenko to see companies he saw as simple, such as Snapchat, getting billion dollar valuations. So he founded Tittygram, as a satire on startups today.
"We were interested in experimenting  with something simple yet viral," Mr. Gritsenko told the Observer via email, "The moment we thought of 'Uber for Boobs'—we realized: we're totally doing this."
Mr. Gritsenko had worked at X-Cart. The first is a shopping cart solution, launched in 2000, for e-commerce sites and the second is a full online store solution. Both complex, softare-as-a-service enterprises. The company incubated at X-Cart and continues to operate from Ulyanovsk, Russia. It launched in Russia in March and globally in April.
Tittygram allows customers to hire anonymous models to draw short messages on their mostly-but-not-entirely bare breasts (that is, no nipples). For $14.95, customers get a message written on a model chosen by the company and it comes with the company's watermark. For $29.95, customers can pick the model and choose other customizations.
Going Global
As the service was made available worldwide, the company began to learn that tastes in breasts were no more universal than basic consideration the talent. Mr. Gritsenko wrote us a little about what he learned about different countries as it launched.
In Japan, the European breasts were too big.
In Brazil, customers wanted messages on butts, not boobs (still no butt vertical yet, however).
Bottomline boosted by butts on Tittygram.
In the U.S., early on, the company had to reject some 20 percent of requested messages from users, because they used offensive language or messages.
In Russia, the rejection rate was only between one and two percent.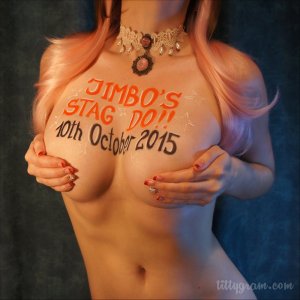 One Western company, Burger King, has made news using Tittygram aggressively in Russia. Here in the U.S., however, companies have been reluctant to use the service for advertising here in the United States.
The larger problem for the company has been getting access to advertising networks. It has had to use adult content strategies to advertise, despite never going beyond what one might see in a Victoria's Secret ad. Google Play booted the Tittygram app from its store, despite, according to Mr. Gritsenko, the software receiving a rating of 12+ from the International Age Rating Coalition, which ranks games and apps for age appropriateness.
Google Play uses IARC ratings in its store. A Google spokesperson told the Observer, "While we don't comment on specific apps, we can confirm that our policies are designed to provide a great experience for users and developers. That's why we remove apps from Google Play that violate those policies."
Users are meant to use the service to buy positive "greetings" (more in the terms of service). Offensive, defamatory or extremist messages will be rejected. The company loves when other companies use it for advertising, but not for dating sites, adult services or illegal activities. Users can use the cards any way they want, but they can't make money off them and they can't post them to dating sites.
Tittygram retains the right to the image, but grants the buyer very wide rights of use, Mr. Gritsenko explained. They can share it, post it, email it and publish it, but they can't sell it or break the law.
As the business model for the site appears to be working, the team is looking forward to building a social network that somehow automates people's favorite greetings. Mr. Gritsenko was unwilling to reveal much more, but the site will, one day, live at "ttgr.am."
SEE ALSO: This artist replicated her own breasts to #FreeTheNipple on Instagram.
But is it offensive?
That a company built exclusively on decolletage went viral is not exactly surprising, and its detractors helped. Bustle and NextShark, for example, immediately jumped on the company as sexist. It's worth noting, though, that notion of using breasts as billboards was really pioneered in a place that is, culturally, not so far away from Ulyanovsk, the Ukraine. A women's organization founded in 2008 there, Femen (NSFW), uses messages painted on bare breasts as their main tactic as they protest anti-feminist leaders and organizations.
"Our models are independent women who dont hesitate to show their cleavage. We empower women, not discriminate," Mr. Gritsenko wrote. The company currently has 48 models across three continents.
Men are currently not allowed to be models, though it did bend that rule recently at ULCAMP.
The critique did not discourage customers, however. "Any publication drives traffic to the site," Mr. Gritsenko wrote. "Since we are a startup not a big company, any PR is good PR."
Sites in the USA objected to the startup the most frequently. "It's a modern trend to be a feminist in U.S. and blame anyone for anything just because they see sexism," he wrote. "Reminds me of that guy who landed a spaceship to a comet and was accused of wearing unproper t-shirt. Really? REALLY?"
The company looks forward to a new version, soon, in which models will be more clearly delineated on the site. Right now, models don't get any real credit for their shots. Even when they become more identifiable across photos, however, the company wants to keep them anonymous.
Keeping the models anonymous helps the team to stay focused on a product that delivers messages in a distinct way. It doesn't want to become a dating service. Or worse.
Updated July 29, 2015 at 10:40 a.m.: Updated with comment from Google and correcting Mr. Gritsenko's biography. Mr. Gritsenko was also incorrectly identified as one of the people in the team photo.