JetSmarter, the app that lets users book on-demand private jets, just raised $20 million—not, as with most startups, from venture capitalists, but from an impressive group of investors that includes royalty and A-list celebrities.
Members of the Saudi Royal Family and "world-renowned music and entertainment moguls" are among the leaders of the sizable Series B funding round, a press release stated.
Who are those mysterious "moguls"? The rapper Jay Z is one of the leading investors, sources close the situation have told the Observer. Jay Z's camp has not yet returned the Observer's request for confirmation of the news.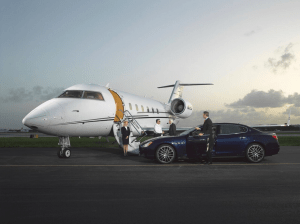 For those unfamiliar with JetSmarter, it works a lot like Uber, except customers charter private jets instead of black cars. In the same way that Uber works with independent drivers, JetSmarter makes partnerships with independent carriers, whose schedules and locations are posted on the app. When users are in need of some last-minute luxury air travel, they can request a private jet; orders can be placed up to six hours in advance, and from anywhere in the world.
When customers book flights with JetSmarter, they are getting seats on "empty leg" flights—i.e., the flights jets take to pick up passengers, which would otherwise be empty. Users can get seats for as low as $1,000 and up into the "millions," Mr. Petrossov told the Observer last year, depending on one's destination, the type of plane, and the overall demand for the flight.
When it comes to raising funds, most startups have to work hard pitching to potential investors. But according to JetSmarter's founder, Sergey Petrossov, his A-list clients loved the app so much, they voluntarily offered up cash.
"All our members and users have been begging us to get involved with the company," Mr. Petrossov told the Observer. "We're the only tech company that didn't have to go out and look for [capital]."
The Saudi Royal Family apparently cannot get enough of the app, with "just under 10 different princes that got involved from an investment standpoint," according to Mr. Petrossov.
"We have a lot of members from their family using it," Mr. Petrossov said, "if not every day, every other day."
They travel everywhere, he said, between the Middle East, Europe and the U.S. One family member, HRH Prince Abdullah bin Bandar bin Abdullaziz Al Saud, recently used JetSmarter to book a nonstop flight from Riyadh to New York. Mr. Petrossov estimates it would have cost around $200,000.
"I'm just happy that they love the service that they're getting," Mr. Petrossov said. "It shows that we're providing real value to those people."