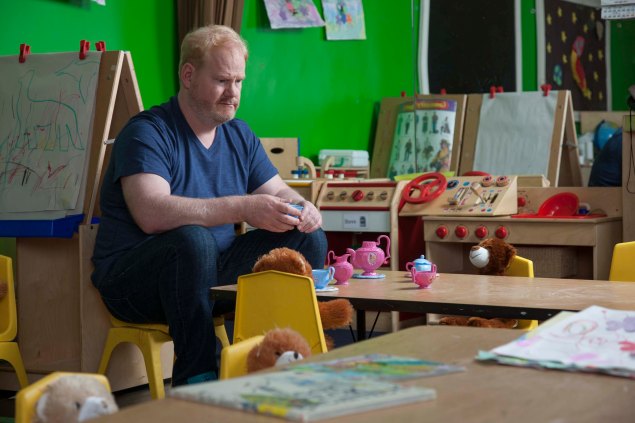 Jim Gaffigan and I were having a serious problem finding a place to sit down.
The trouble wasn't a lack of chairs. On the contrary, they were everywhere. The dilemma was that every chair in the room was bright yellow, plastic and happened to be roughly a foot tall.
We were also standing in a back room of Citibabes, an upscale children's nursery in Soho. To our right were tables that came just up to our knees. To our left, a haphazard collection of rainbow-colored playthings. Just down the hall stood a full indoor playground, slide and all. The screams and cries of the last children to leave for the day still filled the air.
"Well," the 49-year-old comedian, dressed simply in T-shirt and jeans, said in his trademark Midwestern drawl, "we could just talk down there."
He was pointing to the ground.
That's how I found myself sitting on the floor with Mr. Gaffigan, his legs spread out over a carpet decorated with every letter of the alphabet, my back against a shelf filled with colorful books about animals that speak like humans. Our audience, I noticed, was a row of rubber dinosaurs.
As soon as we found spots on the floor, the first words out of Mr. Gaffigan's mouth, his voice mock-pleading, were "please, please tell me you have seen some episodes."
Mr. Gaffigan had his new half-hour sitcom on TV Land, the aptly titled The Jim Gaffigan Show, to promote, and his concern was a valid one. Because here's the thing about The Jim Gaffigan Show: the comedy created by Mr. Gaffigan and his wife, Jeannie Gaffigan, has an uphill battle straight out of the gate. Its premise—a comedian, his wife, his kids, they live in New York City—has been done before, to put it kindly. To put it honestly, it has been driven into the ground.
"There's a strange pacing to four-camera comedies. You end up losing the integrity of the scene and it becomes more about getting that laugh and the joke."
But much like our interview, the ground wasn't a bad place to start for Mr. Gaffigan. I had seen some episodes, and I knew that after an unsteady pilot, the series finds its footing quickly and builds itself back up as one of the freshest takes on well-worn subjects in some time. (For example: What happens in 2015 America when a celebrity is photographed holding a freakishly large Bible?) Fresh, not because The Jim Gaffigan Show breaks much new ground but because it makes this well-worn path seem new again. It's Louie without the despair. It's Seinfeld without the stand-up monologues—and with the responsibility of kids. It's an artfully shot The King of Queens.
Mr. Gaffigan was visibly relieved at my response. I got the feeling he's heard the same criticisms, and the same surprised praise, before.
"There's an entire task to this process," Mr. Gaffigan said. "The show is: I'm a comedian. It's a half hour. I'm known as clean. I have five kids. It's on TV Land. All those things aren't horrible but combined …" Mr. Gaffigan paused, looking for the right words. "They don't exactly present well."
Mr. Gaffigan and his comedy-writer spouse waited a long time to show the world their creation. The inklings of an idea began with a starring stint on CBS' short-lived sitcom Welcome to New York in 2000 that lasted only until 2001. From there, a sitcom pitch bounced from network to network—a pass from NBC, a failed pilot during CBS' shift away from single-camera comedies—until finally landing at TV Land. An unlikely fit, but the cable channel offered the promise of creative control, and the ability to shoot a singe-camera comedy, versus multiple-camera (Think Modern Family vs. The Big Bang Theory).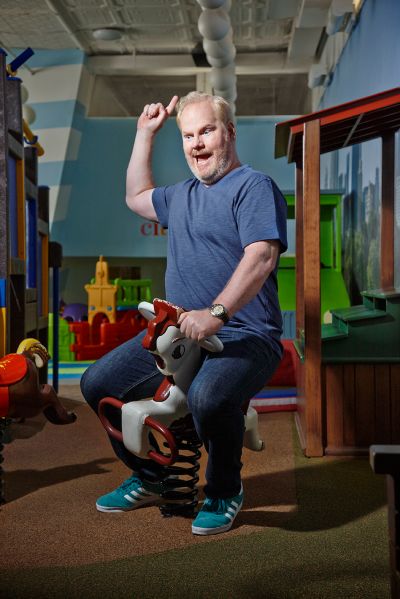 "There's a strange pacing to four-camera comedies. You end up losing the integrity of the scene and it becomes more about getting that laugh and the joke," Mr. Gaffigan said. "Jeannie and I decided we wanted to do a show that we would watch."
If you're concerned about finding TV Land on your dial, don't worry. Mr. Gaffigan doesn't know where it is on his TV, either. But rest assured there is a certain precedent for these situations.
"AMC used to be an old movie network. FX at one point was doing NASCAR races," Mr. Gaffigan said. "When [TV Land] was presented to us, my wife was like 'this is punk rock,' … [but] Jeannie and I would have this authority. There would be no studio, no bureaucracy of a network model."
Punk rock is probably not the phrase immediately conjured to mind when Mr. Gaffigan's name is mentioned. More likely you think of his signature bit on Hot Pockets. Or you may think of his two New York Times best-selling musings on food and family Dad is Fat and Food: A Love Story. (Sample lines: "Hot dogs are like strippers, really. Nobody wants to know the backstory." … "You know what it's like having five kids? Imagine drowning, and someone hands you a baby.") Maybe you just picture Mr. Gaffigan's blown-up visage that, as part of the ad campaign for the new show, currently seems to be gracing every cab in Manhattan.
Or, for better or for worse, you may know Mr. Gaffigan as the king of "clean comedy," as a 2013 Wall Street Journal profile dubbed him, primarily because he doesn't curse in his act. It's a title with which the comedian still has his frustrations.
"It's definitely weird to me," Mr. Gaffigan says. "Because I think that there's something about our culture, particularly in this stand-up culture, there's such a rich aspect of censorship of people like Lenny Bruce, or George Carlin. So being clean is like you're not using this tool that people fought for. Like, 'How dare you not curse!' "
Midway through our conversation, it was easy to conclude Mr. Gaffigan is as personable off-stage as he is on it. Even outside the kindergarten setting he will speak to anyone as if he has known them for years (he thanked everyone from the photographers to the front-office staff, multiple times). It was a surreal thing, then, to hear genuine irritation creep through his ever-present politeness, however subtle.
"Sometimes people will almost go, 'You're successful because you're clean,' " he said, sounding more perplexed than anything. "It's not as if there is so much cursing in our society that it's a rarity when someone is not cursing. It's not like 'Go see this comedian who somehow, by some miracle doesn't say fuck.'"
"It's like an asterisk," he continued. "It's like: 'You hit 51 home runs, but you were clean the whole time.' "
But Mr. Gaffigan is not bitter in the slightest, just bemused. The joke he is best known for—his long ramble about Hot Pockets that stretches all the way back to 2006's Beyond the Pale album and beyond—is still a regular part of his routine after all these years. And it's not as if audiences have stopped asking for it. Quite the opposite, really. Hot Pockets has become his encore, his "Freebird," the hotly requested song an audience complains about not hearing after a live show.
Mr. Gaffigan chalks it up to a certain expectation, a desire for the familiar he understands all too well.
"I saw Bruce Springsteen a long time ago at the Garden. And he didn't play 'Jungleland.' 'Jungleland!'" he said, throwing his hands up in disappointment. "I mean, Springsteen has a lot of Hot Pockets. So maybe he was like. 'I did "Dancing in the Dark" for you idiots.' But there's a set of rules to what people expect."
One would think it's not the easiest comparison to make, this portly comedian sitting on the floor of a nursery, and Bruce Springsteen. But, like any entertainer, Mr. Gaffigan is driven by a desire to satisfy, and if that involves musings on microwaveable pockets of barely edible goo, so be it.
"The comedian as an artist is supposed to be ever-creating, right? It's a little bit 'Yeah, I don't do that joke no more. Buy my album. I'm an artist, I'm moving on,' " Mr. Gaffigan said. "I get that. But I also think that I kind of have this expectation. If someone is coming to a show and they're paying 50 bucks, my primary objective is for them to leave thinking: 'That was amazing.' "
I realized, as our time ran down, our talk had not turned to the reason I wanted to set this discussion in this very location. We had talked a great deal about Jim Gaffigan the sitcom star, even more about Jim Gaffigan the stand-up comedian. We had not even begun to discuss Jim Gaffigan the father.
Luckily, as we walked back down the hallway toward the exit, I saw Mr. Gaffigan eyeing the indoor playground.
"I've been here before," he said, his voice filled with recognition. "I've been here for a birthday party or two."
That realization, the pleasure in his voice at the sight of a New York spot he has been with his kids, tells a person all they need to know about Jim Gaffigan.