Jim Harbaugh's terse, tense, awkward interview with Colin Cowherd on ESPN Radio Wednesday revealed one of the least-pleasant sides to the sometimes prickly personality of the new Michigan football coach.
It concluded with Cowherd abruptly ending the conversation with "This seems terribly difficult, Jim, for you.  And I love ya.  . . . .  It seems we're going nowhere . . . I appreciate you stopping by, Jim Harbaugh."
And then Cowherd cut him off like Louie on the car phone trying to talk about last night's game.
Cowherd, on ESPN's "The Herd," had been trying to get Harbaugh to be expansive by asking friendly, open-ended questions about his emotions, his work hours, even his game plan for the season opener Sept. 3 against Utah.
Harbaugh – contrary to his public image as an opinionated man — spoke on the telephone and conversed as if he was reading email at the same time, barely paying attention. One of Cowherd's soft questions was about Harbaugh being "all in" to coach the Wolverines, for whom he played in the 1980s as a quarterback.
"Uh, yeah," Harbaugh replied. "I would agree. Can't disagree with that."
That drew one of the awkward pauses. Another came when Cowherd suggested The Big Ten was a "buy" conference and Harbaugh thought he meant "bye." It took a few moments to straighten that out and then Cowherd tried to initiate a topic about Harbaugh not "looking in the rearview mirror" about Harbaugh's recent employment with San Francisco of the NFL and Stanford of the NCAA.
Harbaugh cut him off with, "This feels like one of those where you ask 50 questions on a . . . "
That's when Cowherd cut off Harbaugh and told him he was just trying to let him promote his football team. Shortly thereafter the conversation crash-landed.
"This is just not working," Cowherd said.
Why would Harbaugh be so cold as he tries to rebuild a once-proud football program its critics used to find arrogant and recently have scorned as laughable and ineptly managed?
Perhaps Harbaugh has some lingering dislike for a tweet Cowherd posted in 2011 after watching an HBO special about Harbaugh.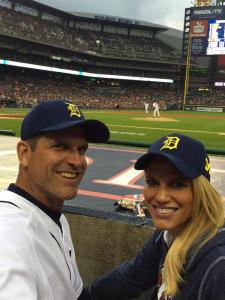 "Very easy to see how he would rub people the wrong way," Cowherd wrote of Harbaugh. "He likes to poke."
One poke came after Harbaugh's 49ers defeated Jim Schwartz's Detroit Lions in 2011. After the game, Harbaugh shook hands so hard with his rival and slapped him on the back so aggressively that Schwartz took offense.
Harbaugh also ruffled feathers in the Southeastern Conference and elsewhere last month by participating, with his staff, as "guests" in coaching clinics around the country, including the state of Alabama, where football is important.
Alabama coach Nick Saban called the camps "ridiculous" and SEC Commissioner Greg Sankey called Harbaugh's trips transparent "recruiting tours," which didn't break the rules but bent them in a way SEC coaches are forbidden to do.
Those of us who covered the Wolverines under Bo Schembechler in the 1980s remember Harbaugh in 1983 as a lippy red-shirt freshman called "Hair Ball" by his elder teammates, as in "Shut up, Hair Ball, for crying out loud."
By the time Harbaugh became first-string quarterback in 1986, he guaranteed a victory over Ohio State. "We're going to play in the Rose Bowl," Harbaugh said then. "I guarantee it. There's no doubt in my mind."
Indeed, they won in Columbus and went to Pasadena.
Things are much different in the league now. Ohio State is national champion. The Michigan State Spartans are the best team in the Great Lakes State.
But Harbaugh has won the off-season publicity competition by hiring a top high-school coach from Ohio, taking his shirt off for one of his clinic tour stops (the photographers loved it) and by showing up everywhere.
One of those places was Comerica Park Tuesday when Harbaugh wore a Mark (The Bird) Fidrych jersey to throw out the ceremonial first pitch of the Tigers' game with Pittsburgh. He practiced for it and threw the ball well and the crowd ate it up.
READ MORE: Paterno, Olbermann and Me
Locally, it's all cheers so far for Harbaugh, who works in a market that provides a boosterish media that often looks to be spoon-fed puff pieces about their darling Wolverines.
Let's see how well he wears. When Harbaugh left San Francisco for a seven-year college contract, some people were happy to see him go. One was lineman Alex Boone, who told HBO:
"He kind of wore out his welcome. I think he just pushed guys too far. He wanted too much, demanded too much, expected too much . . . This guy might be clinically insane."
Sounds like a lot of football coaches.
Joe Lapointe spent 20 years as a sports reporter for The New York Times and worked as a segment producer for Countdown With Keith Olbermann. Recently, he's taught journalism at New York University, Rutgers and Long Island University-Brooklyn. Follow him on Twitter @joelapointe.
CORRECTION: An earlier version of this misstated the first name of Coach Saban. The Observer regrets the error.