Manhattan-based app developer Appetizer Mobile is having a moment thanks to Joe Girardi. The Yankees manager worked with Appetizer to develop a new multiplayer game called Portalball, which will be unveiled on August 5 at the Modell's in Times Square.
Appetizer CEO Jordan Edelson told the Observer that Mr. Girardi, who got the itch to develop an app after seeing his kids play games on their phones, took an active role in the game's creation to ensure it would be involving and addictive.
"He's added a tremendous amount of credibility to turn this concept into something more authentic," Mr. Edelson said.
Portalball allows players to hit and pitch at variable speeds with different kinds of bats and balls, using techniques based on Mr. Girardi's swing path.
The game combines Mr. Girardi's baseball expertise with a gamer-friendly alien invasion plot. Sports and space may seem like strange bedfellows, but Mr. Edelson said that the two worlds melded into a cohesive whole that would make the game appeal to a wide audience.
"Our whole goal in adding the sci-fi twist was to find something for everyone," Mr. Edelson said. "We didn't want to pigeonhole ourselves. The sci-fi part is not overbearing, it works really well."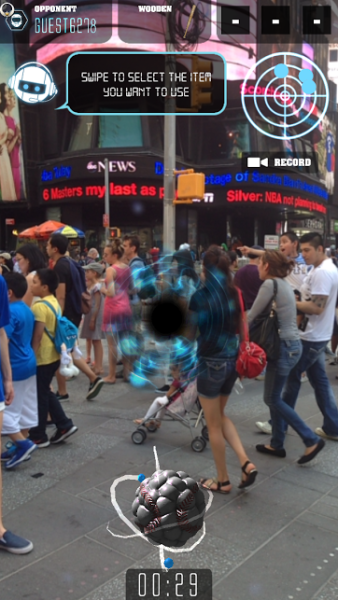 Portalball employs augmented reality technology, which can take over phone cameras and project the image that the phone "sees" onto its screen. This allows backgrounds and portals to constantly shift, heightening the element of surprise (musicians have also started using this technology).
Mr. Edelson called augmented reality a new frontier, which the Appetizer team experimented with to create the smoothest possible experience.
"Augmented reality is an evolving medium as the industry expands," Mr. Edelson said. "Gameplays are more immersive and integrated into daily lives. No one was really providing a cool multiplayer experience using augmented reality until now."
Mr. Girardi, who only has a limited window of time every day to play on mobile apps, envisions Portalball as a platform that will appeal to both competitive and casual gamers, according to Mr. Edelson. To that end, Appetizer is planning competitive tournaments to coincide with the general app rollout.
"The person that's looking for something different will find a lot, as will the casual sports fan," Mr. Edelson said. "It's a very cool platform."
There is a philanthropic aspect to Portalball as well—Mr. Girardi is donating all of his profts from the game to his charity Catch 25, which provides financial support to people in crisis.